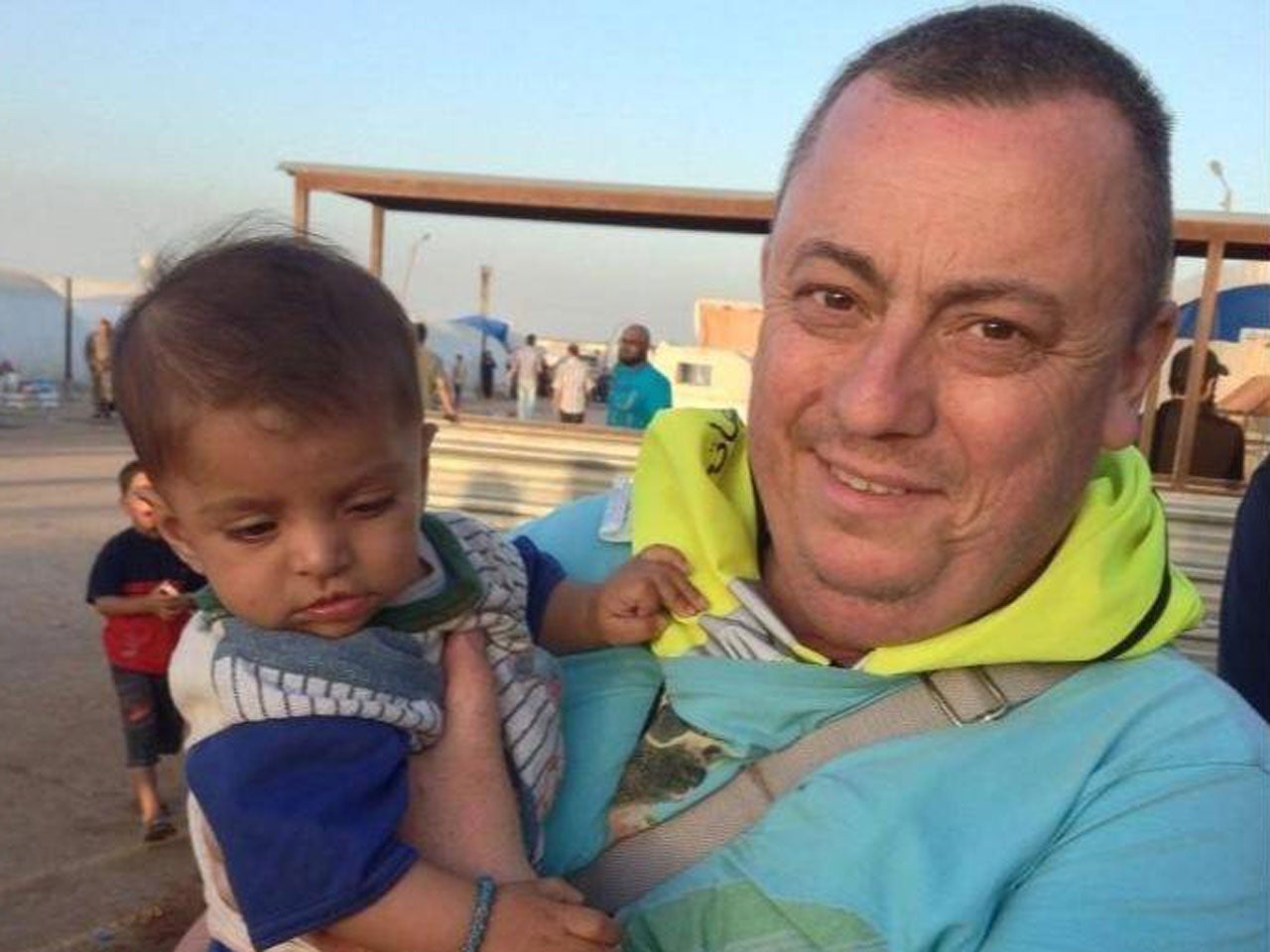 Video purports to show ISIS beheading British hostage
CAIRO -- An Internet video released Friday purports to show a fighter for the Islamic State of Iraq and Syria (ISIS) beheading British hostage Alan Henning and threatening yet another American captive, the fourth such killing carried out by the extremist group now targeted in U.S.-led airstrikes.
The video mirrored other beheading videos shot by ISIS, which now holds territory along the border of Syria and Iraq. It ended with an Islamic State fighter threatening a man they identified as an American named Peter Kassig.
"Obama, you have started your aerial bombardment of Shams (Syria), which keeps on striking our people, so it is only right that we continue to strike the neck of your people," the masked militant said.
The Associated Press could not immediately verify the video's authenticity, though it was released in the same manner as other ISIS videos and the masked militant sounded similar to the one who carried out the other slayings.
A U.S. official, who spoke on condition of anonymity out of concerns of not having permission to release the information, confirmed that Peter Kassig is being held by ISIS militants. The official declined to elaborate.
"The brutal murder of Alan Henning by ISIL shows just how barbaric and repulsive these terrorists are," Prime Minister David Cameron said in a statement. "My thoughts and prayers tonight are with Alan's wife Barbara, their children and all those who loved him."
"Alan had gone to Syria to help get aid to people of all faiths in their hour of need," Cameron said. "We will do all we can to hunt down these murderers and bring them to justice."
"We are aware of the video and are working urgently to verify the contents," a spokesman for the British Foreign Office said. "If true, this is a further disgusting murder. We are offering the family every support possible; they ask to be left alone at this time."
Henning's reported beheading was "another demonstration of the brutality" of Islamic State militants, Lisa Monaco, Assistant to the President for Homeland Security and Counterterrorism, told a White House news briefing.
President Obama issued this statement Friday: "The United States strongly condemns the brutal murder of United Kingdom citizen Alan Henning by the terrorist group ISIL. Mr. Henning worked to help improve the lives of the Syrian people and his death is a great loss for them, for his family and the people of the United Kingdom. Standing together with our UK friends and allies, we will work to bring the perpetrators of Alan's murder - as well as the murders of Jim Foley, Steven Sotloff and David Haines - to justice. Standing together with a broad coalition of allies and partners, we will continue taking decisive action to degrade and ultimately destroy ISIL."
This is the fourth such video released by ISIS. The full beheadings are not shown in the videos, but the British-accented, English-speaking militant holds a long knife and appears to begin cutting the three men, American reporters James Foley and Steven Sotloff and British aid worker David Haines.
Last week, FBI Director James Comey said the U.S. believes it has identified the masked man in the ISIS beheading videos.
In an interview scheduled to air Sunday on 60 Minutes, Comey told Scott Pelley about the effort to track down the killer.
"Well, it's not work I really want to talk about -- on a lot of dimensions," Comey said. "Using our intelligence tools, our military tools, obviously our relationships with our partners, especially our great partners in the British services. We are workin' pretty hard, not just to identify and find that savage, but all of them."
Comey refused to disclose the man's name or describe the tactics being used to apprehend him.
"I want to see our country and our -- and our allies bring justice to him," Comey said. "Whether that means capturing him or killing him, I don't know at this point." Comey appeared to indicate that he would be satisfied with either outcome.
"Yeah, I want justice. And, and, that's just -- not just my job. That's my passion," Comey said. "And so I -- I want justice, in this case and -- and in the others, where horrific things have been done to innocent people."
Henning appeared in the video which showed the murder of Haines, according to Reuters. In it, a masked man said Henning would also be killed if British Prime Minister David Cameron kept supporting the fight against the militants.
Henning, 47, nicknamed "Gadget," had joined an aid convoy and was taken captive on Dec. 26, shortly after crossing the border between Turkey and Syria. Earlier this week, Henning's wife Barbara Henning asked the militants in a televised plea: "Please release him. We need him back home."
Dozens of Muslim leaders in Britain had urged ISIS to release Alan Henning. His wife had said she had been given hope by "the outcry across the world" over her husband's imprisonment.
ISIS has its roots in al Qaeda's Iraqi affiliate but was expelled from the global terror network over its brutal tactics and refusal to obey orders to confine its activities to Iraq. It metamorphisized amid the bloody 3-year civil war in neighboring Syria, growing stronger to the point of being able to launch a lightning offensive across much of northern Iraq, routing security forces there.
The extremist group has been widely denounced by mainstream Muslim authorities.
Other foreigners are believed held by ISIS. On Friday, the father of John Cantlie, a British photojournalist held by the group, appealed for his release in a video, saying he was a friend of Syria.
Thanks for reading CBS NEWS.
Create your free account or log in
for more features.