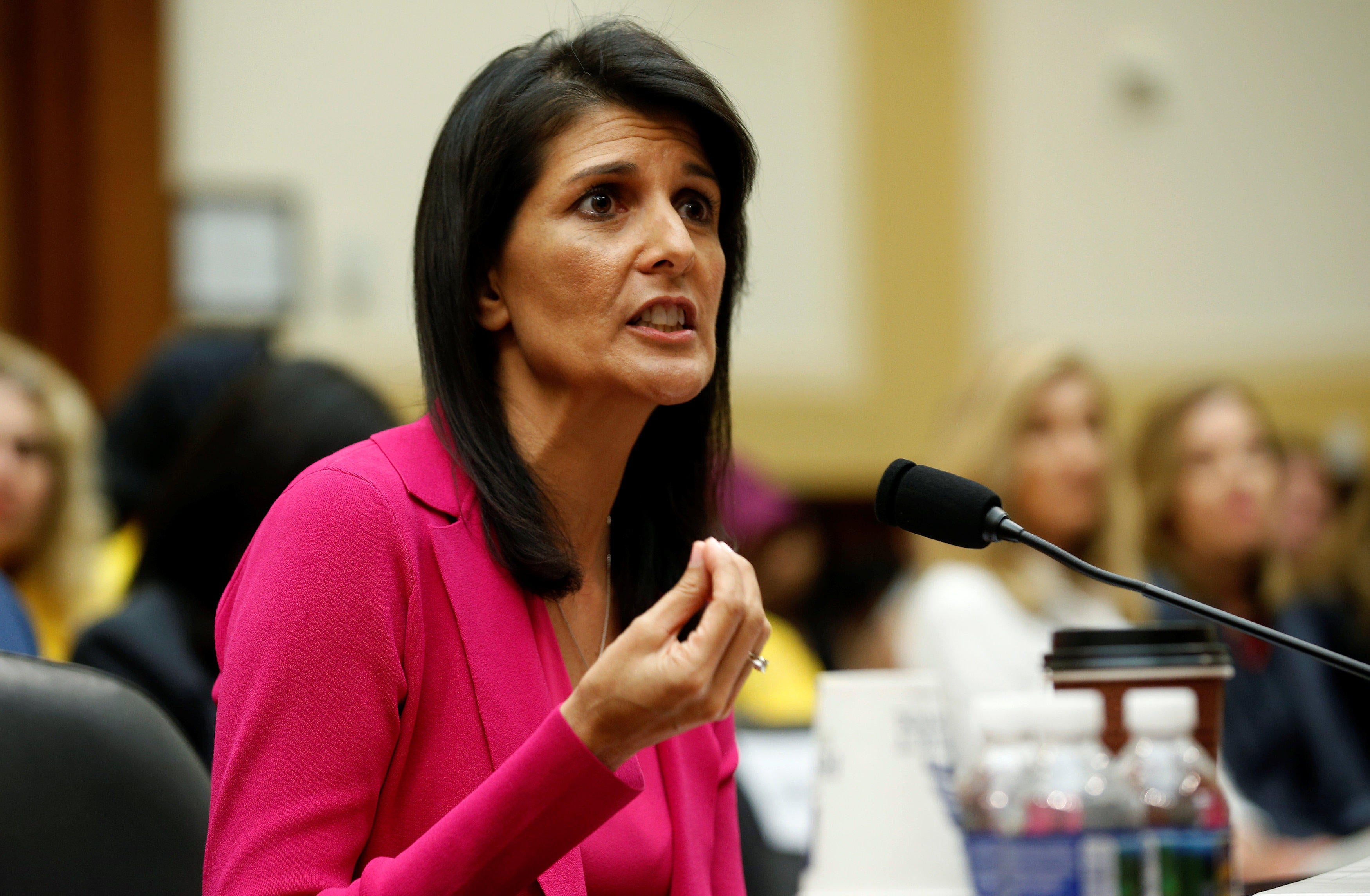 U.S., allies disagree about Iran's nuke deal compliance
UNITED NATIONS -- The United Nations and the European Union praised Iran on Thursday for implementing the landmark nuclear deal with six major powers, but U.S. Ambassador Nikki Haley accused Tehran of "destructive and destabilizing" actions from ballistic missile launches to arms smuggling.
The speeches at a Security Council meeting on implementation of a U.N. resolution endorsing the July 2015 nuclear agreement showed the deep division over Iran between the five major powers who view the deal as a major achievement and the Trump administration, which is reviewing it.
President Donald Trump, congressional Republicans and Israel have assailed the agreement as a windfall to Iran that only delayed its pursuit of nuclear weapons. GOP lawmakers say it saved Iran's economy by lifting economic penalties and allowed the country to funnel more money to terrorist groups.
Haley said only that the U.S. would adhere to the deal to rein in Iran's nuclear program while conducting the comprehensive review.
She focused on what the U.S. views as Iran's repeated violations of the 2015 resolution, which she accused the Security Council of ignoring. She cited ballistic missile launches and illicit procurement of missile technology as well as "proven arms smuggling."
"Iran's destructive and destabilizing role in the Middle East goes far beyond its illicit missile launches," Haley said. "From Syria to Yemen and Iraq to Lebanon, Iran's support for terrorist groups continued unabated. Iran's weapons, military advisers and arms smugglers stoke regional conflicts and make them harder to solve."
By contrast, the focus of U.N. political chief Jeffrey Feltman, EU Ambassador Joao Vale de Almeida and ambassadors from Russia, China, Britain, France and Germany was on Iran's adherence to the nuclear agreement, though there were also expressions of concern about its missile tests and smuggling.
Feltman told the council that Secretary-General Antonio Guterres "is deeply encouraged by the continued commitment by all participants to the agreement," calling it "the embodiment of successful multilateral diplomacy, political will and perseverance."
He noted the International Atomic Energy Agency has issued seven reports, the latest in early June, documenting Iran's continued implementation of its nuclear-related commitments and said Guterres believes sustained implementation of the deal "will guarantee that Iran's nuclear program remains exclusively peaceful."
The diplomatic achievement, Feltman said, "gives us all hope that even the most difficult issues among states can be addressed through dialogue, understanding and reciprocity."
Vale de Almeida, speaking on behalf of EU foreign policy chief Federica Mogherini who coordinates the nuclear deal, said, "The initial results are clear and speak for themselves: Iran's nuclear program has been rolled back and placed under tight inspections."
At a time when the world is again faced "with the threat of unchecked nuclear capabilities" -- a reference to the threat from North Korea -- he said the Iran deal known as the JCPOA is "a pillar of the international non-proliferation agenda" that needs to be fully implemented.
In an apparent reference to the U.S. debate over the deal, Vale de Almeida stressed: "We would not be in a better position to address all the other non-nuclear matters (with Iran) without the JCPOA in place."
Britain's deputy U.N. ambassador, Peter Wilson, called the Iran agreement "one of the most important diplomatic achievements in recent memory."
He said the United Kingdom encourages all countries and parties to the agreement -- a message that appeared especially aimed at the U.S. -- "to uphold their commitments, including ensuring that the Iranian people gain further tangible benefits from sanctions relief."
But Wilson also said "some less positive issues" raised in Guterres' latest report need to be addressed. He cited Iran's Jan. 29 launch of a medium-range ballistic missile, reported violations of a ban on conventional arms transfers, including new evidence of an attempted arms shipment from Iran to Somalia, and multiple violations of a travel ban, including by Iranian Maj. Gen. Qassem Soleimani, head of the Revolutionary Guard's elite Quds Force.
Haley stressed that the United States won't "turn a blind eye" to such violations and will interdict cargo prohibited under the U.N. resolution and continue to impose sanctions on Iran.
"The continuance of the Iranian regime's destructive, destabilizing behavior will prevent it from ever having a normal relationship with the United States and the rest of the world," she said. "And the regime's continued oppression of its own people speaks volumes about its true nature."
Thanks for reading CBS NEWS.
Create your free account or log in
for more features.