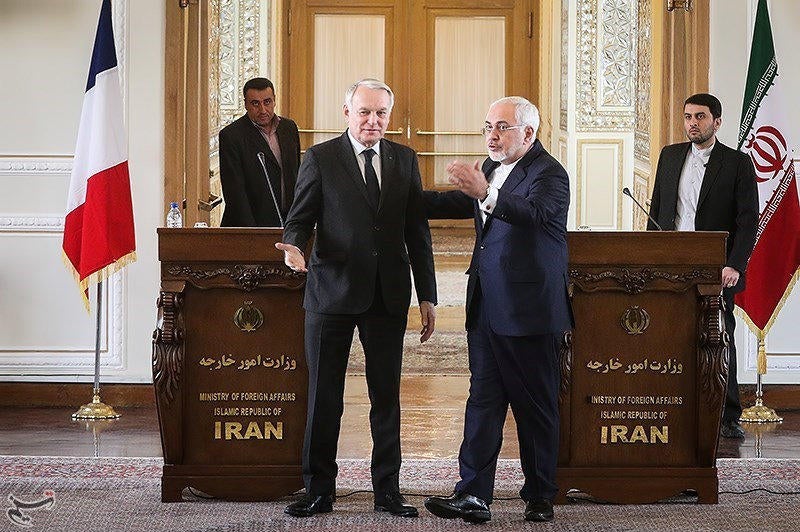 Iran won't admit missile test, but says it wouldn't violate nuke deal
TEHRAN, Iran -- Iran's foreign minister has refused to confirm that the country conducted a missile test, saying Iran's missile program is not part of a 2015 nuclear deal between his country and world powers.
The White House said Monday it is studying the details of an Iranian ballistic missile test. Iran is the subject of a United Nations Security Council resolution prohibiting tests of ballistic missiles designed to deliver a nuclear warhead.
U.S. officials have told CBS News national security correspondent David Martin that Iran tested a missile on Sunday that flew 550 nautical miles and then exploded.
On U.S. request, the United Nations Security Council has scheduled "urgent consultations" for Tuesday afternoon on the purported missile test.
During a joint news conference Tuesday with visiting French counterpart Jean-Marc Ayrault, Foreign Minister Mohammad Javad Zarif was asked if Iran had conducted a recent missile test.
"The missile issue is not part of the nuclear deal. As all signatories to the nuclear deal have announced, the missile issue is not a part of nuclear deal," he said.
Iran's missiles, he added are, "not designed for the capability of carrying a nuclear warhead... Our ballistic missile was designed to carry a normal warhead in the field of legitimate defense."
A U.S. defense official said Monday that the missile test ended with a "failed" re-entry into earth's atmosphere. The official had no other details, including the type of missile. State Department spokesman Mark Toner said the U.S. was looking into whether the ballistic missile test violates the U.N. Security Council resolution.
Zarif on Tuesday said he hopes the issue is not used as, "an excuse for some political games by the new U.S. administration."
Russia, which helped reach the nuclear deal agreed with Iran, said Monday that -- if Tehran had conducted a missile test -- it would not violate the nuclear deal.
"Such actions, if they took place, do not breach the resolution," deputy foreign minister Sergey Ryabkov told Interfax news agency, according to the French news agency AFP.
Ryabkov told Interfax the Security Council meeting had been requested to with the aim of "heating up the situation."
Thanks for reading CBS NEWS.
Create your free account or log in
for more features.