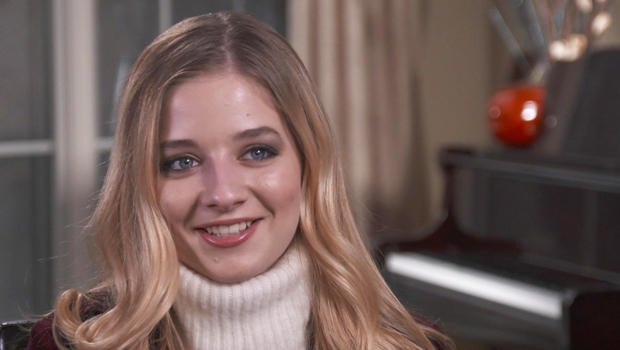 Inauguration singer Jackie Evancho hopes people will briefly forget politics
Singer Jackie Evancho has taken heat from critics of President-elect Donald Trump for agreeing to sing the National Anthem at next week's Inauguration.
However, the 16-year-old "America's Got Talent" star is hoping that, for the few moments that she's singing, people will set aside politics, she tells correspondent Michelle Miller in an interview for "CBS Sunday Morning," to be broadcast January 15.
"I hope to just kind of make everyone forget about rivals and politics for a second and just think about America and the pretty song that I'm singing," Evancho tells Miller. "I'm hoping that I can bring people together."
Ever since it was announced that she would perform at the event, Evancho, who supports LGBTQ rights, was criticized as having given tacit approval to an incoming administration that critics suggest will be intolerant to the LGBT community.
For Evancho, that's a point that hits home; her sister, Juliet Evancho, was born Jacob and is transgender.
"The way I look at it is, Jackie is singing for our country, and it's an honor for her to be singing in front of so many people," Juliet Evancho tells Miller. "So I feel that's really where I look at it. And that's where I'm going to leave it right now."
The Emmy Award-winning "CBS Sunday Morning," hosted by Jane Pauley, is broadcast on CBS Sundays beginning at 9:00 a.m. ET. Executive producer is Rand Morrison.
Follow the program on Twitter (@CBSSunday), Facebook, Instagram (#CBSSundayMorning) and at cbssundaymorning.com. You can also listen to "Sunday Morning" audio podcasts at Play.it.

For more info:
Thanks for reading CBS NEWS.
Create your free account or log in
for more features.