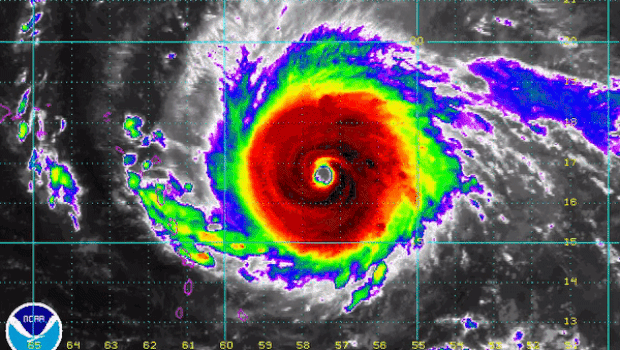 Florida on notice, evacuations coming as Hurricane Irma looms
KEY WEST, Fla. -- Hurricane Irma's size and strength put the entire state of Florida on notice on Tuesday, and residents and visitors prepared to leave in anticipation of catastrophic winds and floods that could reach the state by this weekend.
Throughout South Florida, officials readied evacuation orders and people raided store shelves, buying up water and other hurricane supplies. Long lines formed at gas stations and people pulled shutters out of storage and put up plywood to protect their homes and businesses.
Irma's winds measured 185 mph on Tuesday, a strong Category 5 storm, and forecasters say it could strengthen more as it neared the eastern-most Caribbean islands, according to the National Hurricane Center in Miami. The storm had the most powerful winds ever recorded for a storm in the Atlantic Ocean and posed an immediate threat to the small islands of the northern Leewards, including Antigua and Barbuda, as well as the British and U.S. Virgin Islands and Puerto Rico.
The last major storm to hit Florida was 2005's Wilma, its eye cutting through the state's southern third as it packed winds of 120 mph. Five people died.
Florida Gov. Rick Scott declared a state of emergency in all 67 counties to give local governments "ample time, resources and flexibility" to prepare for the storm. He directed the Florida Department of Transportation Tuesday to suspend all tolls in the state to allow Florida residents as well as visitors to more easily make preparations, and evacuate safely -- and quickly -- when necessary, the governor's office said in a statement.
"In preparation for the potential impacts of Hurricane Irma, I have directed the Florida Department of Transportation to suspend all tolls across the State of Florida to keep traffic flowing," Scott said.
The governor added that tolls will remain suspended "for the duration of the storm's impacts to Florida."
In the Keys, a chain of 42 low-lying islands that includes Key West, government officials said visitors would be told to leave Wednesday and residents should be out by the following day.
"This is not one to fool around with," said Monroe County spokeswoman Cammy Clark, whose county covers the Florida Keys.
Monroe County Emergency Management Director Martin Senterfitt said in a news release: "The sooner people leave, the better."
Under a mandatory evacuation order, no one is forced by police or other government agencies to leave, but anyone who stays should not expect to be rescued if they are in danger, officials said. The island chain only has one highway connecting it to the mainland.
"For the Florida Keys, if you were to create the worst case scenario that is what we are looking at," Senterfitt said, according to CBS Miami. "We're emphatically telling people you must evacuate, you can not afford to stay on an island with a Category 5 hurricane coming at you."
Monroe County spokeswoman Cammy Clark said in a news release that government offices, parks and schools will close and there will be no shelters in Monroe County. The county's three hospitals are also beginning evacuation plans.
Officials also announced Tuesday that Key West International Airport will close Wednesday night after the last flight due to TSA's security checkpoint ceasing the screening of airline passengers.
Clark said residents and tourists should begin filling their tanks with fuel to prepare to drive to the mainland.
Eric Bradway who was visiting Key West from Philadelphia didn't wait until Wednesday to leave, CBS Miami reports.
"It's going to be crazy getting out of here, gridlock," said Bradway, "Getting out of the Keys, there's only one way in and one way out. It's going to be crazy."
Many locals were also already making plans to get out.
"I'm scared. Category 5, never been through one. Been through a four but never a five and I don't want to be here," said Elizabeth Prieto, who lives in Marathon.
A line of traffic Tuesday was already building heading toward the mainland and that traffic was likely to get much heavier.
"Today is just another prep day," said charter boat captain Johnny Maddox. "I started yesterday morning on the prep."
Maddox was getting his boat ready for a very powerful storm. He knows how dicey it can in the Keys. He was there for Wilma and remembers slogging around in waste deep water from storm surge.
"If you're not in a Category 5 building you need to get out of town. Just leave. Take your belongings and your insurance papers, get your pets, get your meds and all that kind of stuff and head to the mainland," he said.
All Monroe County schools and county offices will be closed beginning Wednesday, CBS Miami reports.
The station also reports that Monroe County's three hospitals -- the Lower Keys Medical Center in Key West, Fishermen's Hospital in Marathon and Mariners Hospital in Tavernier -- have begun plans to evacuate their patients. Monroe County's Health Department is also closing Wednesday.
Thanks for reading CBS NEWS.
Create your free account or log in
for more features.