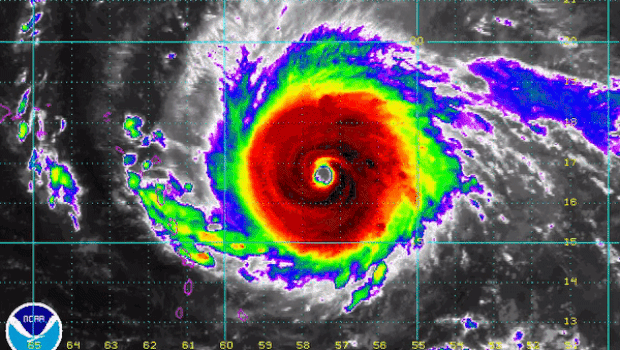 Hurricane Irma Category 5: How to prepare for a catastrophic storm
MIAMI -- Hurricane Irma strengthened into a deadly Category 5 storm this week as it moves across the Atlantic Ocean after it slammed into the Caribbean. Ahead of the storm making landfall in the United States, some residents in south Florida evacuated and prepared for the looming catastrophe.
The National Hurricane Center's forecast cone shows there may be a threat not only to south Florida but also the Florida Keys, CBS Miami reports.
Many residents took advantage this week to fill hurricane survival kits. Many stocked up on supplies like water, food, gas and sandbags. Others shopped for generators in case of power outages.
The Keys are especially vulnerable to storm surge flooding and if a major hurricane is forecast to pass near them, evacuations will become necessary.
The closest approach time remains this weekend for South Florida and the Keys, CBS Miami reports.
The National Hurricane Center (NHC) notes that Hurricane Irma's sustained winds are now 185 mph -- a speed similar to that of a EF-4 tornado:
The National Hurricane Center suggests the following materials:
Water: At least 1 gallon of water per person/ animal per day for at least 3 days.
Food: At least a 3-day supply of non-perishable food.
Radio: A battery-powered radio with NOAA weather radio tone alert and extra batteries.
Flashlight: Make sure you have extra batteries as well.
Manual can opener: If the electricity is out, you would need some way to open your canned food.
Cellphone: Make sure you have extra battery packs or a solar charger to keep your phone on.
Important family documents: Make sure you have copies of insurance policies and some form of state issued ID.
Sturdy shoes: Think about pulling out those rain boots and sneakers.
Pet supplies: Your pets will need enough food and water to also weather out the storm with you.
If you have a generator, make sure you have propane. Also, try to top off your gas tank ahead of time, CBS Miami writes.
The station also suggests that for those prepping, the last good day of weather will likely be Friday with weather starting to deteriorate Saturday. This of course can shift if the storm speeds up or slows down.
On Thursday, Miami-Dade County Mayor Carlos A. Gimenez issued an evacuation order for Zones A, B, and parts of C. For full details, check out his message on Twitter below and a map of the evacuation zones:
Florida Gov. Rick Scott declared a state of emergency Monday for the state's 67 counties. He urged "all Floridians to remain vigilant and stay alert to local weather and news," as well as visit FLGetAPlan.com to prepare.
"In Florida, we always prepare for the worst and hope for the best and while the exact path of Irma is not absolutely known at this time, we cannot afford to not be prepared," Scott said, CBS Miami reported Monday.
In Miami-Dade County, officials can sign up for email or text alerts for public safety issues. Residents can use the county's SAFE app to find open evacuation centers in their area.
In the Florida Keys, Monroe County officials have activated their emergency management team. Residents can sign up for emergency alerts and reach their emergency hotline at 1-800-955-5504.
Thanks for reading CBS NEWS.
Create your free account or log in
for more features.