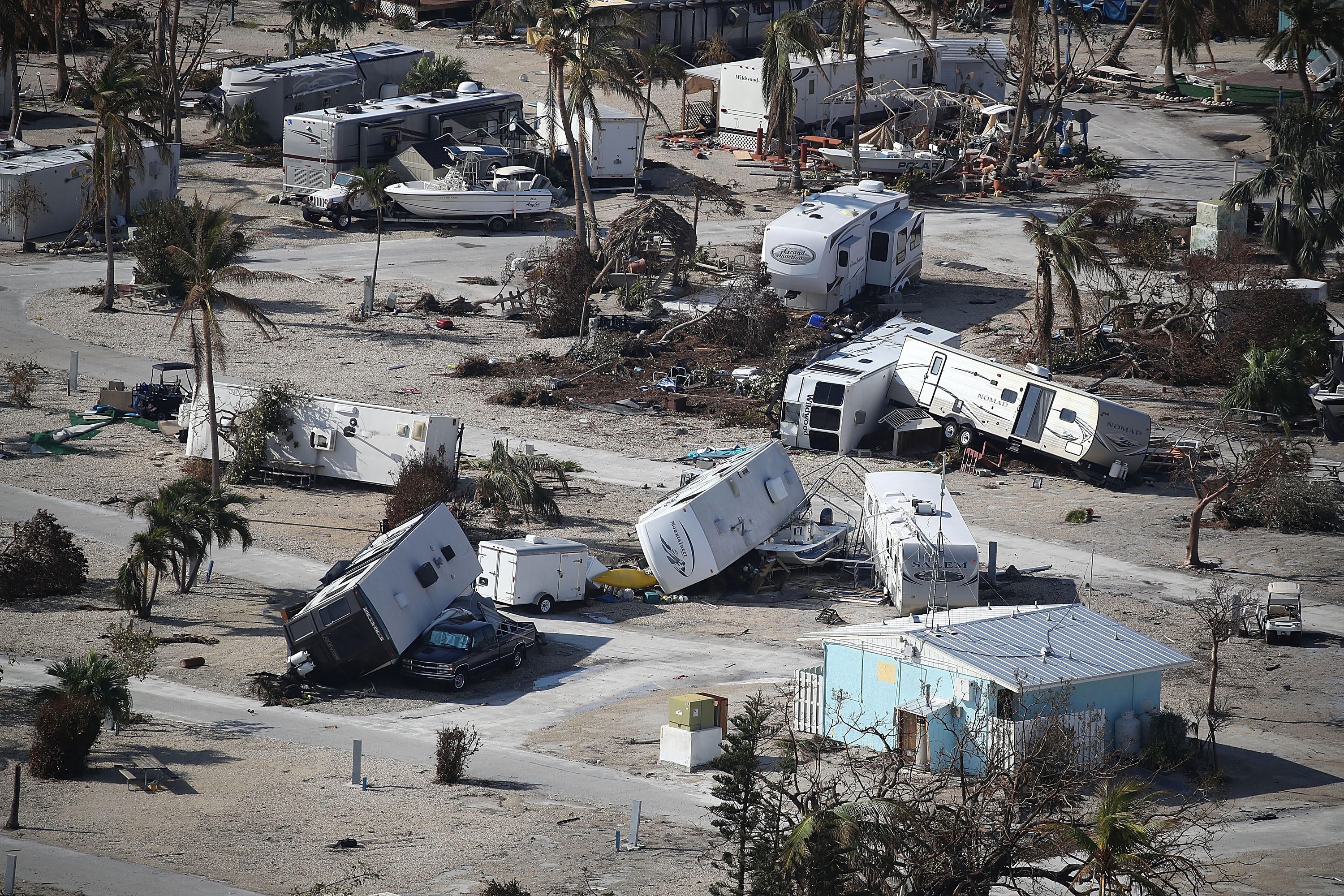 Hurricane Irma death toll at 69; Florida power outage at 6.8 million people
MIAMI -- Hurricane Irma laid waste to beautiful Caribbean islands and caused historic destruction across Florida. The cleanup will take weeks; recovery will take months. Some islanders just want out. And after a huge exodus from the Florida peninsula, southbound traffic remains heavy with evacuees returning to uncertain situations, many without power or water in sweltering heat and humidity.
By the numbers
People still without electricity: 6.8 million - about a third of Florida's population - and hundreds of thousands in Georgia, with utilities saying it could take 10 days or more before all have power.

People still in shelters in Florida: 13,000.

Money raised by Tuesday night's star-studded "Hand in Hand" telethon for Hurricane Harvey and Irma victims: $44 million. Potential cost of damage to privately insured property in U.S. and the Caribbean: $55 billion.

The death toll

The confirmed death toll from Hurricane Irma stood at 69 Thursday morning. With the electrocution of a utility worker in the British Virgin Islands, at least 38 people were killed across the Caribbean. In the U.S., 31 deaths were reported in Florida, Georgia and South Carolina. Also, police are conducting a criminal investigation into the deaths of eight residents of a nursing home in Hollywood, Florida, that lost power in the storm. The owner has been accused of health care fraud. As in other disasters, Irma poses particular risks to the elderly.
CBS News corrrespondent Jonathan Vigliotti reports that the nursing home was right across the street from a hospital that had working air conditioning. Hollywood Police Chief Tom Sanchez said investigators believe the deaths were heat-related.
"They were utilizing portable AC units, which were insignificant to reduce the excessive heat in the facility," Sanchez told reporters.
Florida Sen. Bill Nelson has asked for a federal investigation into the incident.
"I think it is an emerging scandal of gargantuan proportions," Nelson told reporters.
Trump visit
President Trump plans to visit the Naples, Florida, area Thursday, "to make sure the troops that he's put in place are doing their job," said his homeland security adviser Tom Bossert. The federal government is helping people secure shelter with money for rent, hotels or pre-manufactured housing, he said.
What's happening in the Florida Keys?
The lower Florida Keys remain off-limits as crews check 42 bridges on the only highway to the mainland. County officials are pushing back against an initial estimate by the Federal Emergency Management Agency that 25 percent of homes were destroyed and nearly all the rest heavily damaged. Monroe County Commissioner Heather Carruthers says "things look real damaged from the air, but when you clear the trees and all the debris, it's not much damage to the houses." Search-and-rescue teams haven't found casualties in door-to-door searches, but they're not entering shuttered homes.
CBS News correspondent Elaine Quijano reports power, running water and communications have been virtually nonexistent since Sunday, and those conditions, along with sweltering heat and humidity, have made the recovery process more difficult for both the thousands who stayed and the first responders there to help.
About 2,000 National Guard members are in the Keys to help distribute food and water. Crowds lined up at a parking lot in Key West on Wednesday. For many, it was the first aid they've received in four days.
"They were running out at the shelters," Bobby Ourada told CBS News. "We tried to get some last night. We couldn't get any, so thank God we finally got something."
The Caribbean
The Dutch, British and French governments are getting heat from islanders who say their recovery efforts have been slow and disorganized. French President Emmanuel Macron, overnighting on St. Martin before surveying St. Barts on Wednesday, said islanders have a right to be "very, very angry." He's pledging to evacuate survivors who want to leave, support those who want to stay, and rebuild the French territories with hurricane-proof infrastructure. British Foreign Secretary Boris Johnson says Anguilla's ordeal was "absolutely hellish" and British troops and police are in place to help residents and restore order. Authorities say more than 100 "very serious" offenders escaped from a damaged prison during the storm.
Economic blow
Irma's economic toll on Florida alone already includes more than $270 million in preparation and recovery expenses by 32 state agencies. Agriculture officials said as much as 70 percent of the citrus harvest is ruined, and markets are bracing for a temporary spike in food prices nationwide after hurricanes Harvey and Irma. AIR Worldwide estimates Irma's damage to privately insured property in the U.S. will range between $20 billion and $40 billion, with damage in the Caribbean between $5 billion and $15 billion.
No stopping destiny
A Florida woman who gave birth without a doctor present as Hurricane Irma was approaching Miami has described the experience as "traumatizing." Because emergency responders were unable to make it to the scene Sunday, Tatyanna Watkins had to give birth in a Miami apartment while she and her boyfriend, David Knight, listened to instructions over the phone from a 911 dispatcher and a doctor. The couple discussed the ordeal during a news conference Wednesday while Watkins held her newborn daughter, Destiny.
Sorry, they won't arrest you
A group selfie by some Florida police officers has Facebook users inquiring if they're available. Some even offered to get arrested. The Gainesville Police Facebook page said the three officers were "getting ready to do some work" as Hurricane Irma lashed the state. More than 100,000 comments followed, most praising their good looks. The department later asked people not to call 911 seeking their personal attention.
Chain saw nun
A Florida nun took a chain saw to clear trees downed by Hurricane Irma around Archbishop Coleman Carrol High School near Miami. Sister Margaret Ann is the school's principal and she wore a full habit while ripping away limbs. Miami-Dade police posted video on Facebook and praised her acts of kindness. Some commenters are worried though, saying no one should use a chain saw with loose fitting clothes.
Thanks for reading CBS NEWS.
Create your free account or log in
for more features.