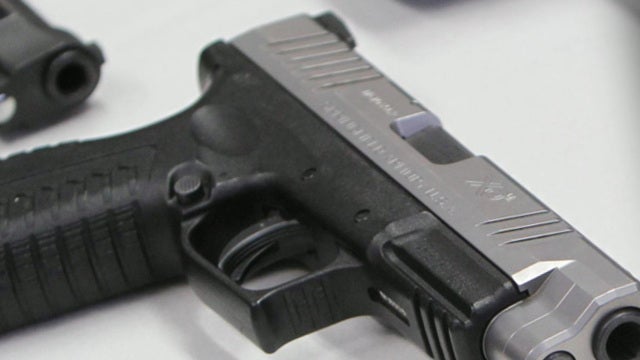 Why more than 100 gun control proposals in Congress since 2011 have failed
Over just the past five years, lawmakers have introduced more than 100 gun control proposals in Congress, since Gabrielle Giffords and 18 other people were shot in Tucson, Arizona in January 2011.
Not one of them has been passed into law, and very few of the proposals even made it to the House or Senate floor.
On Monday evening, the Senate is slated to vote on four more. Democrats have proposed two: one that would ban suspected terrorists from being able to purchase a gun and another that would expand background checks.
Those two proposals, plus two less restrictive measures offered by Republicans, are all expected to fail. Senate Majority Leader Mitch McConnell, R-Kentucky, scheduled the four votes after Democrats pressured Republicans to take action on guns in the wake of the June 12 Orlando shooting that left 49 people dead and 53 wounded.
President Obama, in what has nearly become a ritual, railed against inaction by Congress after the shooting.
"Time and again, we've observed moments of silence for victims of terror and gun violence," he said in his weekly address Saturday, reiterating his call for gun reform. "Too often, those moments have been followed by months of silence, by inaction, which is simply inexcusable."
Homeland Security Jeh Johnson said on "CBS This Morning" last week that "meaningful gun control has to be a part of homeland security."
After every mass shooting, Democrats on Capitol Hill have tried to revive the gun control issue by introducing new legislation. Two weeks after the Tucson shooting five years ago, then-Sen. Frank Lautenberg, D-New Jersey, introduced a trio of gun control bills. One would have closed the so-called gun show loophole by requiring sellers at gun shows to perform the same background checks that licensed gun dealers must conduct. Another would have banned the manufacture and sale of magazines with a capacity of more than 10 rounds of ammunition. The third proposal would have stopped a person on the terrorist watch list from obtaining explosives or guns. None of them gained traction.
Rep. Carolyn McCarthy, D-New York, who retired from Congress in 2015, spent 18 years on Capitol Hill fighting to renew the assault weapons ban, close the gun show loophole or ban high-capacity magazines. Her husband was killed and her son was severely injured when a gunman shot passengers on a Long Island Rail Road commuter train in 1993. McCarthy repeatedly introduced these proposals in every Congress, but none of them passed muster.
The National Rifle Association's (NRA) stranglehold over Congress is largely responsible for the inaction. According to the Center for Responsive Politics, the NRA spent more than $3 million on federal lobbying efforts in 2013 and 2014.
In the 2016 elections, the powerful gun group has some $14 million to spend in the 2016 elections, and NRA Executive Director Chris Cox vowed to target members perceived to be interfering in the rights of Americans to bear arms.
"The politicians who want to divert attention away from the underlying problems that suggest that we're somehow to blame will pay a price for it," Cox said on ABC News' "This Week."
"I think the reason why many Republicans refuse to support any gun control law is fear of losing on Election Day," Adam Winkler, a constitutional law professor at UCLA , told CBS News, adding that Republicans likely "are fearful of a primary challenge if they oppose the NRA."
Four months after 26 people died, including 20 schoolchildren, in the massacre at Sandy Hook Elementary School in Newtown, Connecticut, a bipartisan proposal that would have required background checks on all commercial gun sales failed in the Senate.
The compromise reached by Sens. Joe Manchin, D-West Virginia and Pat Toomey, R-Pennsylvania, was probably the closest Congress has come to imposing limits on gun sales in the last decade. Their amendment failed in a 54-46 vote, falling short of the 60 votes needed to advance. Even if it had ultimately passed, though, then-Speaker John Boehner never said whether he would bring it up for a vote in the House. That same day, the Senate also rejected a proposal to reinstate the assault weapons ban by a wide margin -- in a 40-60 vote. The decade-long measure expired in 2004 and was signed into law by President Bill Clinton in 1994.
Reinstating the assault weapons ban now would be "a mistake," said Winkler, who argued that such firearms are rarely used in criminal activity and a ban would accomplish "the least in terms of reducing violence." There's also very little research that evaluated the effectiveness of the original ban.
The NRA's executive vice president, Wayne LaPierre, told CBS's "Face the Nation" on Sunday that the president's calls over the last week for tougher gun laws were meant to "divert your attention" away from the administration's "failure in this terrorist area."
LaPierre argued that laws didn't stop the terrorists who carried out the San Bernardino shooting last December, the Boston bombings in 2013 or in Paris and that instead of restricting gun ownership any further, Congress should pass a measure that would expand the right to carry concealed weapons in the U.S.
"I think we need national carry reciprocity. I think every school needs a protection plan with either a police officer or certified armed security," LaPierre said.
Sen. Dianne Feinstein, D-California, whose no-fly, no-buy bill is one of the measures up for a vote on Monday, said on CBS's "Face the Nation" Sunday that her bill could have stopped the Orlando shooter from purchasing a gun because it would allow the attorney general to deny a gun sale to a potential terrorist if they've ever been under investigation. The FBI interviewed the Orlando shooter three times between 2013 and 2014.
Feinstein suggested she feels strongly about bringing the assault weapons ban back.
"I deeply believe that these weapons of war don't belong on the streets," Feinstein said on CBS.
A CBS News poll released a few days after the Orlando attack found that a majority, 57 percent of Americans, think gun laws should be stricter. The survey also found that 57 percent support a nationwide ban on assault weapons, up from 44 percent in December, and a whopping 89 percent of Americans favor universal background checks.
But in order to have any shot at enacting gun control laws, Democrats have to win back the House, the Senate and win the presidency, Winkler said. Since the 2013 Newtown massacre, states have made significant changes on guns and "about half of Americans live in states that have made their laws more restrictive," he said.
While the inaction at the federal level remains in the spotlight, Sen. Chris Murphy, D-Connecticut is confident gun control advocates will eventually prevail.
"We'll win," Murphy told CBS News by phone on Friday, "But it may take some time and it may take some failures along the way."
The gun control debate has changed since Newtown, says Murphy, pointing out that previously, many Democrats didn't want to touch the issue because it was too politically toxic. Now, Murphy said it has become a "litmus test" for Democrats.
"Republicans, eventually, are going to face the wrath of the electorate," he said. "I think voters are going to start elevating the issue of guns on their priority list and start kicking out of office senators who vote to hand terrorists guns, who vote against requiring that criminals go through a background check. Voters, I think, are going to have to make this decision at the polls."
Thanks for reading CBS NEWS.
Create your free account or log in
for more features.