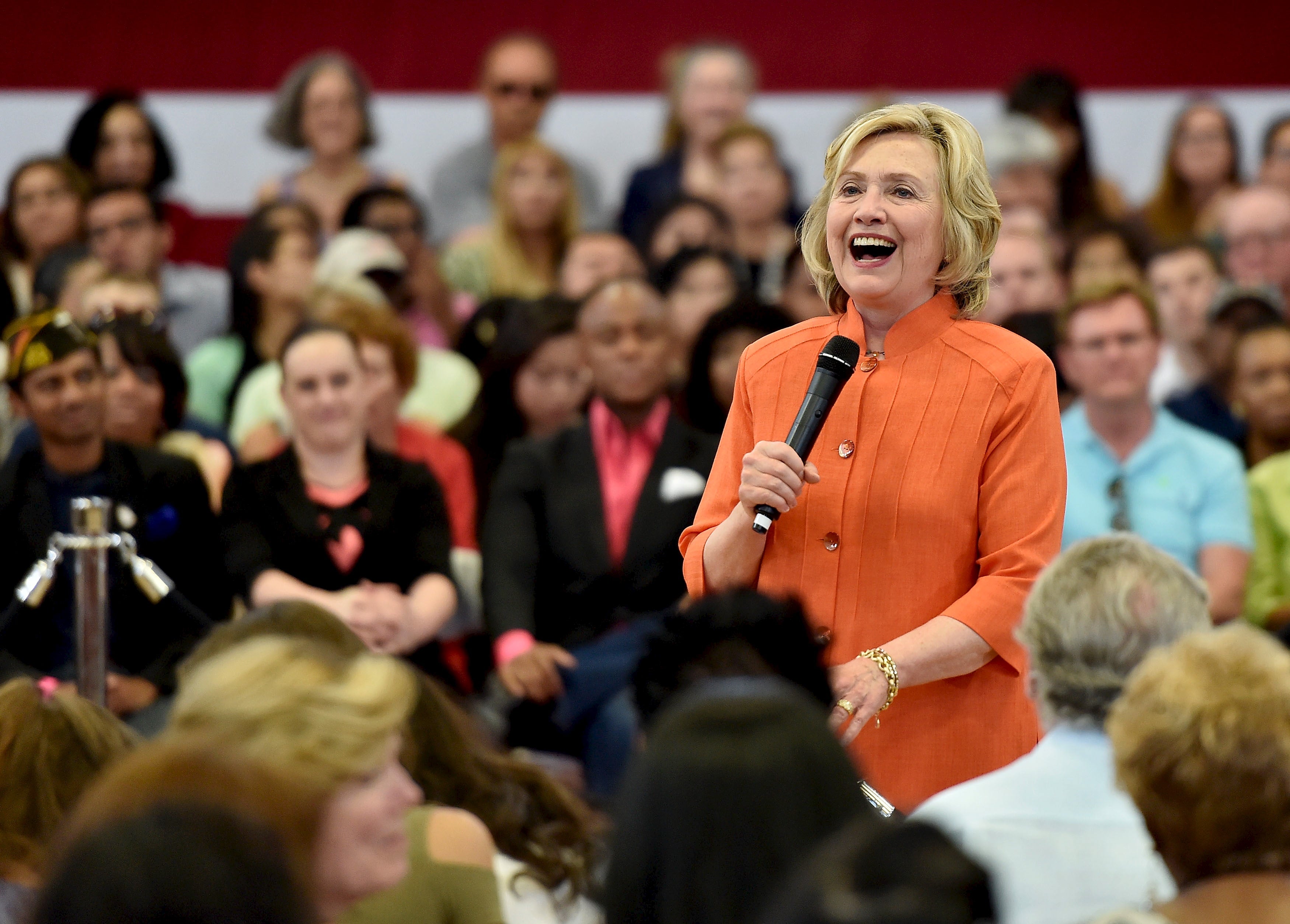 Hillary Clinton's newest college proposal encourages public service
New York, New York -- Hillary Clinton announced new details Thursday about another piece of her plan to make college more affordable: more rewards for those who commit to national service.
Clinton's proposal, explained in a press release issued by Clinton's campaign while the candidate took a day off the trail, would dramatically increase enrollment in AmeriCorps to include 250,000 members and provide greater scholarship awards for volunteers who dedicate three years to community and public service.
AmeriCorps, a federal program that places volunteers in a wide range of service positions in education, healthcare, disaster response and other areas, currently has about 75,000 members. Clinton's plan to increase that number builds on the promise of the Edward Kennedy Serve America Act, signed into law by President Obama in April 2009, to expand AmeriCorps to 250,000 members by 2017.
"But progress has been slow," reads a fact sheet about Clinton's plan on her campaign website. "Congress has not provided the funding."
Clinton has not specifically addressed how she would shore up Republican support for her college plan but when faced with questions about how she would deal with the gridlock on Capitol Hill, which Clinton recently described as "like nothing I've ever seen," Clinton often touts her own experiences working across the aisle.
"I'll go anywhere, anytime to talk to anybody about finding common ground," she said at another meeting last week in Claremont, New Hampshire. "I will also stand my ground wherever necessary."
Along with expanding the program, Clinton is promising to raise the amount of scholarship money for members who complete two years of full-time AmeriCorps service and a year of work in public service from $11,550 to $23,000. The award, which recipients can use to cover tuition, other costs of attending college like books or room and board, or to pay certain loans, would also be tax-free under Clinton's plan.
"Young people willing to commit to public service deserve to live free from the crushing burden of student debt," Clinton said in the campaign's release. "In the same way we provided for our returning veterans with the GI Bill, we must commit to those who serve our communities at home. By increasing participation in AmeriCorps, we can attract more young people to community building and enable them to do this work without the stress of paying off their college loans."
Clinton started rolling out her college affordability plan, which she has named "The New College Compact," last week with a series of town halls in New Hampshire and Iowa.
"We'll make a promise to students who perform national service," she said at one meeting in Exeter, New Hampshire last Monday. "If you are willing to spend years tutoring America's kids or cleaning up our parks or helping communities hit by disasters, we will guarantee that you can attend your public university or college debt-free."
Later, in response to a question about healthcare in schools from a woman who said she had just finished a year of service through AmeriCorps, Clinton explained why this part of her plan is personal.
"I really believe in service," she said. "I believe in service either national service, military service, some service that a young person can do to give back to our country."
According to Clinton's campaign, the plan to expand AmeriCorps and its scholarship program will cost $20 billion over ten years. Clinton has she will pay for her entire college plan, estimated to cost $350 billion over ten years, by closing tax loopholes for the wealthiest Americans.
Thanks for reading CBS NEWS.
Create your free account or log in
for more features.