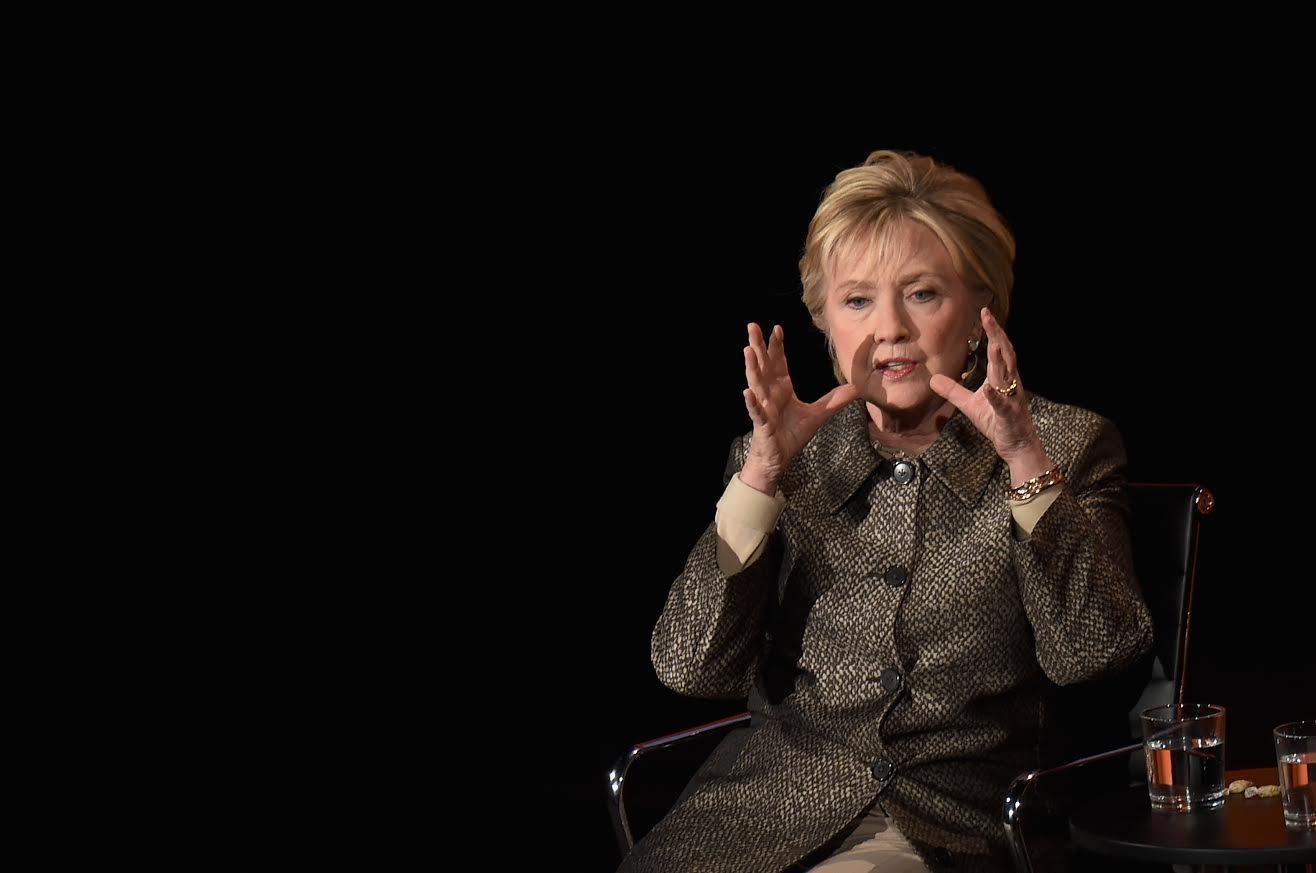 Hillary Clinton says she supported more aggressive action in Syria
NEW YORK -- Hillary Clinton said she supported more aggressive action in Syria while she was secretary of state, and spoke out about what she believes the U.S. should do about the worsening crisis. She addressed the issue in what was billed as her first public interview since her election defeat, at Tina Brown's Women in the World summit Thursday in New York.
Clinton said that during President Obama's first term, she and then-CIA director Leon Panetta had created "a plan to move aggressively to provide backup to what I thought would be a one-sided battle — this was before ISIS."
"I believed then, that we should've done more at that point," Clinton said. "These are not easy decisions that's why you want to get the best info you can ... I then did promote a no-fly zone, I still believe we should've done a no-fly zone. I think we should've been more willing to confront Assad."
Syrian President Bashar al-Assad, Clinton said, had "an air force, and that air force is the cause of most of the civilian deaths," which is why she had supported a no-fly zone.
"I believe we should have — and still should — take out his airfields and prevent him from being able to use them," Clinton said.
In a 2013 speech to Goldman Sachs that was excerpted on WikiLeaks, Clinton acknowledged that a no-fly zone would have "killed a lot of Syrians." She defended that call to Chris Wallace at one of the debates, although she did not directly answer how she would have reacted if a Russian plane had breached a no-fly zone.
In Thursday's interview, conducted by The New York Times' Nick Kristof, Clinton also spoke at length about her "devastating" defeat in the 2016 election, and she blamed Russia for the "weaponization of information" that led to distrust among voters.
Clinton said she is "deeply concerned" about Russia's interference in the 2016 campaign, which she called "a more effective theft even than Watergate."
While Clinton didn't call out President Trump by name — and only made a brief mention of the Senate and House investigations into his team's possible ties to Russia — Clinton warned that she believes the Kremlin will view what happened in the 2016 election as a success and "they will be back time and time again."
Putin is "somebody who plays the long game — he plays three dimensional chess," Clinton said. She said he is always trying to "advance himself, his oligarch companions and his country — in that order."
As for why he waged the campaign against her, Clinton said Putin was not happy with her policies while secretary of state — and "he's not exactly fond of strong women."
"Although he did shake hands with me," she quipped, which drew laughs from the audience.
Clinton was the headliner at the three-day women's conference, whose attendees shouted "we love you Hillary" as she walked off stage and gave her a standing ovation. Women in the World's founder, Tina Brown, has a long history with Clinton. Clinton gave her first interview after the Monica Lewinsky scandal in the inaugural issue of Brown's now-defunct magazine, Talk.
Given the theme of the summit, it was hardly surprising that Clinton said, "I think it is fair to say that misogyny played a role" in the election. She mused that many people turned away from a female candidate because it seemed like too much change.
Clinton also encouraged young people — "especially young women" — to go into public service, but she warned about the uphill struggle of being a woman in politics.
Clinton shot down talk that she would run for anything else, saying she knows she will do "interesting things, but I don't think that will include running for office again." Clinton said she is writing a book.
Clinton called the defeat "devastating," and said the "days and weeks afterward were so troubling."
"As a person, I'm OK. As an American, I'm pretty worried," Clinton said.
"I thought I was going to win and I thought I had a really good transition operation going," she said, and observed that "clearly [the transition] wasn't well prepared for the incoming administration. I think they're going through some very public growing pain."
Clinton called the first 100 days of the Trump administration "chaotic," adding, "I don't understand the commitment to hurt so many people that this White House seems to be pursuing."
Although Clinton said she "doesn't take any pleasure" in the chaos, she did admit that it was "somewhat gratifying" last month when the health care bill did not come to a vote.
"Having listened to them talk about repeal and replace for seven years — they had not a clue about how that worked. … I don't even think they read the bill," Clinton said.
Clinton also highlighted what she called the targeting of women in the GOP health care bill. "The things that come out of these men's mouths — like why do we have to cover maternity care? I don't know, maybe you were dropped by immaculate conception?"
The three-day conference also included appearances by Canadian Prime Minister Justin Trudeau (whose comments about feminism swooned the mostly female crowd), Scottish First Minister Nicola Sturgeon, U.N. ambassador Nikki Haley and actress Scarlett Johansson. Comedian Samantha Bee introduced Clinton.
Thanks for reading CBS NEWS.
Create your free account or log in
for more features.