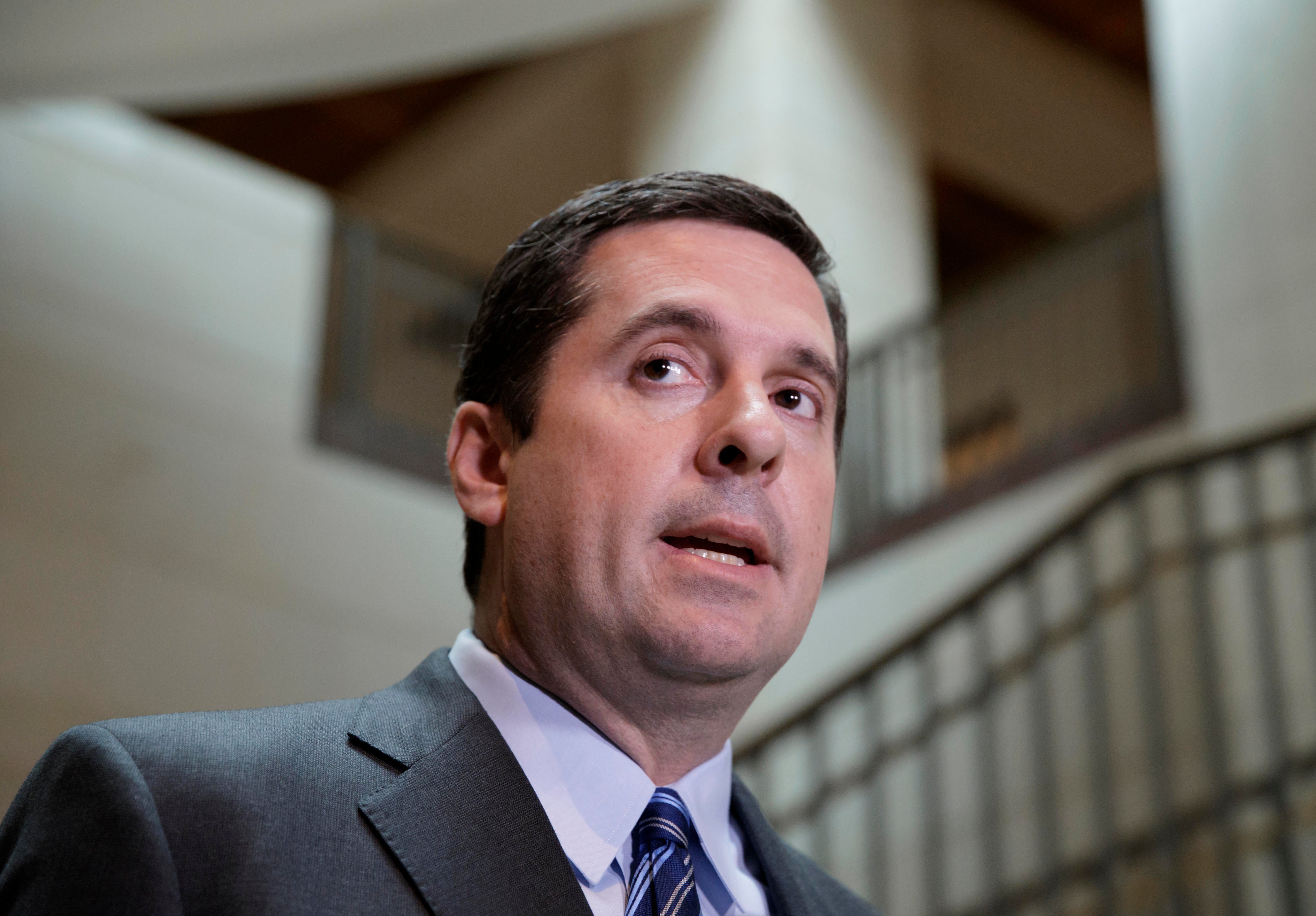 Devin Nunes recuses himself from Russia probe
House Intelligence Committee Chairman Devin Nunes announced Thursday morning that he is stepping aside from his panel's investigation into Russia's meddling in the U.S. election.
The California Republican suggested he made the decision because he said several "leftwing activist groups" filed accusations against him with the Office of Congressional Ethics. He said their charges are "entirely false and politically motivated."
"Despite the baselessness of the charges, I believe it is in the best interests of the House Intelligence Committee and the Congress for me to have Representative Mike Conaway, with assistance from Representatives Trey Gowdy and Tom Rooney, temporarily take charge of the Committee's Russia investigation while the House Ethics Committee looks into this matter," Nunes said in a statement.
The Office of Congressional Ethics is an independent body that fields complaints from the public. CBS News' Nancy Cordes noted that back in January, House Republicans were planning to gut that body's power until then-President-elect Trump tweeted that they shouldn't.
The Office of Congressional Ethics is separate from the House Committee on Ethics, which has more power, is chaired by a Republican, and is composed of an equal number of Republicans and Democrats, Cordes points out. The House Committee on Ethics confirmed in a statement Thursday morning that it is "investigating and gathering more information" on "public allegations that Representative Devin Nunes may have made unauthorized disclosures of classified information."
"The Committee notes that the mere fact that it is investigating these allegations, and publicly disclosing its review, does not itself indicate that any violation has occurred, or reflect any judgment on behalf of the Committee," it said.
Conaway is a Texas Republican and as Nunes indicated, he will lead the probe for now. He doesn't seem likely to be much more crusading than Nunes, if his comments in recent months are any guide, Cordes says. In January, Conaway likened Russian election meddling on behalf of Mr. Trump to Mexican celebrities campaigning for Hillary Clinton.
"Harry Reid and the Democrats brought in Mexican soap opera stars, singers and entertainers who had immense influence in those communities into Las Vegas, to entertain, get out the vote and so forth," Conaway told The Dallas Morning News in a story that ran Jan. 17. "Those are foreign actors, foreign people, influencing the vote in Nevada. You don't hear the Democrats screaming and saying one word about that."
The Dallas Morning News then asked Conaway whether that was comparable to Russian hacking that targeted Clinton's campaign. "Sure it is, it's foreign influence," he responded. "If we're worried about foreign influence, let's have the whole story."
Gowdy, of course, was the chairman of the now-defunct House Select Committee on Benghazi.
Nunes said that he would continue his responsibilities as chairman and he is requesting that he speak with the Ethics Committee as early as possible to "expedite the dismissal of these false claims."
Speaker Paul Ryan, R-Wisconsin, said Thursday that Nunes has earned his trust for many years and "continues to have that trust." However, he said that the ethics inquiry would be a distraction amid the Russia probe.
"It is clear that this process would be a distraction for the House Intelligence Committee's investigation into Russian interference in our election," Ryan said. "Chairman Nunes has offered to step aside as the lead Republican on this probe, and I fully support this decision."
Rep. Adam Schiff, D-Calif., the top Democrat on the House Intelligence panel, responded to Nunes' decision.
"I know this was not an easy decision for the Chairman, with whom I have worked well for many years. He did so in the best interests of the committee and I respect that decision," he said. "I look forward to my continued work with the Chairman on the whole host of other important issues that our committee oversees every day, in our effort to make sure that the country is protected and our civil liberties are maintained."
Where Schiff was conciliatory, Democratic Leader Nancy Pelosi, D-Calif., was not. In a statement, she called his recusal "long overdue" and said he "had no business leading the investigation into the Trump-Russia connection."
At a news conference Thursday, Pelosi sad, "I did have plenty reason to think that he should not be in that role, both because of his role in the Trump transition and because of his erratic, bizarre behavior as chairman of the committee."
The decision comes after Democrats called for Nunes to recuse himself from the investigation after he revealed last month that he had seen documents that indicated that it's possible that President Trump's personal communications might have been picked up by the intelligence community through "incidental collection."
He later admitted that he looked at the highly classified information on White House grounds in a "secure location."
CBS News' Catherine Reynolds contributed to this report
Thanks for reading CBS NEWS.
Create your free account or log in
for more features.