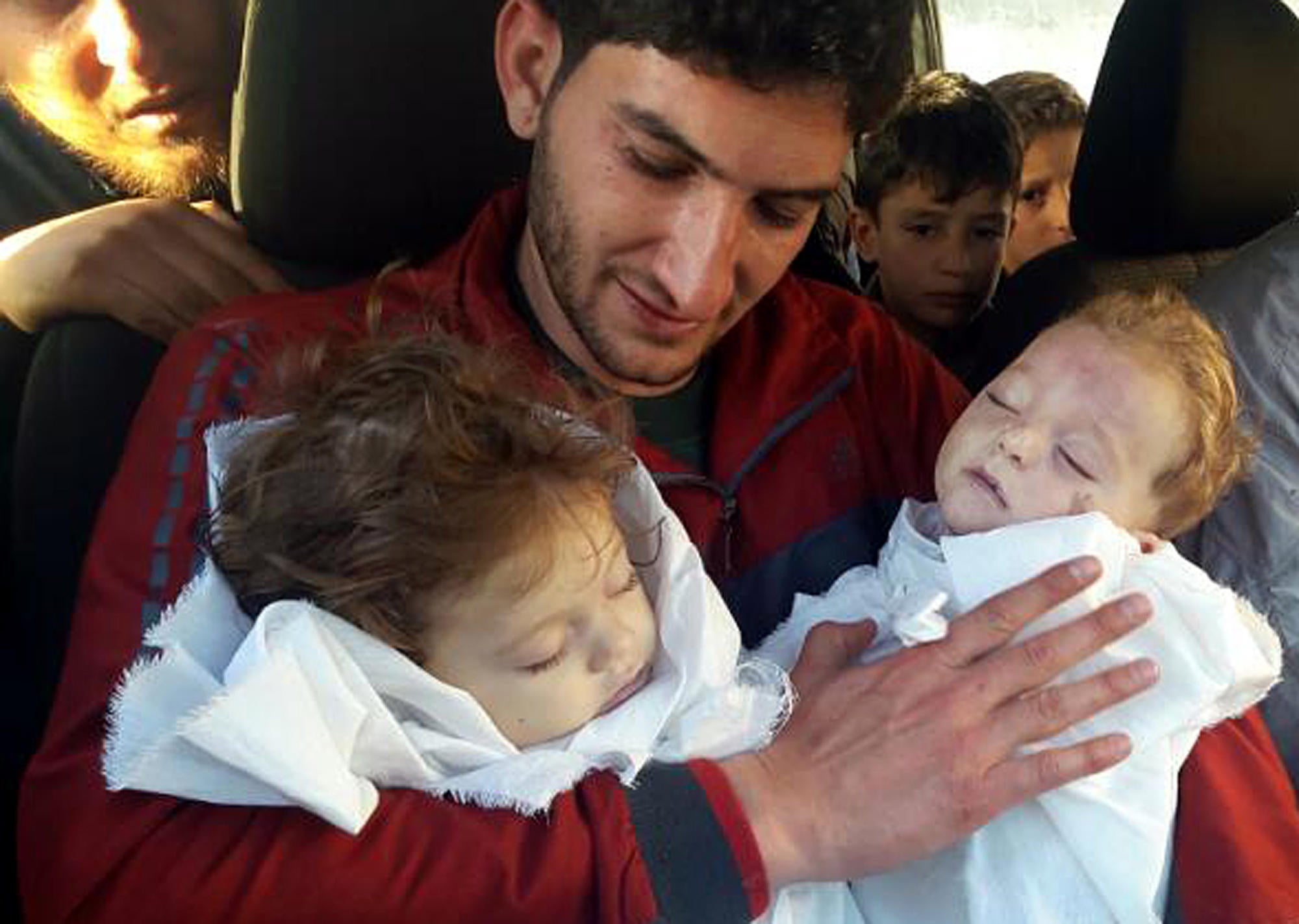 Heartbreaking photo shows father saying goodbye to twins after Syria chemical attack
All too often in brutal wars, it takes a photo of a child victim to make the world pay attention. And tragically, with the deadly crisis in Syria, that has now happened several times.
In September 2015, the image of a lifeless 3-year-old Syrian boy washed ashore on a Turkish beach echoed around the world. He and his family were hoping to find sanctuary in Europe, but he never made it that far. With that photo, young Aylan Kurdi became the symbol of the most severe refugee crisis since World War II.
In the summer of 2016, it happened again. Journalists in the war-torn city of Aleppo captured footage of a young Syrian boy named Omran Daqneesh sitting in an ambulance in the aftermath of an airstrike in his rebel-held Qaterji neighborhood. This time there was video too. Stunned and speechless, little Omran calmly wipes a combination of dust and blood from his face to his hand. In so doing, he silently communicated to the world just how ordinary these sorts of events have become to the children of Syria.
Now, in April 2017, it has happened yet again. After a barbaric suspected chemical attack on the northern Syrian town of Khan Sheikhoun, photos of a Syrian father clutching the lifeless bodies of his 9-month-old twins, Aya and Ahmed, attracted the collective sorrow and condemnation of the world.
The images show 29-year-old Abdul-Hamid Alyousef cradling his deceased children's bodies. In footage shared with the AP, he asks his cousin Alaa to record his emotional farewell to them. Alyousef can be seen choking back tears as he utters, "Say goodbye, baby, say goodbye."
Sadly, Aya and Ahmed were not the only family members Alyousef lost to the horrific attack, which began around 7 a.m. local time on Tuesday and killed at least 72 people. His wife was also killed, along with two of his brothers, two nephews, a niece, neighbors and friends.
"I was right beside them and I carried them outside the house with their mother," Alyousef, a shopkeeper, told the AP, recalling the moments after the airstrike occurred. "They were conscious at first, but 10 minutes later we could smell the odor."
Alyousef brought them to the paramedics and left to search for the rest of his family, assuming they would ultimately be OK. When he returned, however, he was told that wife and his children had all succumbed to the suspected toxic nerve agent.
"I couldn't save anyone, they're all dead now," the bereaved father said.
"Abdel Hameed is in very bad shape," his cousin Alaa added. He is being treated for exposure to the toxin, but that's not the worst of it, she told the AP. "He's especially broken down over his massive loss."
Thanks for reading CBS NEWS.
Create your free account or log in
for more features.