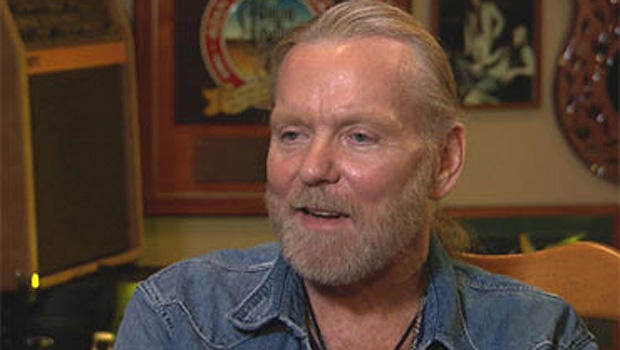 Gregg Allman: The road DOES go on forever
"Melissa" was a big hit for the Allman Brothers Band back in 1972. These days, Gregg Allman is still performing, and still on tour. Chip Reid offers this Sunday Profile:
By now, the songs are like old friends.
After 42 years, more than 30 albums, and thousands of concerts, Gregg Allman never gets tired of singing them.
Reid asked Allman why he loves singing so much.
"It's like going to an analyst and just spilling your guts," he said. "You know, something that's been bugging you for a long time and you finally tell this person, 'Look, here's the way it is.'"
There's no question the Allman Brothers - the bluesy, jam-band pioneers who all but invented Southern Rock - have earned a special place in rock history...
Now they have their own museum to prove it.
They call it "The Big House" - the ramshackle home in Macon, Ga., that the band shared for two magical years, from1970-72.
At the ribbon-cutting opening of the house full of memories, Gregg Allman said, "It looks a lot different than it did when I lived here."
"What did it look like then?" Reid asked.
"It looked like a bunch of hippies lived here, right?"
While Macon was the turning point, the band's journey began in Nashville, Tenn.
Gregory Lenoir Allman was born on Dec. 8, 1947, a year and 18 days after his brother Duane.
Tragedy struck early: Their father was murdered by a hitchhiker when Gregg was just 2. Big brother Duane had to fill the void.
"He knew just that much more than me," Gregg said, "and if we'd lived to be 95 and 96, I'd still be 'little brother.'"
But it was Gregg who first discovered music, when as a 9-year-old he saw a neighbor with a guitar.
"I said, 'What you got here, Jimmy?' He said, 'Well, it's a guitar, boy!'" Gregg laughed. "And he played 'She'll Be Coming 'Round the Mountain.'"
"So did you fall in love with the guitar the first time you saw it sitting there?" Reid asked.
"Yeah, I did. I did. It was like sparks flying, it was," he said.
Gregg taught Duane, who quickly became a virtuoso. They played together until 1969 when Duane assembled what would become the Allman Brothers Band. Gregg was reluctant to sign on - having already been accepted into college to be a dental surgeon.
"My brother said, 'We gotta go out here and tear up the roads a while,' you know?" Gregg laughed. "I said, 'I'll tell you what, I'll go out there for two years. And I'm going on back to med school.' Well, I got out there, the two years I was so far in debt, man, I had to stay."
In debt, perhaps, but along the way Gregg found he had a gift for song-writing, such as "Melissa," written in 1967 with Steve Alaimo.
Crossroads seem to come and go, yeah.
The gypsy flies from coast to coast
Knowing many, loving none
Bearing sorrow, havin' fun
But back home he'll always run . . . to sweet Melissa.
Was there a Melissa, Allman was asked.
"No," he told Reid. "It was a person that I had dreamed up, and I had everything in the song written but the title. And I got, 'But back home I'll always run with sweet Barbara . . .' 'With sweet Mary Jo. . . '
Allman laughed, "I was flabbergasted, you know?"
Inspiration came to him in, of all places, a grocery store.
"I was the only one in the store, except for this one Spanish lady and she had this little toddler with her," Allman said. "She was everywhere. And one time, she just took off down this one aisle, and the lady just freaked out. And she went, 'Oh, Melissa, Melissa come back!'"
"And I went, 'Oh! (snap) Lady, I could kiss 'ya," he laughed. "'Mlissa,' that's it!"
The band released 2 albums, gaining little attention until 1971, when they recorded a performance at New York's legendary Fillmore East.
The album "At Fillmore East" (featuring "Whipping Post") was a sensation. To this day it is considered one of the greatest live albums of all times.
Their wildest dreams had come true. But just 3 months later, it all came crashing down..
On Oct. 29, 1971, Duane Allman was riding his motorcycle down Hillcrest Avenue in Macon, when a truck turned in front of him.
"He had two speeds, man - hundred, and parked," Gregg laughed.
Gregg will never forget the phone call: "I hung up the phone and I just ran down the hill to the hospital. And there's a guy there meeting me. And he takes me into the chapel. And I knew it right then: Oh no," he said.
Duane Allman was dead at 24. Thirty years later, Rolling Stone magazine ranked him as the second greatest guitarist of all time.
The band carried on, with guitarist Dickey Betts shouldering more of the load.
But with his long blond hair and gritty, soulful voice, Gregg got most of the attention.
Sat down, wrote you a long letter,
Lord it seems just like the other day,
Said sure as the sunrise, baby,
Tomorrow I'll be up and on my way.
But I'll live on and try and be strong
'Cause it just ain't my cross to bear
("It's Not My Cross to Bear")
More than he bargained for, after his high-profile marriage in 1975 to Cher.
"I remember going to the grocery store and just seeing my face everywhere," Gregg recalled. "And I'm like, 'What is happening, you know?' She said, 'I told you this would happen!' Yeah, she warned me."
They were married for four years.
"There's still a friendship and a mutual respect there?" Reid asked.
"Yeah. I mean, we have a kid together and, you know, she's just - she's good people anyway.
There were a number of successful solo albums. And after breaking up, the Allman Brothers Band reformed in 1989.
These are good times for Gregg Allman, who said he loves living in the South. "It's peaceful, it's real quiet," he said. "If you're born here, you never want to leave it."
Last year he underwent a successful liver transplant, and this week he's releasing his first solo album in 14 years, "Low Country Blues."
At age 63 he's back on tour.
It seems the man who first sang "The Road Goes On Forever" more than four decades ago wasn't too far off.
"So, you're going to do it until you just can't do it anymore?" Reid asked.
"Oh, yeah!" Gregg chuckled. "Till they have to take my ass out there on a stretcher!"
For more info:
• allmanbrothersband.com
• greggallman.com
• "Low Country Blues"
• The Allman Brothers Band Museum at The Big House, Macon, Ga.
• Rounder Records
Thanks for reading CBS NEWS.
Create your free account or log in
for more features.