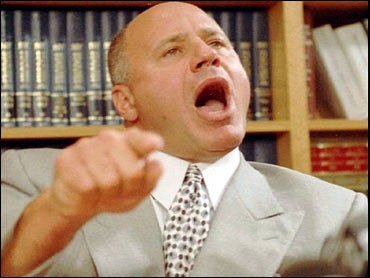 Gotti Lawyer To Rep Phil Spector
When he was at the top of rock and roll's hierarchy as a producer so respected even The Beatles wanted to work with him, Phil Spector huddled in the studios and nightclubs with only the best.
Today, Spector is a murder suspect, the Beatles album that had his touch has been stripped of the background sound he added, and all in all, he faces a much colder world.
He's still working with only the best - but these days, the chart-toppers are the stars of the legal profession.
Tuesday, the Spector story took another strange twist as Bruce Cutler, best known for representing John Gotti, took over the case from Leslie Abramson and Marcia Morrissey, who had themselves taken over from Spector's original attorney: O.J. Simpson dream team lawyer Robert Shapiro.
Abramson and Morrissey, who had been handling Spector's defense since February, have a long list of high profile cases but are best known for defending Lyle and Erik Menendez in the 1989 murder of their parents in their Beverly Hills mansion.
Abramson confirmed Tuesday that she and her co-counsel have resigned as Spector's attorneys, but said they were taken by surprise when Bruce Cutler filed a motion to take over the case while Abramson was out of the country.
"We were put in an untenable position, and we were forced to resign," said Abramson. "If we wanted to be ethical and competent, we had to resign."
She declined to elaborate.
Cutler, speaking from New York, said he has known Spector for a long time and had signed on as his personal attorney before Abramson and Morrissey took over the criminal case.
"I was engaged as Phillip's attorney and confidante last January," he said. "Leslie and Marcia were brought on in February, and they quit in July. They just jumped ship, and I had to take control of the ship and bring it into port."
Federal prosecutors in New York have portrayed Cutler as "house counsel" for the Gambino crime family and its accused godfather, John Gotti. He won three trials for John Gotti before prosecutors were able to get him disqualified from the defense team by playing 1990 tape recordings on which he had conversations with Gotti about other defendants.
Gotti died in prison in 2002.
Spector, famed for creating rock 'n' roll's "wall of sound" recording technique in the 1960s, is charged in the fatal shooting of Lana Clarkson at his mansion in February 2003.
Clarkson, 40, had met Spector at the House of Blues on the Sunset Strip where she was a hostess. She was best known as the star of Roger Corman's cult film classic "Barbarian Queen."
The case is scheduled for a preliminary hearing on Oct. 20. Cutler said they will ask for a postponement of the hearing, to give him time to get up to speed on the proceedings.
Spector, 64, is free on $1 million bail.
Thanks for reading CBS NEWS.
Create your free account or log in
for more features.