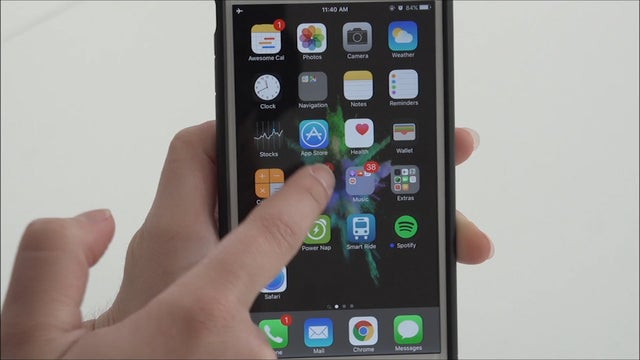 Report: Google, Facebook, WhatsApp plan to increase data encryption
A number of major tech companies including Google, Facebook and WhatsApp are said to be working on ways to enhance security of user data amid the government's fight with Apple to gain access to an encrypted iPhone.
According to a report in The Guardian newspaper, Facebook plans to expand security on its popular WhatsApp instant-messaging service to include encryption of its voice calls and group messages. Sources close to Facebook also told The Guardian that the company plans to enhance security of its Messenger chat tool, too.
The social media app Snapchat is working on beefing up security, too, according to the report. And Google has expressed a renewed interest in its End to End project, which would make it easier users to send encrypted emails to one another.
Major tech companies have been focusing on encryption to protect users after a number of highly publicized hacking incidents, and the issue has gained public attention amid Apple's fight with the Department of Justice. The government has taken Apple to court to try to force it to help unlock an iPhone used by one of the San Bernardino shooters, who killed 14 people in a massacre last December.
A wide range of tech companies including Google, Facebook, Snapchat, Amazon, Microsoft and Twitter filed legal briefs supporting Apple's position in the case.
Google, Microsoft and Facebook joined together in a brief arguing that the government's request would set a "dangerous" precedent.
A group of 17 smaller tech firms, including Twitter, LinkedIn, Airbnb and Reddit submitted a separate joint filing, stating that forcing Apple to undermine iPhone security features "threatens the core principles of privacy, security, and transparency that underlie the fabric of the Internet." The companies said they "oppose any forced 'backdoors' providing the government access to their systems."
At the same time, however, some of the same companies cooperate with government efforts to fight the spread of ISIS online, for example by suspending Twitter accounts related to the terrorist organization.
"Those matters may seem separate, but U.S. national security officials view the increasing availability of encryption technology as a major aid to Islamic State's online recruitment efforts. At some point, tech firms may have to choose whether they care more about being seen as helping the west to fight terrorism or standing as privacy advocates," The Guardian writes.
Thanks for reading CBS NEWS.
Create your free account or log in
for more features.