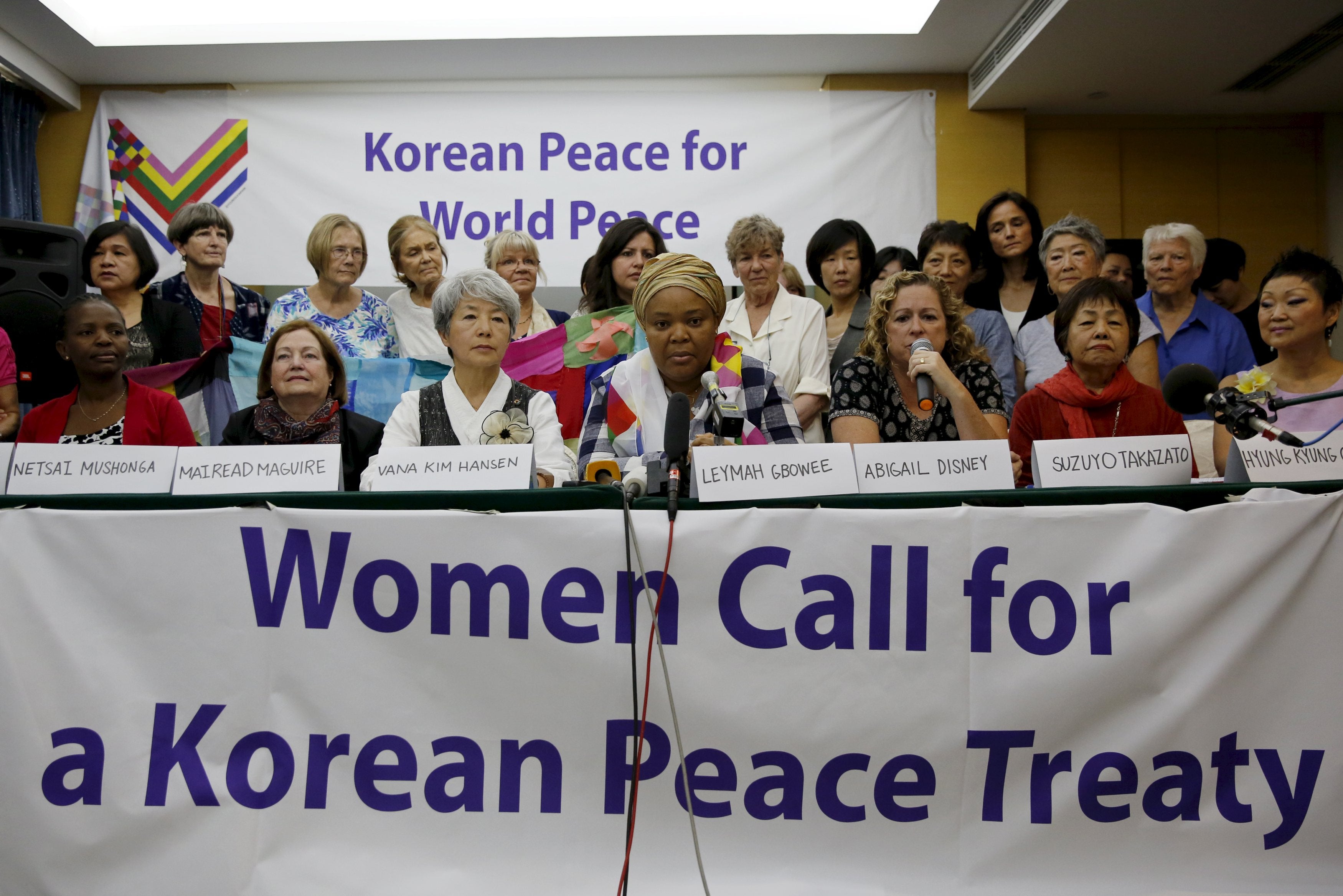 Female peace activists to cross no man's land
PYONGYANG, North Korea -- A group of female peace activists including Gloria Steinem and two Nobel laureates arrived in North Korea's capital on Tuesday for a march across the Demilitarized Zone that they hope will bring world attention to calls for a resolution to tensions on the Korean Peninsula.
The rare crossing of the DMZ, approved by both Koreas, is to take place Sunday.
North and South Korea have technically been in a state of war since the 1950-53 Korean War ended in an armistice, not a peace treaty. Their border along the DMZ is one of the most heavily fortified in the world and it is highly unusual for crossings to be allowed.
The event has raised controversy, with critics accusing the group of being propaganda pawns for the totalitarian North Korean government.
But participants say the march is intended to be a symbolic step toward ending the tensions between the Koreas, not an endorsement of either side's policies.
"There is nothing in this action that reflects prioritizing of one or another government," the group said in materials released to the media. "To the contrary, we have prioritized reunification of families, equity and justice for women living on both sides of the DMZ and a peaceful solution to the only remaining Cold War division."
Steinem, 81, an iconic figure in the equal rights movement in the United States, said she was immediately interested in joining the march when she was contacted by organizer Christine Ahn, a Korean-American peace activist.
"It seems so surrealistic that here we are with the DMZ" despite the end of the Cold War in other parts of the world, Steinem said in Beijing before the group's arrival in Pyongyang.
Also on the trip are Nobel Peace Prize laureates Mairead Maguire and Leymah Gbowee. Maguire received the Nobel prize for her work toward ending the conflict in Northern Ireland and Gbowee for her role in the Liberian peace movement.
The group of about 30 women is to spend several days in North Korea before the march meeting with North Korean women, touring hospitals and factories and holding an international women's peace symposium. After the crossing, they also plan to hold a peace march and a symposium in South Korea.
Thanks for reading CBS NEWS.
Create your free account or log in
for more features.