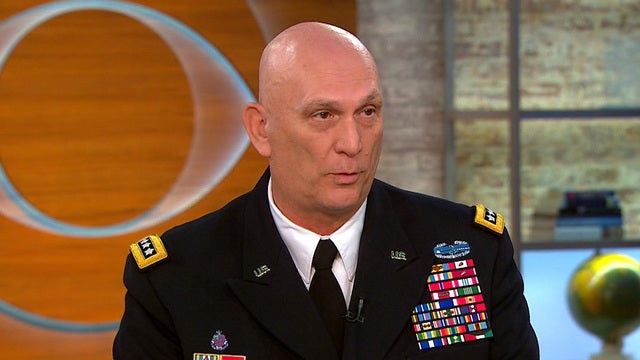 Gen. Odierno on troop increase: "I don't think it's a new strategy"
Although President Obama recently approved a plan to send an additional 450 U.S. troops to Iraq, U.S. Army Chief of Staff Gen. Ray Odierno downplayed the notion that it represents a strategy shift.
"I don't think it's a new strategy ... because we're continuing to execute the strategy that we have," Odierno, who previously served as the top U.S. commander in Iraq, said on "CBS This Morning" Thursday.
The 450 troops will be deployed to al-Taqaddum, a base in Anbar province, where ISIS has made territorial gains, to equip and train Iraqi Sunnis. The initial goal of the strategy is to regain Ramadi from ISIS.
Seventy-five of the U.S. personnel will be tasked with training. The remainder will be there for force protection. The new deployment will bring the total number of U.S. troops in Iraq to around 3,500.
In order for the plan to succeed Odierno said, it will take cooperation from the different sectarian and ethnic groups in Iraq.
"Do Shia fighters want to fight in the Sunni part of Iraq? I don't know. And so what we need is a totally integrated army of Sunni, Shia and Kurdish fighters that are there for Iraq and are willing to fight for Iraq," he said. "Once that's done, we can train them and we can help them, but until they are able to put together an army that represents everybody, it think it's going to be a struggle."
Lack of support from Iraqi troops has already hampered U.S. efforts.
As CBS News security correspondent David Martin reports, Iraqi troop rosters in Anbar province, where training will take place, are littered with an estimated 3,000 "ghost soldiers" -- men who are listed as members of the unit but have deserted.
"The number of sites is based on the number of Iraqis can be recruited. So right now we're limited by how many Iraqis are available for us to train and we're providing the people that are necessary to train those they give us to train," Odierno said.
He also said the Iraqi government needs to reform itself -- that Prime Minister Haider al Abadi is trying to do the right things, but "undercurrents" in the administration are impeding efforts.
"There's a lot of behind the scenes things going on that are making it difficult for him, in order to do the reforms that are necessary, i.e. reach out to the Sunnis, bring them in as part of the government, make an oil deal with the Kurds, which he has done, and follow through on that."
It's a problem that Odierno, who helped implement the 2007 U.S. troop surge that was widely credited with quelling violence in Iraq, said the U.S. has worked to solve in the past.
"We went in and fixed it once. It took us a while -- it took us longer than we wanted it to -- but we fixed it. The security was good, the economy was growing. We handed it off to them, and here we are three, four years later, and ISIS has been in control, has really had an impact on the security of the Iraqi people, and is now threatening the region in a much greater way."
While suggestions for an effective U.S. strategy to combat ISIS has included a significant bulk up of American boots on the ground, Odierno said until the political situation is stabilized, defeating ISIS would not completely solve the problem.
"I could put 150,000 soldiers on the ground and defeat ISIS? Yes. But then what?" he said. "A year later it would be right back to where we are today."
"I think in order to solve this problem, you need the Arab communities to solve this problem," Odierno said Thursday. "The United States cannot solve this problem by itself."
Monday, Mr. Obama said the U.S. does not yet have a "complete strategy," to defeat ISIS, saying that such a plan would require more commitment from the Iraqi government.
He shared similar sentiments nearly one year ago last August.
"In order for us to degrade [ISIS] over the long term we're going to have to build a regional strategy," Mr. Obama, acknowledging Iraqi Security Forces need for U.S. training and equipment.
Thanks for reading CBS NEWS.
Create your free account or log in
for more features.