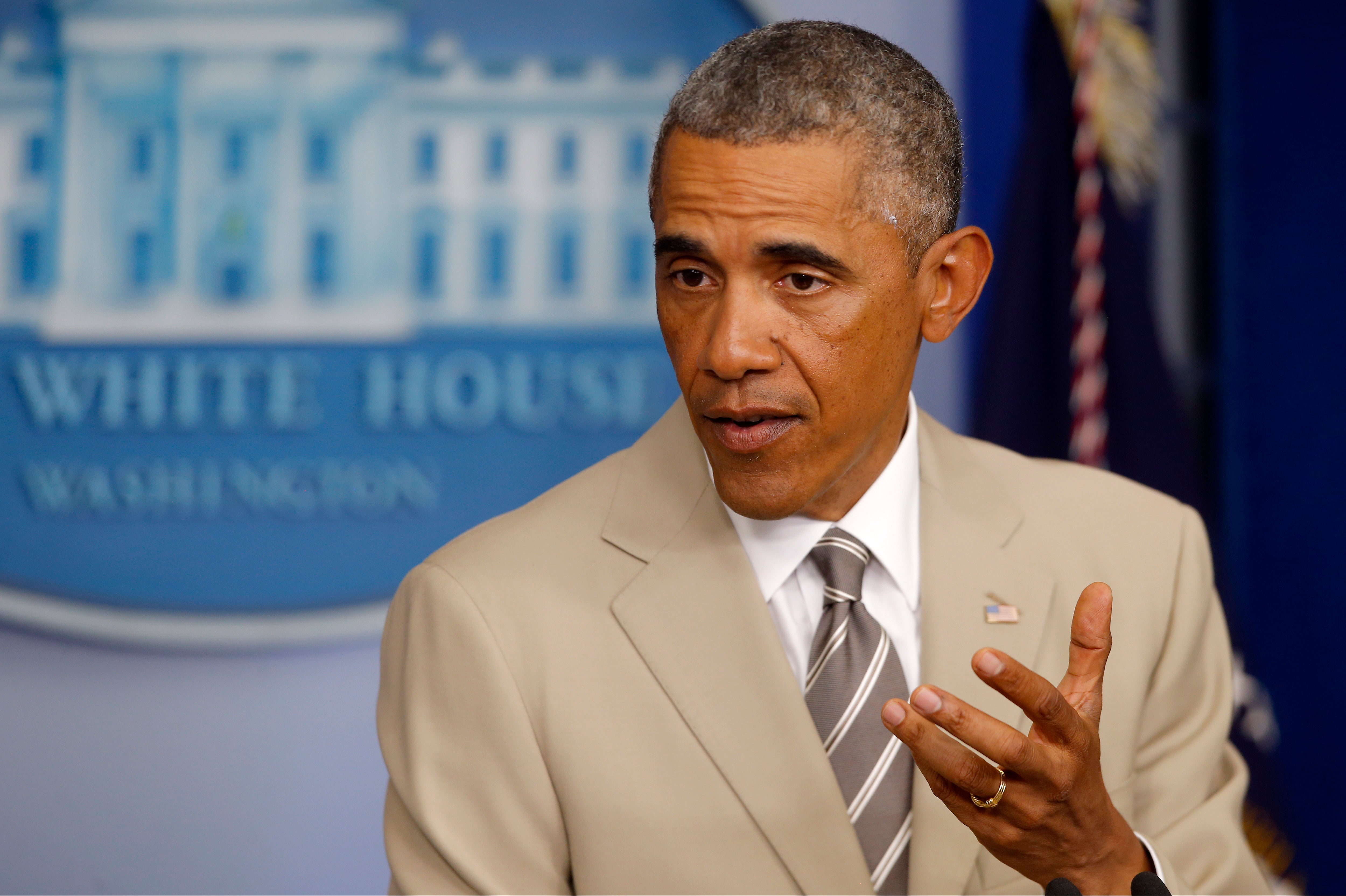 Obama on ISIS: "We don't have a strategy yet"
President Obama said Thursday that "we don't have a strategy yet" when it comes to removing the threat of the Islamic State of Iraq and Syria (ISIS) in the Middle East.
"I don't want to put the cart before the horse. We don't have a strategy yet," the president said Thursday.
Mr. Obama is currently weighing whether to order airstrikes against ISIS targets in Syria, which many experts say is necessary in order to defeat the Islamic militant group that has taken over vast swaths of territory in the region. Part of that discussion includes a debate over whether he is required to seek approval from Congress.
"We need to make sure that we've got clear plans so we're developing them. At that point I will consult with Congress and make sure that their voices are heard," the president said.
For now, Mr. Obama says he remains chiefly concerned about making sure that the militant group does not overrun northern Iraq, where it made significant territorial gains before the U.S. began conducting airstrikes to stop the advance in an effort to protect U.S. personnel and assets and prevent a humanitarian disaster.
"In order for us to degrade [ISIS] over the long term we're going to have to build a regional strategy," the president said, which begins with the formation of a more inclusive Iraqi government that can strengthen the country's security forces.
He acknowledged that the Iraqi Security Forces will need "help" in the form of more training and equipment, which the U.S. is prepared to offer. Mr. Obama also said there "may be a role for an international coalition providing additional air support for their operations."
Defeating ISIS will ultimately also involve stabilizing Syria in the long run, he said, and added that the U.S. would continue to support the moderate opposition there.
"Clearly [ISIS] has come to represent the very worst elements in the region that we have to deal with collectively and that's going to be a long-term project," the president said.
He said he has asked Secretary of State John Kerry to travel to the region to help coordinate the response.
White House officials sought to clarify Mr. Obama's "strategy" remark, saying it referred to a specific military strategy, not a broader approach to combating the militant group. Members of Congress, however, had already pounced.
"The President needs to develop a regional strategy, working with our allies, to defeat ISIL and to use the full extent of his authorities to attack this enemy force," said Senate Minority Leader Mitch McConnell, R-Kentucky. "The President needs to present this plan to the Congress, and the American people, and where the President believes he lacks authority to execute such a strategy, he needs to explain to the Congress how additional authority for the use of force will protect America."
"[T]he threat from [ISIS] is real and it's growing--and it is time for President Obama to exercise some leadership in launching a response."
House Intelligence Committee Chairman Mike Rogers, R-Michigan, told CNN that the president's statement was "shocking."
Meanwhile in Ukraine, tensions are running high after officials from both the Ukranian government and NATO reported that at least 1,000 Russian troops have poured into the eastern part of the country, which has been destabilized in recent months by pro-Russian separatists.
Mr. Obama again pointed to Russia as the source of training and support for the violent separatists, and threatened that the incursion will bring further costs to the country. A military confrontation, however, "is not in the cards."
"We are not taking military action to solve the Ukrainian problem. What we're doing is to mobilize the international community to apply pressure on Russia," the president said.
"We will continue to stand firm with our allies and partners that what is happening is wrong, that there is a solution that allows Ukraine and Russia to live peacefully. But it is not in the cards for us to see a military confrontation between Russia and the United States in this region."
He said the recent Russian incursion is an extension of months of interference in Eastern Ukraine, and while a military response is out of the question, he said there may be "additional steps" taken by the U.S. and its European allies "primarily because ewe have not seen any meaningful action on the part of Russia to try to resolve this in a diplomatic fashion."
The sanctions imposed on Russia have hurt the country in ways "that are going to be very difficult to recover from," Mr. Obama said.
The president is set to attend a NATO conference in Wales next week, which he said would "refocus the attention" on the role that the international security organization has in protecting security in the region. Though Ukraine is not a NATO member, many other states in the region are.
He was also asked about forthcoming executive actions on immigration. Mr. Obama is awaiting formal recommendations from Homeland Security Secretary Jeh Johnson on a change of enforcement priorities that could result in relief from the possibility of deportation for millions of immigrants in the U.S. illegally.
"I've been very clear about the fact that our immigration system is broken and needs to be fixed. And my preference continues to be that Congress act. I don't think anybody thinks that Congress is going to act in the short term, but hope springs eternal that after the midterm elections they may act," he said.
The president acknowledged that the rush of Central American children seeking refuge in the U.S. this year might have "changed the perception of the American people about what's happening at the borders," but that the number of apprehensions has decreased in recent weeks. While that crisis has kept him busy, "it has not stopped the process of looking more broadly about how do we get a smart immigration system in place while we're waiting for Congress to act," he said.
"And it continues to be my belief that, if I can't see the congressional action, that I need to do at least what I can in order to make the system work better."
Thanks for reading CBS NEWS.
Create your free account or log in
for more features.