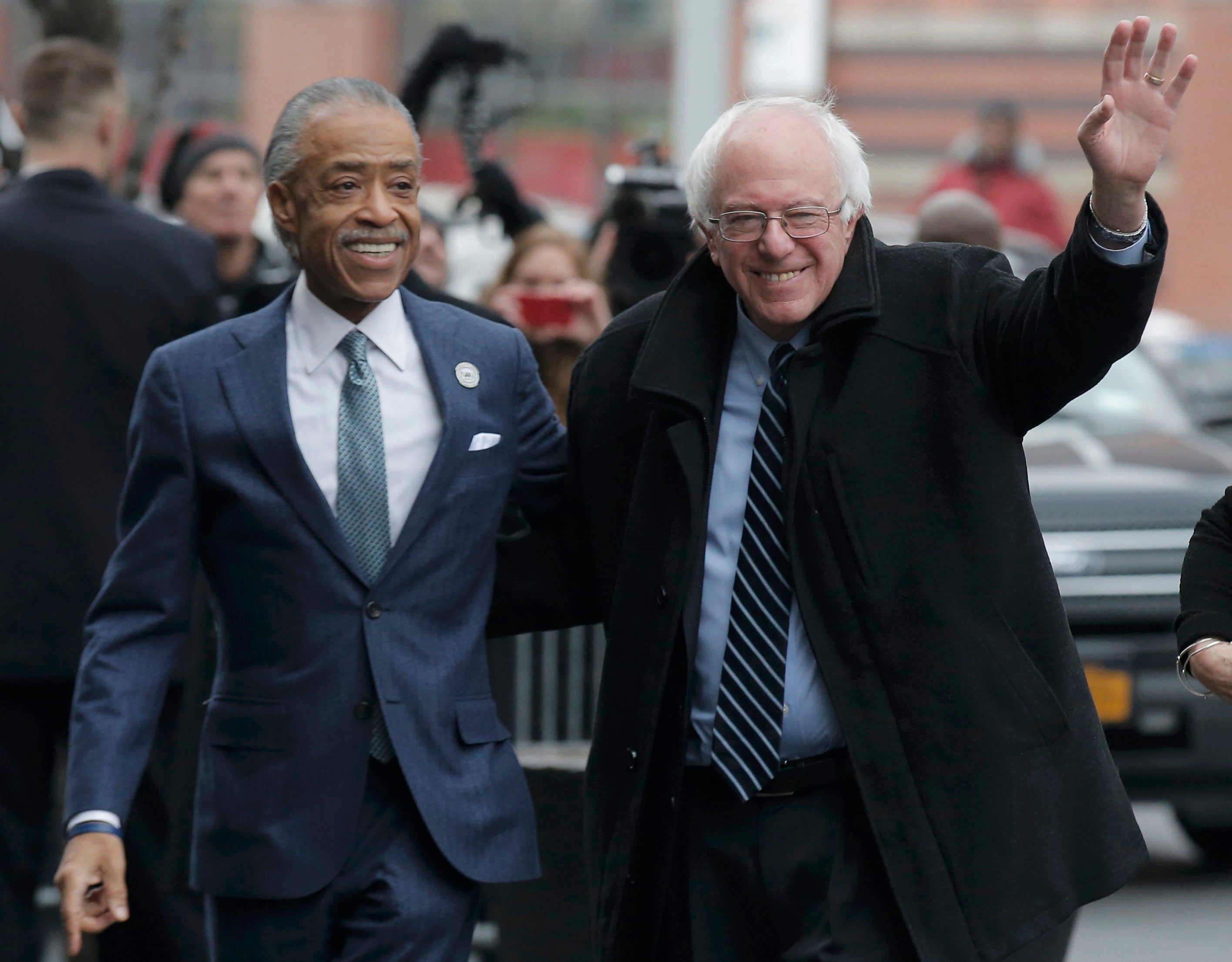 After New Hampshire win, Bernie Sanders meets with Al Sharpton
Fresh off his New Hampshire primary victory, Sen. Bernie Sanders on Wednesday met for breakfast with civil rights leader Al Sharpton in Harlem.
"My concern is that in January of next year, for the first time in American history, a black family will be moving out of the White House. I do not want black concerns to be moved out with them," Sharpton told reporters after he met with the Vermont independent at Sylvia's Restaurant.
Sharpton said he plans to make a endorsement "probably" after he meets with Sanders' rival, Hillary Clinton, next Thursday.
"We must be front and center and not marginalized," Sharpton said.
Benjamin Jealous, the former president of the NAACP, recently endorsed Sanders for president and he appeared alongside Sharpton and New York State Sen. Bill Perkins in Manhattan.
"This election is absolutely critical for our people. It is absolutely critical for our children," Jealous said at the press conference after the meeting with Sanders. "There is no candidate in this race who is fiercer in standing up for those who need allies in the struggle than Bernie Sanders."
Sanders has been standing up for racial equality for decades, Jealous said, and added Sanders is the "best candidate we have" to beat all of the GOP candidates.
The meeting and photo-op with Sharpton is an important moment for Sanders, who has struggled to garner support from black and minority communities.
Sanders is also getting another boost, from acclaimed writer Ta-Nehisi Coates, who told the radio show "Democracy Now!" that Sanders has his vote. Coates recently criticized Sanders because he said that he does not support reparations for slavery.
Clinton, on the other hand, has received much more support from those voting blocs.
In a memo released Tuesday night, Clinton's campaign manager Robby Mook argued that Clinton will perform well in the March nominating contests because there are more minority voters.
CBS News projected Sanders as the winner of the first-in-the-nation primary when polls closed in New Hampshire at 8 p.m. ET on Tuesday. At his primary night rally, Sanders said his win was a result of the "record-breaking" or "yuge" turnout in the Granite State.
In his speech, Sanders vowed to "fight to end racism" and work to provide jobs and education for young people instead of sending them to jail.
Thanks for reading CBS NEWS.
Create your free account or log in
for more features.