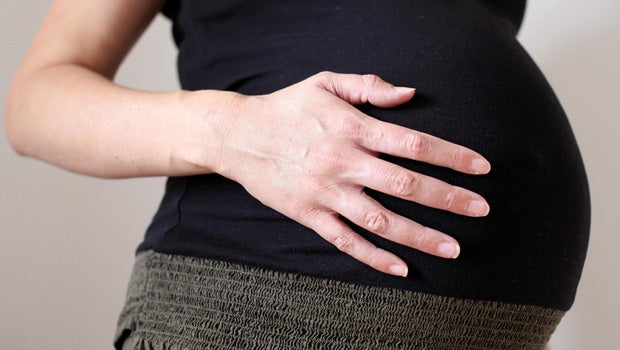 ​For first-time moms, 40 is the new 30
Deciding when in life to have a baby is a very personal decision. And for more women these days, it appears to be a case of NEVER SAY NEVER. Our Cover Story is reported by Serena Altschul:
When Ayala Donchin launched her baking business in 2009, she was hungry for success. She was working, she said, "Twenty-four hours a day, seven days a week, nonstop." And it paid off: In just four years, she says Evelyn's Kitchen grew to be a seven-figure business. Then in her early 40s, Donchin wanted to expand again -- in a different way.
Altschul asked, "Why wait till your 40s to really try to have a baby?"
"We just had other priorities," Donchin repied. "Work came first."
But after several years and one miscarriage, Donchin gave up trying, convinced she had waited too long to have a baby. Then, in July of 2014: "I just just felt lethargic, and I didn't feel well, and I was sure that this was the first signs of menopause. I said this must be early-onset menopause at this point. And I Googled menopause, and I didn't fit any -- there was none of the checklist that I fit.
"And the next morning I took a pregnancy test. And another, and another," she laughed. "I probably took, like, 13 or 14. Literally, I was buying the five-packs."
They all came back positive. And on March 2, 2015, Brooklyn Emanuelle was born. Five months later, Brooklyn's mother turned 46.
"Did you have any concerns or misgivings about being pregnant at your age?" Altschul asked.
"I was already thinking I'm gonna look crazy, taking her to kindergarten," Donchin said. "I'm gonna be the age of some peoples' grandparents, and it'll be like, 'This is my daughter.'"
But it turns out she's not alone: Nationwide, the number of babies born to women 45 and older, while still relatively small, has more than TRIPLED in the past two decades. And the average age of first-time mothers has climbed in every state across the country.
It seems like almost everywhere you look these days, you see a woman over 40 with a beautiful little angel ... like Altschul's daughter, Vivian. She turned one last February. Her mother? Over 40.
"This is no blip. This is a seismic shift. There is no question," said social psychologist Susan Newman. "I think the opening up of careers and jobs for women, actually paved the way more than anything else."
Newman says change on the American home front started with a revolution in the American workplace. "Women are staying in school longer. They're starting jobs, but staying in them, getting themselves established on a career path, if that's what they want."
"Forty is the new 30," laughed Dr. Joanne Stone, director of Maternal Fetal Medicine at Mt. Sinai Hospital in New York City. "Everybody's older. If you have somebody that's 28, it's like a teen pregnancy."
She says waiting has its risks: "So one in five couples who are over 40 will have infertility."
And of those who do get pregnant, "The woman who's 40 may have about a 1-in-50 chance, a 1-in-40 chance that the fetus may have a chromosone abnormality, and that increases by a lot," said Dr. Stone. "And then there are medical complications that are higher as well -- developing high blood pressure during pregnancy, developing diabetes during pregnancy, premature birth, stillbirth is higher."
But thanks to advances in medicine, the odds of limiting those risks are better than ever. So are the odds of actually conceiving, given the varied ways one can get pregnant these days.
"There still is the old fashioned, good ol' way of getting pregnant -- sex," said Dr. Stone. "Probably the most fun way of getting pregnant! There's seeking fertility treatment, so using your own eggs, but maybe getting a little bit of help with either some oral medication of injections and insemination. Or there's in vitro fertilization, which can involve your own eggs. It could involve frozen eggs or frozen embryos from an earlier time period, or there's also the options for donor eggs."
The use of assisted reproductive technology has more than tripled in the past two decades, but it can cost tens of thousands of dollars, and it's not always covered by insurance.
Still, 45-year-old patient Susan Willis, a single mother pregnant again (her first is almost two-and-a-half), says she couldn't have done it without science -- "Having the ability to freeze eggs and embryos and make the decision when I was ready, as ready as I was ever going to be."
"I didn't want to not have children because I didn't meet the right guy," Willis said. So she relied on her backup plan instead: At 40, she froze embryos -- her own eggs matched with sperm from a hand-picked donor.
How did she decide on the sperm donor? "It's kind of like online shoping," Willis said. "I had their photographs and their interviews and their likes and dislikes. And I spent a Friday afternoon narrowing it down and I had a clear favorite. From the moment I saw his picture, I had a clear favorite. "
An embryo was implanted at age 42. At 43, she gave birth to her son.
"I think technology has made it so that women do have what they think of in their minds as a cushion, a security blanket," psychologist Susan Newman said.
And with that security blanket, Newman says women are reshaping the American family.
"The fact of the matter is that families are getting smaller and smaller," she said. "Some women who are older are having second children. But the majority of them, especially the ones who use in vitro fertilization, two-thirds of those women are stopping at one."
"Will that change things?
"We will have fewer aunts and uncles," said Newman. "But I don't really see that as a problem, because we will use friends as substitute aunts and uncles."
So, Altschul wondered, how old is too old? "I would hate to put an absolute cut-off," said Dr. Stone. "I think being 80 would probably be unreasonable!"
Eighty may be too old, but 40-something feels just right, at least for the mothers we met. "I think I always wanted to be a mom," said Ayala Dunchin.
"I never once considered a life without children," said Susan Willis. "It was the best thing I ever did."

For more info:
Thanks for reading CBS NEWS.
Create your free account or log in
for more features.