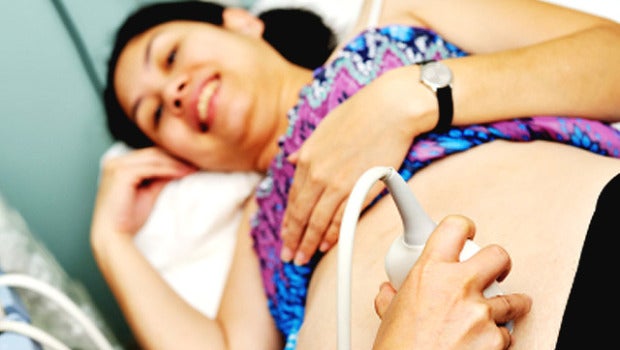 More older women becoming first-time moms
American women are becoming first-time mothers at a much older age than they were four decades ago, according to the latest data from the Centers for Disease Control and Prevention's National Center for Health Statistics. In 2012, there were more than nine times as many first births to mothers 35 and older than there were in the 1970s.
While the report doesn't outline the reasons for this trend, experts say it's the result of both societal changes as well as advances in medicine. More women are choosing to pursue higher levels of education, "lean in" and focus on their careers, marry at a later age and delay childbearing. Meanwhile vast improvements in health care and especially fertility technology have helped women get pregnant when nature alone might not have worked. Experts say this shift to later motherhood has huge implications, both on an individual and national level.
"The age at first birth is really a very important topic," Dr. Joanne Stone, director of maternal fetal medicine at Mount Sinai Hospital in New York, told CBS News. "When a woman has her first child that can influence how many children she is going to have in the future. If you're 44 and this is your first baby, you may not have more children in the future. So it effects what's going to happen in the population, it affects the size of the population, the future growth of the population, as well as the composition of the population."
The report finds first birth rates for women age 35 to 39 rose as much as six-fold from 1973 to 2006, from 1.7 to 10.9 per 1,000 women in this age group. It dropped slightly from 2006 to 2010, then rose again by 2012. The first birth rate among women age 40 to 44 remained stable in the 1970s and early 1980s, but then increased rapidly, more than quadrupling from 1985 through 2012, from 0.5 to 2.3 per 1,000 women.
This overall trend was also reflected across women of all races and ethnicities, with the biggest increase in the number of older first time moms among non-Hispanic black women and non-Hispanic white women. Between 1990 and 2012, the rate of women choosing to become mothers at age 40 to 49 increased by 171 percent for non-Hispanic black women and 130 percent for non-Hispanic white women.
Since 2012, the District of Columbia, New York, North Dakota, Oregon, Rhode Island, South Dakota, Washington state, and Wyoming had the biggest increases in first time mothers ages 35 to 39.
The District of Columbia, Minnesota, Nebraska, and South Carolina reported the biggest increases for women ages 40 to 44.
Dr. Stone said overall women are becoming more confident that later motherhood is a safe and realistic option, though it's still important to be aware of the challenges.

"While most women do very well and have healthy children there definitely are some risks that are higher at 35 and above, which is what we typically call 'advanced maternal age,'" she said. Women who become pregnant at an older age are more likely to have stillbirths, pre-term births, c-sections and babies born with chromosomal abnormalities. Pregnancy at an older age can also put a woman at higher risk for developing health conditions such as high blood pressure and diabetes, said Dr. Stone. And, of course, conceiving a child will be much harder, due to the toll age takes on a woman's ovaries and eggs.


She said any woman over age 35 who is considering motherhood should develop a strategy to have the healthiest and safest pregnancy possible.

"First start a little bit ahead of time, give yourself some time," she said. "And then if you find that you're doing everything and you're timing ovulation and you are ovulating and there's nothing that seems to be a factor, then seek the help that you need and see a reproductive endocrinologist. I think it's also important to see a maternal fetal medicine specialist or just a general ob/gyn, and go over any health issues because sometimes there are things that can be done to improve the outcome."
Thanks for reading CBS NEWS.
Create your free account or log in
for more features.