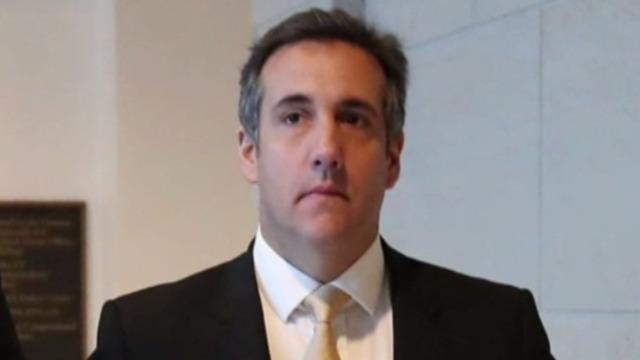 FBI raids Trump lawyer Michael Cohen's office
The FBI raided the home and office of President Trump's personal attorney Michael Cohen on Monday, seizing materials and documents including content related to his payments to porn actress Stormy Daniels.
A person familiar with the matter confirmed that law enforcement agents conducted searches Monday at his New York office and the New York residence of Mr. Trump's long-time attorney. A court warrant authorizing the raid was obtained. It is unclear what investigation the raid stems from.
CBS News' Paula Reid reports that this evidence was seized as part on an investigation into possible campaign finance violations and fraudulent business activity, according to a person familiar with the case. Further, the client communications seized included communications with Mr. Trump.
Approval to give the information uncovered by special counsel to the U.S. attorney in New York City would likely have been approved by Deputy Attorney General Rod Rosenstein, Reid reports. The Justice Department declined to comment on Rosenstein's involvement.
Cohen's attorney, Stephen Ryan, released a statement confirming the search, saying, "Today the U.S. Attorney's Office for the Southern District of New York executed a series of search warrants and seized the privileged communications between my client, Michael Cohen, and his clients. I have been advised by federal prosecutors that the New York action is, in part, a referral by the Office of Special Counsel, Robert Mueller." According to a knowledgeable official, the information used in Monday's raid originated with the special counsel but is a separate inquiry, CBS News' Andres Triay reports.
Ryan went on to call the U.S. attorney's use of search warrants "completely inappropriate and unnecessary."
"It resulted in the unnecessary seizure of protected attorney client communications between a lawyer and his clients," his statement continued. "These government tactics are also wrong because Mr. Cohen has cooperated completely with all government entities, including providing thousands of non-privileged documents to the Congress and sitting for depositions under oath."
Not all of Cohen's communications with President Trump would be protected by attorney-client privilege, Reid also reports, citing a former Justice Department official. Anything not related to seeking or receiving legal advice would be fair game, subject to the approval of a judge.
Mr. Trump said Monday evening that he had "just heard" that the office of one of his personal attorneys was broken into, a reference to the FBI raid of Cohen's office. During a meeting with his military advisers at the White House, he called it "a disgraceful situation" and "a total witch hunt."
"Here we are talking about Syria..and I have this witch hunt constantly going on for over twelve months," Mr. Trump said, describing the raid as as an attack on the country and on "what we all stand for...a whole new level of unfairness."
He called the Mueller team "the most biased group of people with the biggest conflicts of interest I've ever seen" and complained that the special counsel was not investigating Hillary Clinton. The president also said Attorney General Jeff Sessions "made a very terrible mistake for the country" when he recused himself from the investigation into Russian interference in the 2016 election. The president added that, had he known Sessions would recuse himself, "we would have put a different attorney general in."
"The other side is where there are crimes," Mr. Trump said, referring to Clinton and the Democrats.
When asked why he doesn't just fire Mueller, Mr. Trump said, "Well, I think it's a disgrace what's going on. We'll see what happens...many people have said you should fire him. Again, they found nothing."
"It's a pure and simple witch hunt," Mr. Trump said.
The Justice Department did not comment on the president's renewed attacks on Sessions Monday evening.
The New York Times first reported the raid of Cohen's office Monday. Mueller's office declined to comment on the raid.
Agents arrived at 9:15 a.m. at the 30 Rockefeller Center offices of Squire Patton Boggs, where Cohen had until recently been working, CBS News' Laura Strickler reports, according to a source familiar with the search. The firm was expecting the FBI -- two or three agents at first, without FBI jackets. A few others arrived later -- they were not FBI agents. They inconspicuously searched Cohen's office space over the course of a few hours.
Squire Patton Boggs and Cohen announced last April that they had formed a "strategic alliance." Cohen was helping Squire Patton Boggs land new clients, Politico reported in September 2017. The firm told Strickler Monday that its arrangement with Cohen had ended, in accordance with their agreement but also said in a statement from Angelo Kakolyris, of Squire Patton Boggs' New York office, "We have been in contact with Federal authorities regarding their execution of a warrant relating to Mr. Cohen. These activities do not relate to the firm and we are in full cooperation."
The Times reported that federal prosecutors in Manhattan obtained the search warrant after the special counsel in the Russia probe, Robert Mueller, sent a referral. The Times said that the search "does not appear to be directly related to Mr. Mueller's investigation, but likely resulted from information he had uncovered and gave" to New York prosecutors.
Cohen has admitted paying Clifford -- whose stage name is Stormy Daniels -- $130,000 after she said she had an affair with President Trump over a decade ago. The Times also reported that Ryan said that Cohen has cooperated with authorities and turned over documents to congressional investigators looking into Russian interference in the 2016 presidential election.
The FBI also took Cohen's emails, tax documents and business records from his office, The Times reported, citing a person familiar with the search.
CBS News' Pat Milton, Jeff Pegues, Paula Reid, Laura Strickler and Andres Triay contributed to this report.
Thanks for reading CBS NEWS.
Create your free account or log in
for more features.