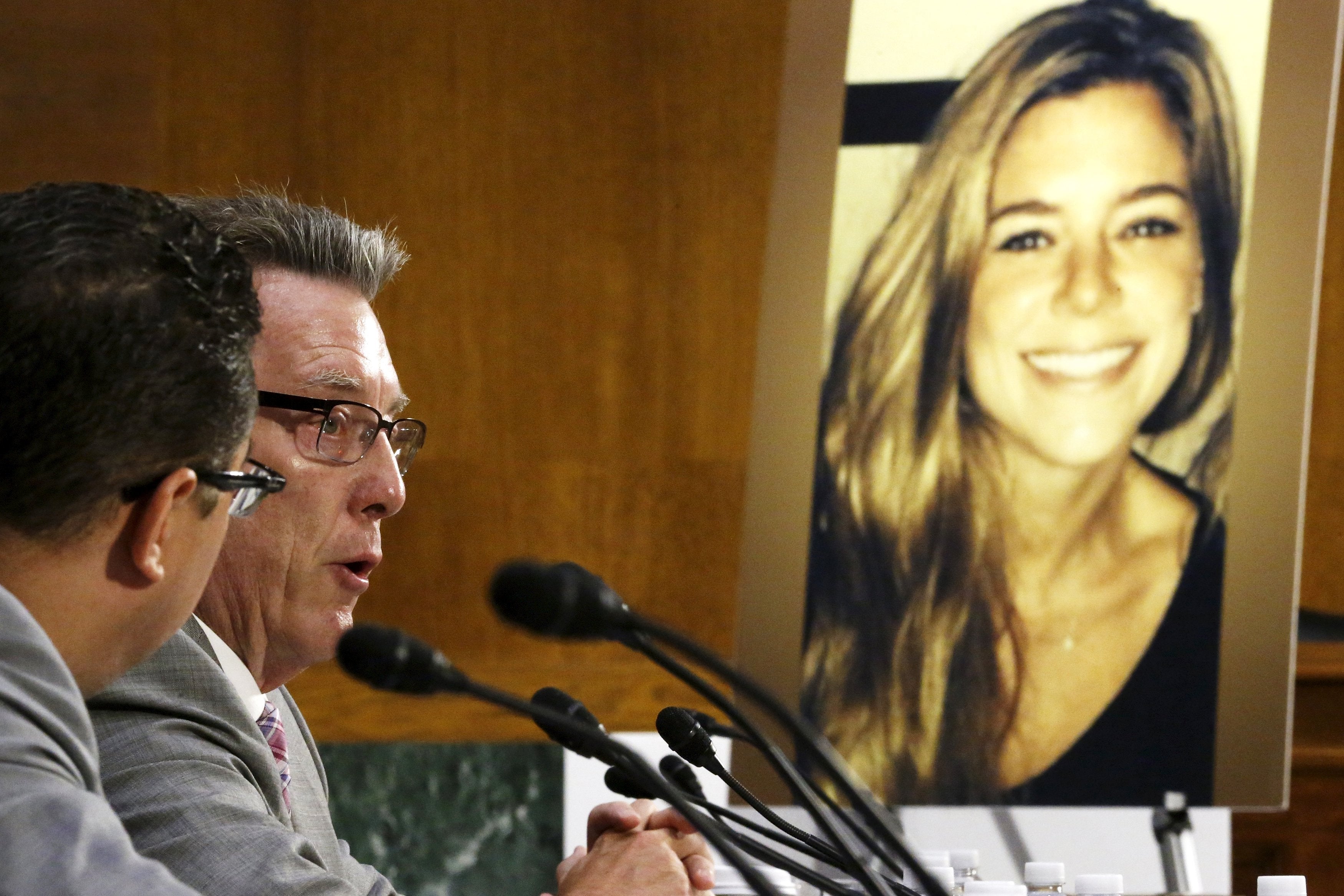 Father of slain S.F. woman Kathryn Steinle supports anti-"sanctuary city" laws
The father of Kathryn Steinle, the San Francisco woman who was shot to death on a San Francisco pier by an immigrant in the country illegally, urged lawmakers to consider changes to the country's immigration laws in order to more effectively get criminal felons off the streets.
"Our family realized the complexity of immigration laws, however we feel strongly that some legislation should be discussed, enacted or changed to take these undocumented immigrants felons off our streets for good," Jim Steinle said at a Senate Judiciary Committee hearing Tuesday. "We'd be proud to see Kate's name associated with some of this new legislation. We feel if Kate's law saves one daughter, one son, a mother, a father, Kate's death won't be in vain."
Juan Francisco Lopez-Sanchez, a Mexican national who allegedly fired the shot that killed Kathryn Steinle, had been deported three times before being sentenced to about five years in federal prison in 1998. In March, after serving a third prison term for re-entering the country illegally, he was sent to San Francisco on an outstanding drug charge. The San Francisco district attorney's office declined to prosecute the case, and he was released from jail even though a federal immigration order asked local authorities to hold him.
Lopez-Sanchez has pleaded not guilty.
Kathryn Steinle's death sparked a national conversation about so-called "sanctuary cities" where city employees are largely prohibited from cooperating with federal authorities to help enforce immigration laws.
At the hearing, Jim Steinle said that his daughter's death was a "self-inflicted wound" that occurred due to "disjointed laws and basic incompetence on many levels."
He and his wife, Liz Sullivan, said earlier this month that they support a proposal to give mandatory prison time to immigrants who are deported from the U.S. but return illegally.
Senate Judiciary Committee Chairman Chuck Grassley, R-Iowa, said at the hearing that he is introducing legislation that will require the executive branch to withhold federal funding for states or localities where law enforcement officials refuse to cooperate with federal orders to transfer criminal aliens. It would also impose a mandatory minimum 5-year prison sentence for individuals who re-enter the U.S. after being deported.
The legislation, Grassley said, will hold sanctuary cities accountable.
"No more people should die at the hands of those who break our laws just by being here," Grassley said.
Laura Wilkerson, another witness at the hearing whose son Josh Wilkerson was beaten and burned to death in 2010 by an immigrant in the country illegally, thanked businessman and presidential candidate Donald Trump for speaking out about crimes committed by immigrants in the U.S. illegally.
"I thank you to Mr. Trump for getting a message out about the nation in two minutes that...countless families like my own have been trying to say for five to six years," Wilkerson said.
"It feels good to be heard, whether you love him or whether you don't. I felt heard," she said.
Trump drew widespread condemnation and saw several business cut their ties with him after he described Mexican immigrants in his presidential announcement speech as criminals and rapists.
He has not apologized for the remarks, and has pointed to Steinle's death as evidence that he is correct.
Thanks for reading CBS NEWS.
Create your free account or log in
for more features.