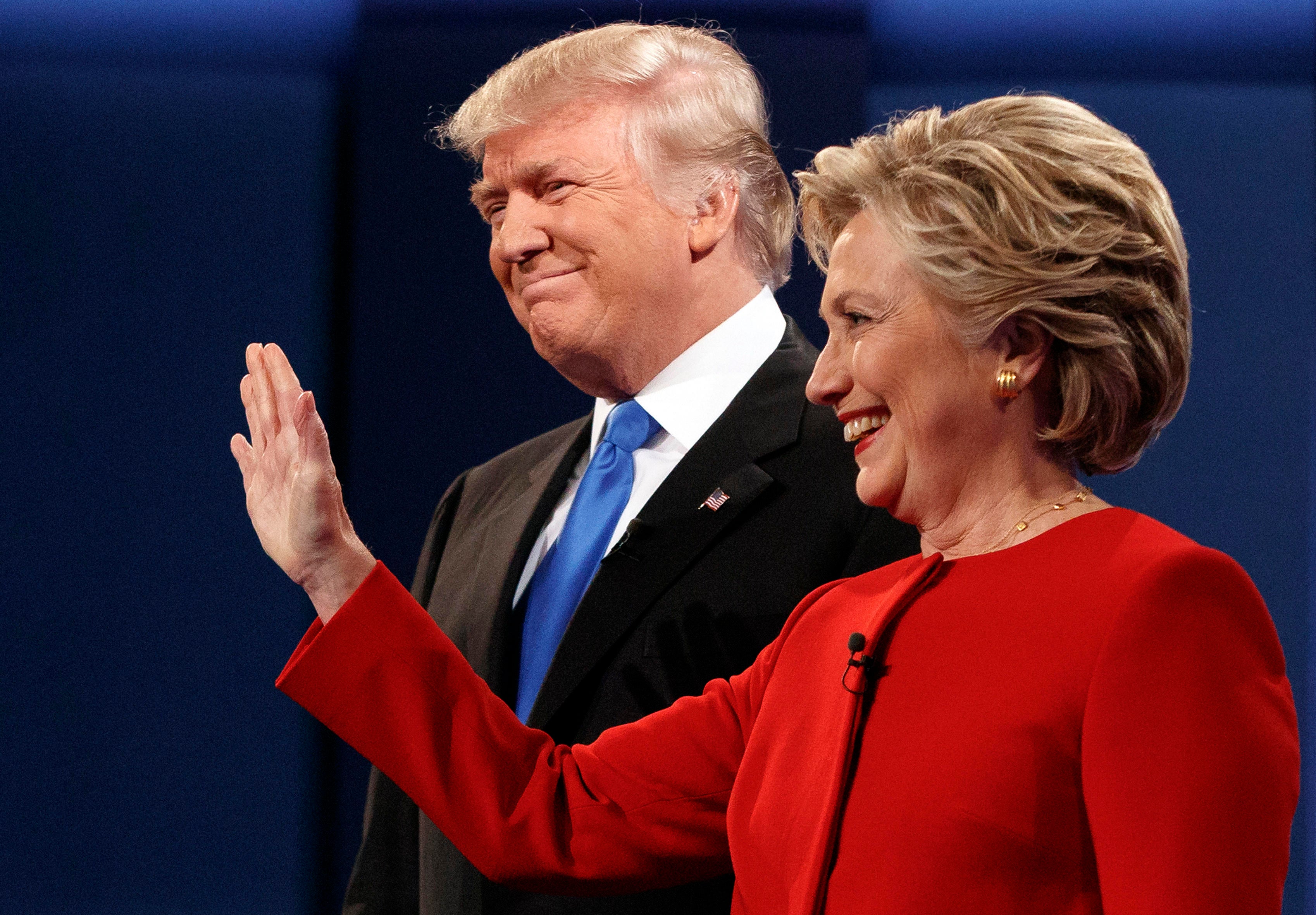 Donald Trump suggests Hillary Clinton takes performance-enhancing drugs
Donald Trump, deflecting from the recent deluge of sexual assault accusations plaguing his campaign, suggested Saturday that Hillary Clinton was taking performance-enhancing drugs at the last presidential debate.
"She rested for the last debate," Trump told a rowdy crowd in Portsmouth, New Hampshire. "She didn't do too well, and she said she's practicing for the next debate. She called it debate prep. Right?"
Then he posited a theory about what he believed the Democratic nominee was actually doing to prepare for the next and final debate, subtly hinting at drug usage: "I think she's actually getting pumped up. You wanna know the truth. She's getting pumped up. You understand."
Later, comparing the two presidential candidates to athletes readying themselves for the final sprint, Trump put forth a more overt accusation about Clinton using performance enhancing drugs and proposed a pre-debate drug test.
"We're like athletes, right?" Trump asked rally-goers. "So athletes, they're making them more and more, but athletes, they make them take a drug test, right? I think we should take a drug test prior to the debate. I do."
"Why don't we do that? We should take a drug test prior -- cause I don't know what's going on with her," he went on. "At the beginning of her last debate, she was all pumped up at the beginning, and at the end it was like, 'Oh, take me down.' She could barely reach her car."
Of taking a drug test before Wednesday's final debate, Trump added: "I'm willing to do it."
During an interview with InfoWars' Alex Jones that was published earlier this week, longtime Trump confidant Roger Stone submitted a similar theory about Clinton taking performance enhancers.
"I don't think she has the stamina for a campaign," Stone said. "Look, of course she was jacked up on something. I assume kind of - some kind of methamphetamine as John Kennedy was during his first debate."
Clinton's deputy communications director, Christina Reynolds, responded on Twitter to the accusation floated by Stone:
Saturday's rally wasn't the first time on the campaign trail that Trump has espoused unsubstantiated theories about how Clinton isn't healthy enough to lead the country.
Earlier this year, Trump said in Wisconsin: "To defeat crime and radical Islamic terrorism in our country, to win trade in our country, you need tremendous physical and mental strength and stamina...Hillary Clinton doesn't have that strength and stamina."
And in August Trump even said she wasn't mentally fit for the presidency: "Importantly, she also lacks the mental and physical stamina to take on ISIS, and all the many adversaries we face."
Clinton, who has faced intense scrutiny about her health during the campaign (including her brief bout of pneumonia), and her campaign have batted back the accusations by pointing to her health records.
"While it is dismaying to see the Republican nominee for president push deranged conspiracy theories in a foreign policy speech, it's no longer surprising," Jennifer Palmieri, Clinton's communication director, in a statement in August.
The campaign also released a statement from Clinton's doctor in the wake of Trump's past attacks: "As Secretary Clinton's long time physician, I released a medical statement during the campaign indicating that she is in excellent health," Dr. Lisa Bardack said.
Thanks for reading CBS NEWS.
Create your free account or log in
for more features.