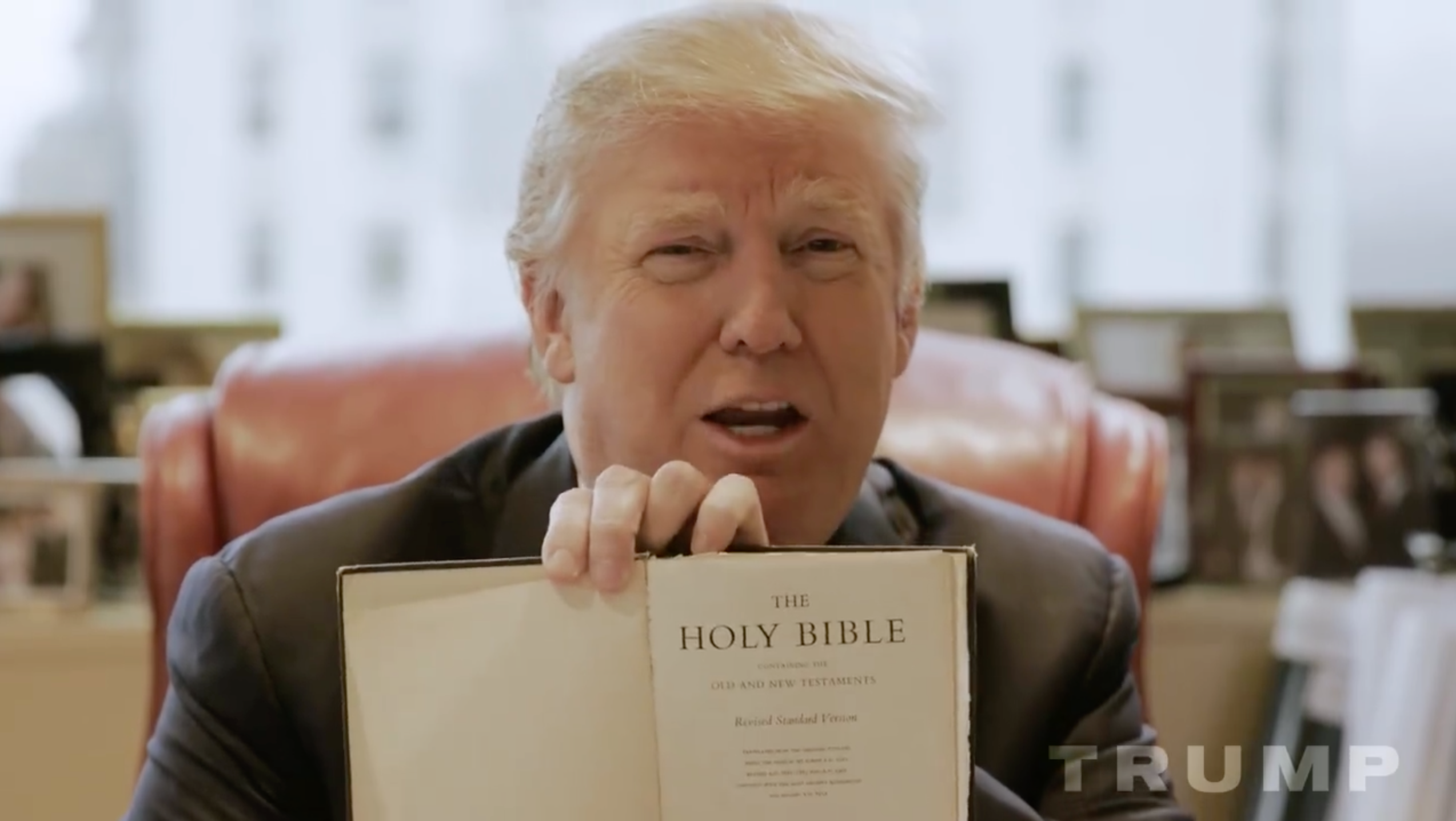 Donald Trump shows off Bible in pitch to evangelicals
Just two days ahead of the first nominating contest in Iowa, Donald Trump is making a final attempt to court evangelical Christians.
In a new video posted to Facebook Saturday, the billionaire businessman thanked evangelicals and promised to "never let you down."
"I really appreciate the support given to me by the evangelicals," Trump said. "They've been incredible. Every poll says how well I'm doing with them."
Trump then held aloft a worn Bible, which he said his mother had given to him "many years ago."
"In fact, it's her writing right here," he added, flipping to the first page of the book. "She wrote the name and my address and it's just very special to me."
This is not the first time the GOP front-runner has used the Bible as a prop on the campaign trail.
In September, Trump waved the same copy of the book while giving a speech at the Values Voters Summit hosted by the Family Research Council in Washington, D.C.
Trump has also repeatedly named the Bible as his favorite book -- though he has often faced criticisms for his inability to name his favorite Bible verses.
In the past, white evangelical voters have made up nearly half of Republican primary voters and caucus-goers. And in Iowa, conservative Christians make up an outsized portion of likely caucus attendees.
Texas Sen. Ted Cruz, whose presidential campaign kicked off at Jerry Falwell's Liberty University, has held a large lead among evangelical voters in Iowa throughout much of the primary season -- and he runs a close second to Trump in polls of the first caucus state.
But earlier this week, according to a CBS News battleground tracker poll, Trump has recently cut into Cruz's advantage among Iowa evangelicals. Whereas Cruz had 47 percent of the evangelical vote to 28 percent for Trump last month, Cruz now only leads 38-30.
Thanks for reading CBS NEWS.
Create your free account or log in
for more features.