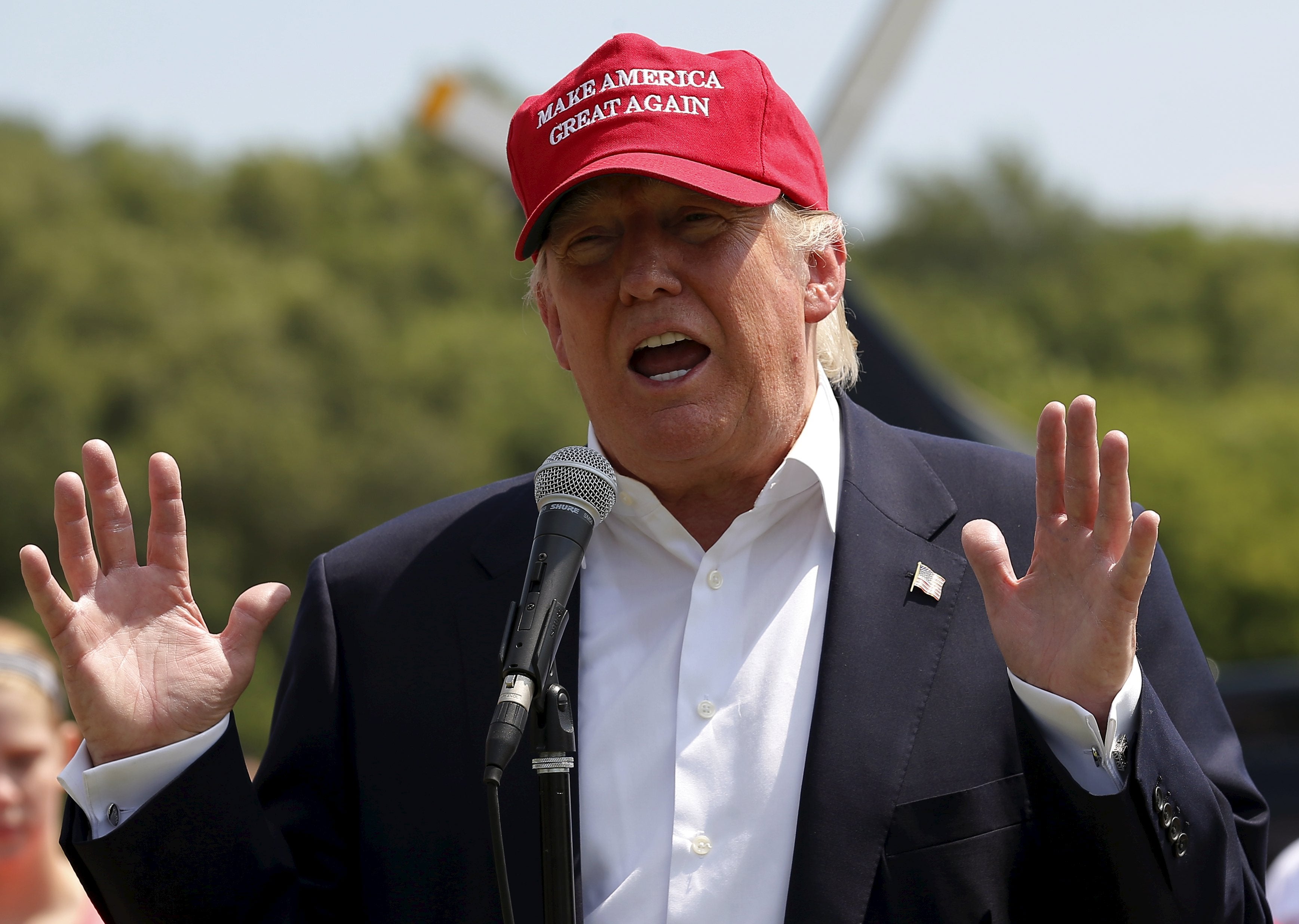 Conservative Club for Growth launches $1 million anti-Donald Trump campaign
Donald Trump has climbed to the top of the Republican 2016 polls by casting himself as the ultimate Washington outsider. Now that his candidacy has gained some real traction, one conservative group is out to prove that Trump is, in fact, just another politician.
"In fact, he's the worst kind of politician - he says anything to get elected and will do just the opposite once he's in office," said David McIntosh, president of the Club for Growth, a Washington-based group that supports conservative economic policies.
Club for Growth Action, the group's political arm, announced Tuesday that it's launching a $1 million ad campaign in Iowa to prove this to voters in the key early-nominating state.
The campaign is launching with two ads. The first asks voters, "Which presidential candidate supports higher taxes, national health care, and the Wall Street bailout?" After showing images of Democrats Hillary Clinton and Bernie Sanders, the ad plays a clip of Trump saying, "In many cases, I probably identify more as a Democrat." Here's the first ad:
The second ad, shown below, focuses on the issue of eminent domain, charging that "Trump supports eminent domain abuse because he can make millions while we lose our property rights."
McIntosh conceded to reporters that Trump has capitalized on voters' frustration with Washington more effectively than some would have anticipated. "We've realized we've got to take Donald Trump seriously," he said.
It's clear why the Club for Growth would opt to cast Trump as a typical "politician" - in a recent Washington Post poll that showed Trump leading the GOP field, nearly six in 10 Republicans surveyed said they prefer the next president to have experience outside of the political establishment.
McIntosh added that the $1 million Iowa ad campaign is just the beginning. "We'll keep doing it until people realize Donald Trump is not an economic conservative," he said. To illustrate his case, McIntosh pointed to Trump's remarks at a campaign event Monday night, in which he said he'd impose a 35 percent tax on any cars made in Mexico and imported into the U.S.
The Club for Growth over the years has notoriously supported anti-establishment conservatives who have rattled GOP leaders in Washington, but McIntosh brushed off the notion that his group could have led to the rise of candidates like Trump.
"The Club's been very clear that we're for certain policies -- free markets, lower taxes, free trade, lower regulations," he said. "We're not just anti-Washington, we're for those pro-growth policies."
Trump has already traded blows with the Club for Growth, alleging that the group is attacking him because he did not honor its request for a $1 million donation. The Club says that it asked for the $1 million after Trump expressed interest in donating to the group.
McIntosh on Tuesday pointed out that the request for $1 million was made before Trump was a candidate. Reiterating that it was Trump who initiated the conversation about a donation, he added that Trump "talks now about buying candidates - he must've been mistaken and thought that he could buy the Club."
Thanks for reading CBS NEWS.
Create your free account or log in
for more features.