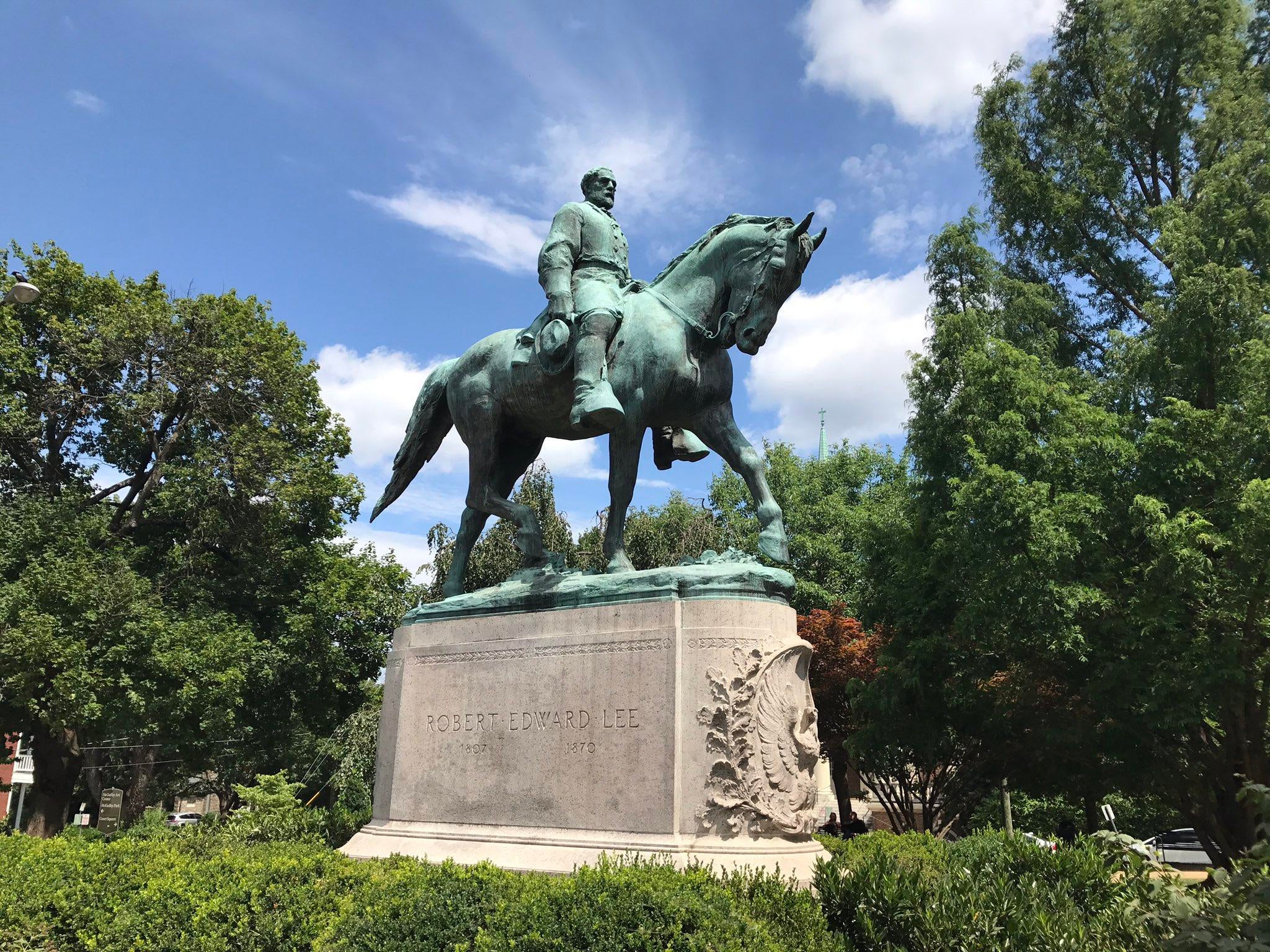 After Charlottesville, confederate statues become hot-button issue in Virginia governor's race
As Democrat Ralph Northam and Republican Ed Gillespie vie for the governor's seat in Virginia, confederate monuments have become a significant issue ahead of the November election.
That a white nationalist protest in Charlottesville — starting as a statement against the removal of a statute of confederate General Robert E. Lee and ending in the death of a young woman — could take place in the 21st Century shocked many Americans this summer. But the debate over the preservation of confederate history is still alive in the commonwealth of Virginia, and has become a hot-button topic in the contentious race between Northam and Gillespie.
On Thursday, President Trump, who embroiled himself in the Charlottesville incident by famously saying "both sides" share responsibility for the violence, tweeted Gillespie "might even save our great statues/heritage!"
Gillespie has argued that the monuments should stay where they are, in an appropriate historical context, while Northam has called for the monuments' removal, saying he "personally" believes they should be placed in museums but that's up to the localities.
"We don't have to glorify the objects of the statues – we can educate about them," Gillespie said last month during a gubernatorial debate moderated by NBC's Chuck Todd. "We have to learn from history, and that is a difference."
Northam disagreed.
"If these statues give individuals, white supremacists like that, an excuse to do what they did, then we need to have a discussion about the statues," Northam said.
Voters reflect that partisan split, although a majority of Virginians still want to keep the monuments where they are.
A September poll of 625 registered voters by Mason-Dixon Polling & Strategy company found only 35 percent of voters overall support the removal of the monuments after Charlottesville, while 52 percent are opposed. But 59 percent of Democrats support the removal, while only 16 percent of Republicans and 24 percent of independents do.
Another poll found a similar partisan divide. An August MassInc Polling survey, which questioned 508 registered voters, found 52 percent of Democratic voters want the statues removed, while 81 percent of Republicans said they should stay. In that same poll, only 15 percent of Republicans blamed the white nationalist marchers alone for the violence in Charlottesville, while 68 percent of Republicans did. Of Republicans, 65 percent blamed both the white nationalist marchers and the counter-protesters equally, according to the poll.
In the polls, Northam and Gillespie are relatively close. A Real Clear Politics aggregation of recent polls shows Northam is up by 4.3 points, and a Fox News poll earlier this month had the two tied. Virginia, a historically red state, has voted for Democrats in the last three presidential elections as the state's heavily-populated northern region near Washington, D.C., shifts its political center towards the left.
Thanks for reading CBS NEWS.
Create your free account or log in
for more features.