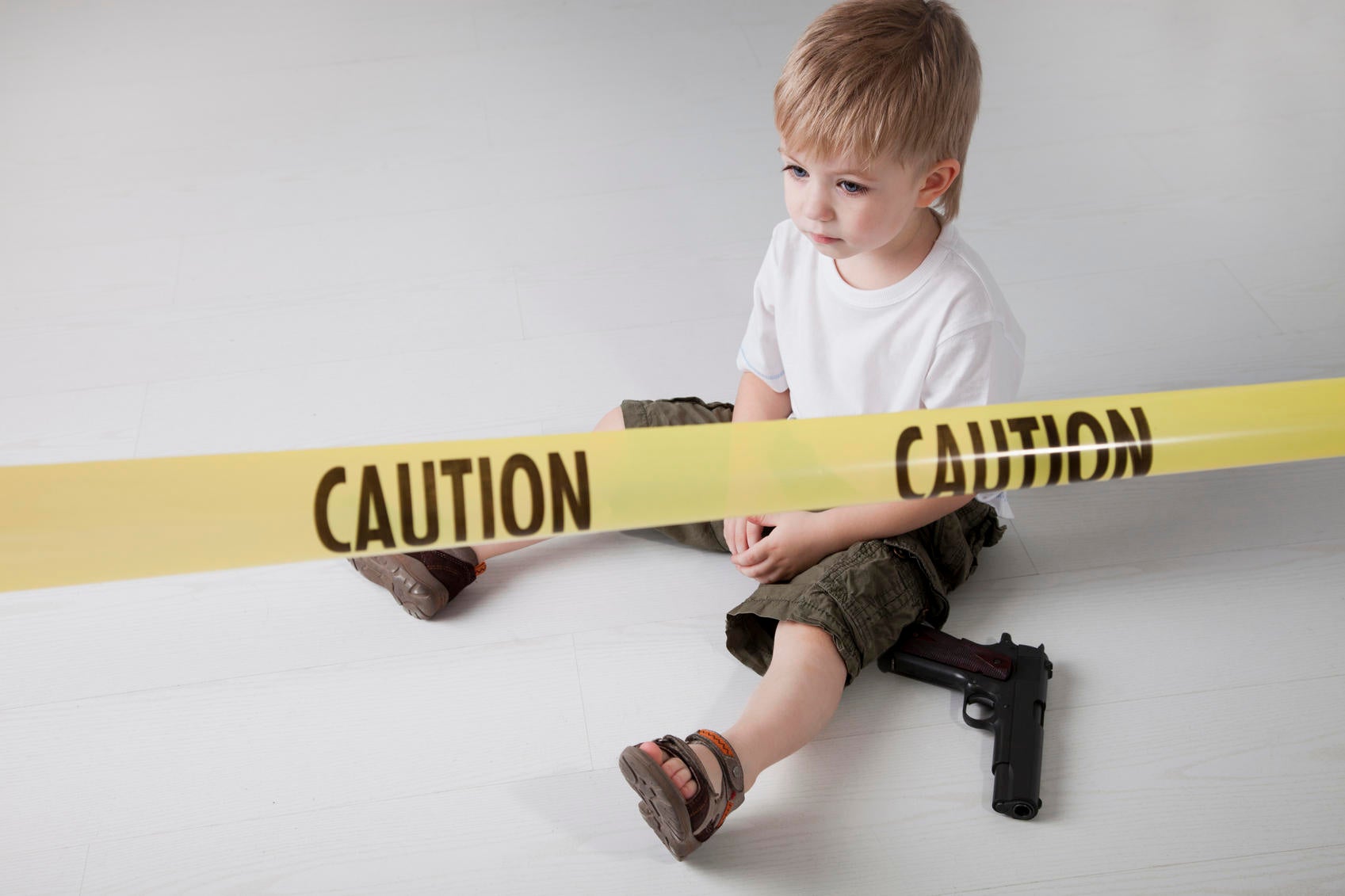 Many kids spend time in homes with guns, but safety lags
Millions of American children either live in or visit homes where guns are present, but far fewer families talk about firearm safety, a new survey of parents suggests.
Researchers from Washington University School of Medicine in St. Louis surveyed 1,246 parents – mostly moms – in Missouri and Illinois in pediatricians' office waiting rooms. The families were from a mix of urban, suburban and rural neighborhoods.
Thirty-six percent of the parents said there were firearms in their child's home, and two-thirds of those parents owned more than one gun. The researchers said the estimate that about a third of households had at least one firearm is similar to other recent national surveys, adding, "it is likely an underestimate for our sample."
Even kids from homes without firearms were exposed to weapons elsewhere, according to the findings. Fourteen percent of parents who didn't own firearms said their children regularly visited homes of relatives and friends who had guns.
The actual number may be even higher, because fewer than 13 percent of the parents asked the moms and dads of their kids' playmates about the possible presence of household firearms.
When it comes to safety lessons, about 63 percent of gun-owning parents and 48 percent of non-gun-owners said they had taught their child firearm avoidance – that if they came across a gun, they should not to touch it, leave the area, and tell an adult immediately.
One of the issues the researchers were trying to learn more about is whether parents would be open to discussing firearm safety with their pediatrician. About one-third of gun owners said no – they'd take offense or ignore a doctor's recommendation to get rid of their guns.
The American Academy of Pediatrics recommends pediatricians routinely ask parents about firearm ownership.
Study author Dr. Jane Garbutt, a professor of medicine and of pediatrics at Washington University School of Medicine in St. Louis, told CBS News it's a touchy subject for doctors. She said parents who own guns are counseled to remove the firearms to have the safest home possible for their kids. Short of that, doctors advise storing guns securely, in a locked safe, for example. The conundrum, said Garbutt, is that most people keep guns for personal safety reasons, so they want them accessible and loaded.
"Attitudes toward firearms have changed. Nowadays, it's for personal protection. In the seventies it was for hunting and sport," she said.
Twenty percent of parents surveyed who owned firearms reported that they stowed their guns and ammunition in the same place. Twenty-five percent said that at least one firearm in their home was currently loaded, and of those, 14 percent said the guns were in places kids could get to them. Eighteen percent said that when they left their homes, they carried their gun in a purse, backpack, holster or inside their car – places children could access them.
Thousands of children are killed or wounded every year in shootings, including dozens of tragic accidents involving young children who get their hands on a gun. In 2013, more than 2,460 children and teens died from firearm-related incidents, more than 15,000 were treated in emergency rooms and 6,213 were hospitalized, according to the U.S. Centers for Disease Control and Prevention.
The study, published in The Journal of Pediatrics, only involved families in two states but raises issues that are relevant nationwide. It suggests firearms are common in the home, that kids often have access to them, and that many parents aren't having potentially life-saving gun safety conversations, said Garbutt.
While the prevalence of household firearms and storage practices vary in different states, she and colleagues noted that "Missouri represents the median for the nation for both metrics."
Garbutt said some states are trying to create laws that keep doctors from discussing and/or documenting homes where guns are present​​.
"In our state, there's been a law that's been proposed and then it was passed, then vetoed by the governor, and then OK'd again. It doesn't say [doctors] can't ask, but you can't record it or put it in medical records," she said.
Since about two-thirds of families said they'd be open to discussing it with their child's doctor, there's a need to come up with a way to integrate messages into pediatrician visits without putting off parents who own guns​.
"It's a difficult topic to raise," said Garbutt. One way to do it might be to lump it into broader conversations about safety involving sports and allergies, for example.
Garbutt recommends that parents should find out if homes their child is visiting keep guns. The web site askingsaveskids.org​ has some helpful advice on how to bring up the topic, she said.
"You can ask about peanut allergies – make this part of a normal conversation, too," she said.
"If we treat firearm safety​ like we do other safety-proofing precautions, it removes judgment," Garbutt said, and it may reduce gun-related injuries and deaths in children.
Thanks for reading CBS NEWS.
Create your free account or log in
for more features.