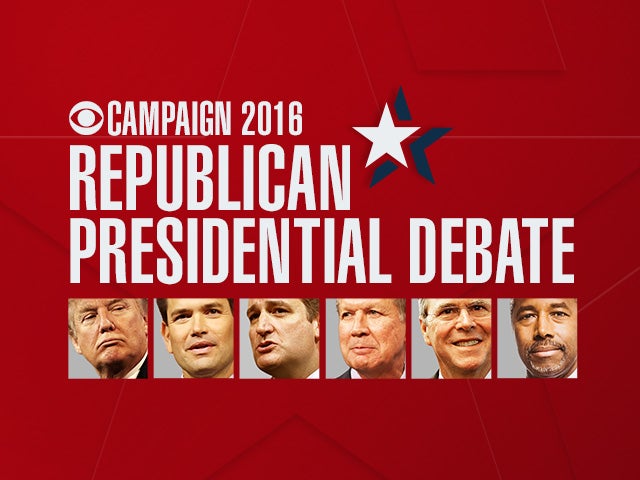 CBS News releases Republican presidential debate lineup
The six remaining major GOP presidential candidates have all qualified for CBS News' Republican debate in South Carolina on Saturday night, the network announced Friday.
Donald Trump, Ted Cruz, Marco Rubio, Jeb Bush, Ben Carson and John Kasich have been invited to participate in the debate at the Peace Center in Greenville.
Former Virginia Gov. Jim Gilmore, who had only previously participated in undercard debates, did not qualify for the main stage, and New Jersey Gov. Chris Christie and Carly Fiorina dropped out of the 2016 race earlier this week.
Face the Nation anchor and CBS News political director John Dickerson will be the debate's main moderator and will be joined by CBS News White House correspondent Major Garrett and The Wall Street Journal's Kimberley Strassel.
The debate will air live on CBS from 9 p.m. to 11 p.m. ET on Saturday, and network's digital streaming service, CBSN, will offer extensive coverage before, during and after the debate.
Criteria to qualify for the debate were announced on Tuesday, ahead of New Hampshire's primary.
In order to qualify for this debate, candidates had to meet one of the following criteria:
1) Place among the top five candidates ranked according to the popular vote in the New Hampshire Republican primary on Feb. 9;
2) Have placed among the top three candidates ranked according to the popular vote in the Iowa Republican caucuses on Feb. 1;
3) Place among the top five candidates in an average of national and South Carolina Republican presidential polls conducted over a four-week period starting on Jan. 15, 2016 and recognized by CBS News; and receive a minimum of 3 percent in the Iowa, New Hampshire results or the South Carolina or national polls. To be included, polls must be conducted and released to the public before 12 p.m. ET on Feb. 12, 2016.
The CBS debate is the final one before the party's next nominating contest: the South Carolina Republican primary on Feb. 20.
It comes four days after Trump won New Hampshire's GOP primary, followed by Kasich in second place, Cruz in third, Bush in fourth and Rubio in fifth place.
Thanks for reading CBS NEWS.
Create your free account or log in
for more features.