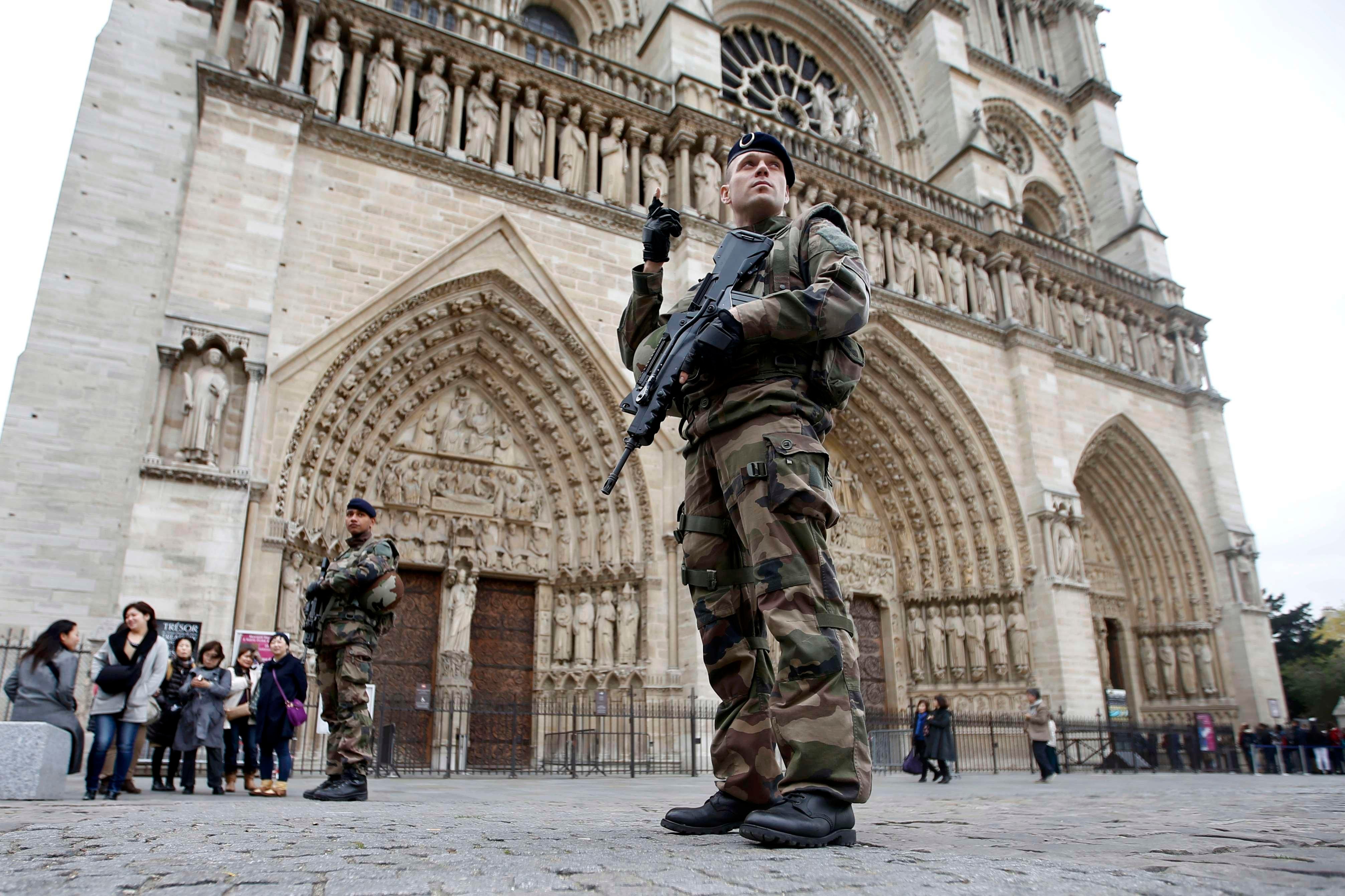 Car found packed with gas canisters near Notre Dame
PARIS -- A criminal terrorist investigation has been opened in Paris following the discovery of a car parked near Notre Dame Cathedral with seven gas canisters and pages written in Arabic inside, prosecutors said.
The Paris prosecutor's office revealed Wednesday that a couple it described as radicalized - a 34-year-old man and a 29-year-old woman - was arrested a day earlier and transferred to Paris to be questioned in the case.
The car found near the famous cathedral on Sunday morning had its license plates removed and hazard lights on. That evening, its owner went to the police to report that his radicalized daughter was missing but without saying his car had also disappeared, the prosecutor's office said.
Police briefly detained and questioned the car owner before letting him go, the prosecutor's office said. His daughter still is being sought, the office said.
Officials told the Reuters news agency that the 19-year-old woman was known to police for wanting to go to Syria.
The man and woman arrested in a highway rest area near the southern town of Orange on Tuesday already were known by French security services for their alleged links with "radical Islamism," prosecutors said.
The prosecutor's office would not say why investigators suspect them in the case nor whether the couple might have been in contact with the car owner's daughter.
The papers written in Arabic are being analyzed, the prosecutor's office said.
It said it has opened an investigation under suspicion of a "criminal terrorist association."
Two other officials, speaking to The Associated Press on condition of anonymity since the investigation is ongoing, said an employee of a bar near Notre Dame Cathedral flagged the car Sunday morning as it was parked along the Seine River.
No one was inside, but police found six canisters filled with gas in the trunk and an empty canister on one of the seats.
No detonator or ignition materials were found in the car, the prosecutor's office said.
In addition to the car owner, three other people were briefly detained and questioned in the case before being released, it said. French Interior Minister Bernard Cazeneuve said it still was not clear why the car was abandoned or what the alleged intentions were of those under arrest.
Cazeneuve said there have been 260 arrests linked to extremist networks since the beginning of the year "and a significant number of these people were preparing attacks."
In an interview with Le Monde newspaper earlier this week, Paris prosecutor François Molins said an increasing number of teenage girls have been radicalized, with "very worrying profiles," ''very harsh personalities" and "sometimes terrorist plans that, intellectually, start to be brought to completion."
Molins said 35 minors - 23 boys and 12 girls - are being investigated under preliminary charges, nine of whom have been detained.
France is on alert after a deadly string of attacks by the Islamic State of Iraq and Syria, or ISIS, and threats against landmarks.
Algeria-linked extremists used gas canisters filled with nails during attacks on Paris in the 1990s.
Thanks for reading CBS NEWS.
Create your free account or log in
for more features.