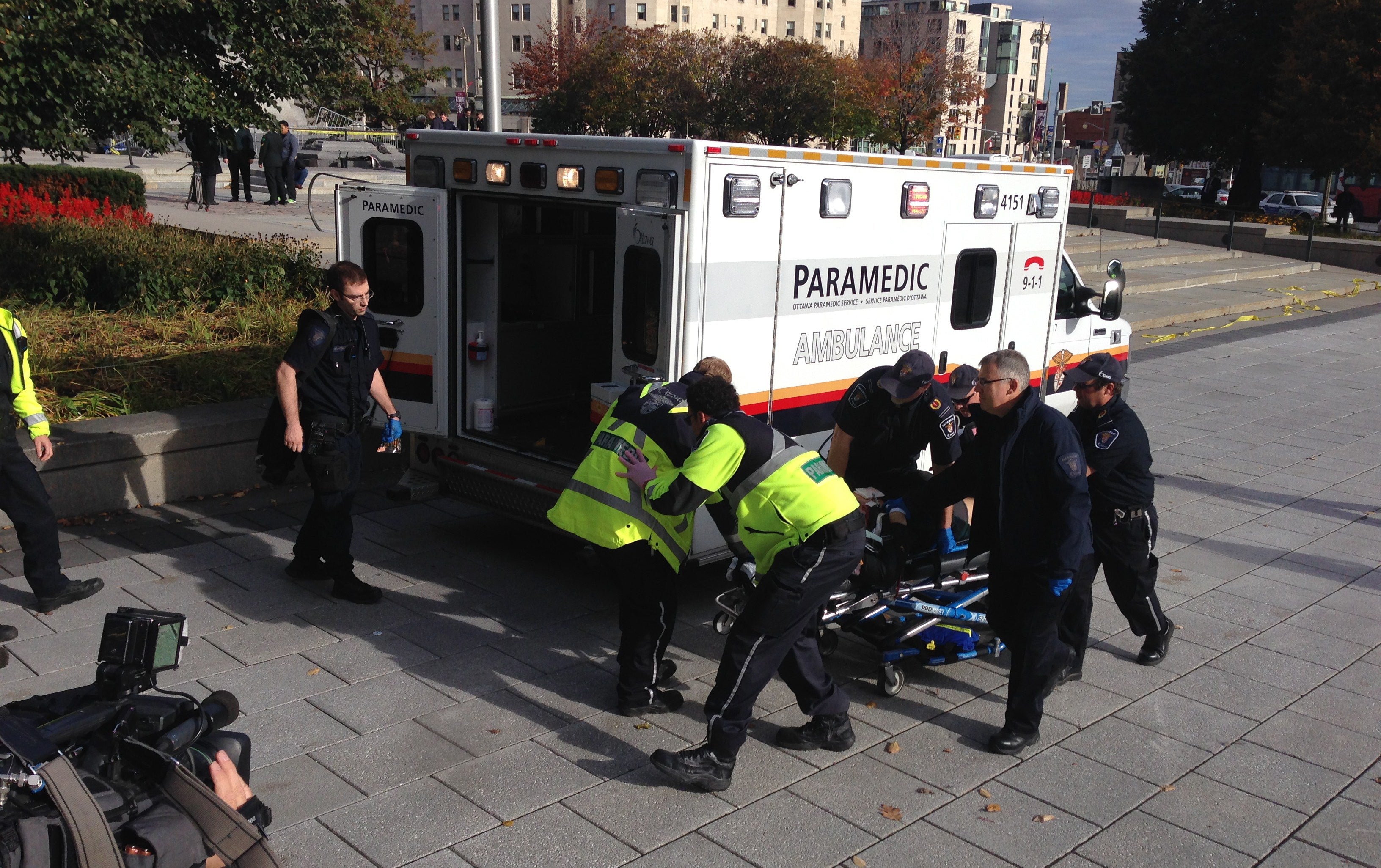 Canadian PM: Ottawa war memorial, Parliament shootings were terrorism
OTTAWA, Ontario - Tragedy and terror struck Canada's capital city Wednesday as a gunman shot a soldier standing guard at the country's National War Memorial before storming the Parliament building, putting Ottawa's downtown on lockdown and sending terrified government members and employees scrambling for safety.
Canada's prime minister called the incident the country's second terrorist attack in three days.
"This week's events are a grim reminder that Canada is not immune to the types of terrorist attacks we have seen elsewhere," Prime Minister Stephen Harper said in a national address Wednesday evening.
"We will not be intimidated. Canada will never be intimidated," Harper added.
Law enforcement and U.S. government sources told CBS News the suspect's birth name was Michael Joseph Hall, born in Quebec in 1982. He recently converted to Islam and called himself Michael Abdul Zehaf-Bibeau. Sources said he had a history of drug addiction prior to his conversion.
Zehaf-Bibeau was reportedly shot to death by the ceremonial sergeant-at-arms of the House of Commons, a former police officer. The gunman's motives have not been determined.
"In the days to come we will learn about the terrorist and any accomplices he may have had," Harper said.
Canada was already on alert because of a deadly hit-and-run assault Monday against two Canadian soldiers by a man Harper described as an "ISIL-inspired terrorist," referring to the Islamic State of Iraq and Syria, also known as ISIS.
The series of incidents in Ottawa began shortly before 10 a.m., when the soldier was shot. The victim, identified to CBS News by a cousin as 24-year-old Cpl. Nathan Cirillo, was later pronounced dead from his wounds.
Witnesses said Cirillo was gunned down by a man dressed all in black with a scarf over his face.
"I looked out the window and saw a shooter, a man dressed all in black with a kerchief over his nose and mouth and something over his head as well, holding a rifle and shooting an honor guard in front of the cenotaph point-blank, twice," Tony Zobl, 35, told the Canadian Press news agency.
Zobl said he witnessed the incident from his fourth-floor window directly above the National War Memorial, a 70-foot, arched granite cenotaph, or tomb, with bronze sculptures commemorating World War I.
"The honor guard dropped to the ground, and the shooter kind of raised his arms in triumph holding the rifle," Zobl said.
Zobl and other witnesses said the gunman then ran up the street toward Parliament Hill, and later entered the main building there, where dozens of shots rang out.
A reporter for the Globe and Mail captured much of that shooting incident in a video (which can be viewed at left.) Law enforcement officials can be seen cautiously proceeding with guns drawn down a main hallway, before a single loud shot rings out. A few seconds later, a hail of gunfire erupts.
People fled Parliament by scrambling down scaffolding erected for renovations, while others took cover inside as police with rifles and body armor took up positions outside and blocked the normally bustling streets around the building.
Police gave no details on how the gunman died. But on Twitter, Member of Parliament Craig Scott credited Parliament sergeant-at-arms Kevin Vickers with shooting the attacker just outside the MPs' caucus rooms.
Ottawa Hospital said in addition to Cirillo it received three patients, all with what were described as "minor, non-life threatening injuries."
"Today is a sad and tragic day for our city and our country," Ottawa Mayor Jim Watson said. He said it was a tragedy with "origins as yet not fully known, causes not yet fully understood."
In Washington, President Obama condemned the shootings as "outrageous acts," and in a telephone call with the prime minister, offered U.S. help and reassurance of the American people's solidarity with Canada.
''We're all shaken by it," Mr. Obama said, adding that as more becomes known about the shooter's motive, that information will be factored into U.S. security considerations.
"We have to remain vigilant," he said.
The U.S. Embassy in Ottawa was locked down as a precaution, and security was tightened at the Tomb of the Unknown Soldier at Arlington National Cemetery just outside Washington. The NYPD also increased security at the Consulate General of Canada.
Cabinet minister Tony Clement tweeted that at least 30 shots were heard inside Parliament, where Conservative and Liberal MPs were holding their weekly caucus meetings.
"I'm safe locked in a office awaiting security," Kyle Seeback, another member of Parliament, tweeted.
The top spokesman for Prime Minister Harper said Harper was safe and had left Parliament Hill.
"PM (Harper) was addressing caucus, then a huge boom, followed by rat-a-tat shots. We all scattered. It was clearly right outside our caucus door," Treasury Board Minister Tony Clement said, according to Reuters.
A spokesman for Harper said: "While the prime minister stated that facts are still being gathered, he condemned this despicable attack."
Canada had raised its domestic terror threat level from low to medium Tuesday because of "an increase in general chatter from radical Islamist organizations," said Jean-Christophe de Le Rue, a spokesman for the public safety minister.
The National Hockey League postponed Wednesday night's game between the Toronto Maple Leafs and Senators because of the shootings in Ottawa.
The NHL said in a statement it "wishes to express its sympathy and prayers to all affected by the tragic events in Ottawa."
The game was scheduled at the Canadian Tire Centre in nearby Kanata.
The incident comes just two days after two Canadian soldiers were run over, one of them killed, in Quebec by a man with jihadist sympathies.
That suspect, 25-year-old Martin Couture Rouleau, was shot by police, and later died.
Royal Canadian Mounted Police spokesman David Falls said Monday that the suspect "was known to federal authorities" and "authorities were concerned that he had become radicalized."
The case is similar to one in London last year in which an al Qaeda-inspired extremist and another man ran over a soldier with a car before hacking the off-duty soldier to death. Images of Michael Adebolajo, 29, holding a butcher knife and cleaver with bloodied hands in the moments after the May 2013 killing of Fusilier Lee Rigby shocked people around the world and sparked fears of Islamist terrorism in Britain.
The Islamic State of Iraq and Syria has urged supporters to carry out attacks against Western countries, including Canada, that are participating in the U.S.-led coalition fighting the militants who have taken over large swaths of territory in Iraq and Syria. It was not known whether the suspect in the Quebec attack had any ties to Islamic militant groups.
Thanks for reading CBS NEWS.
Create your free account or log in
for more features.