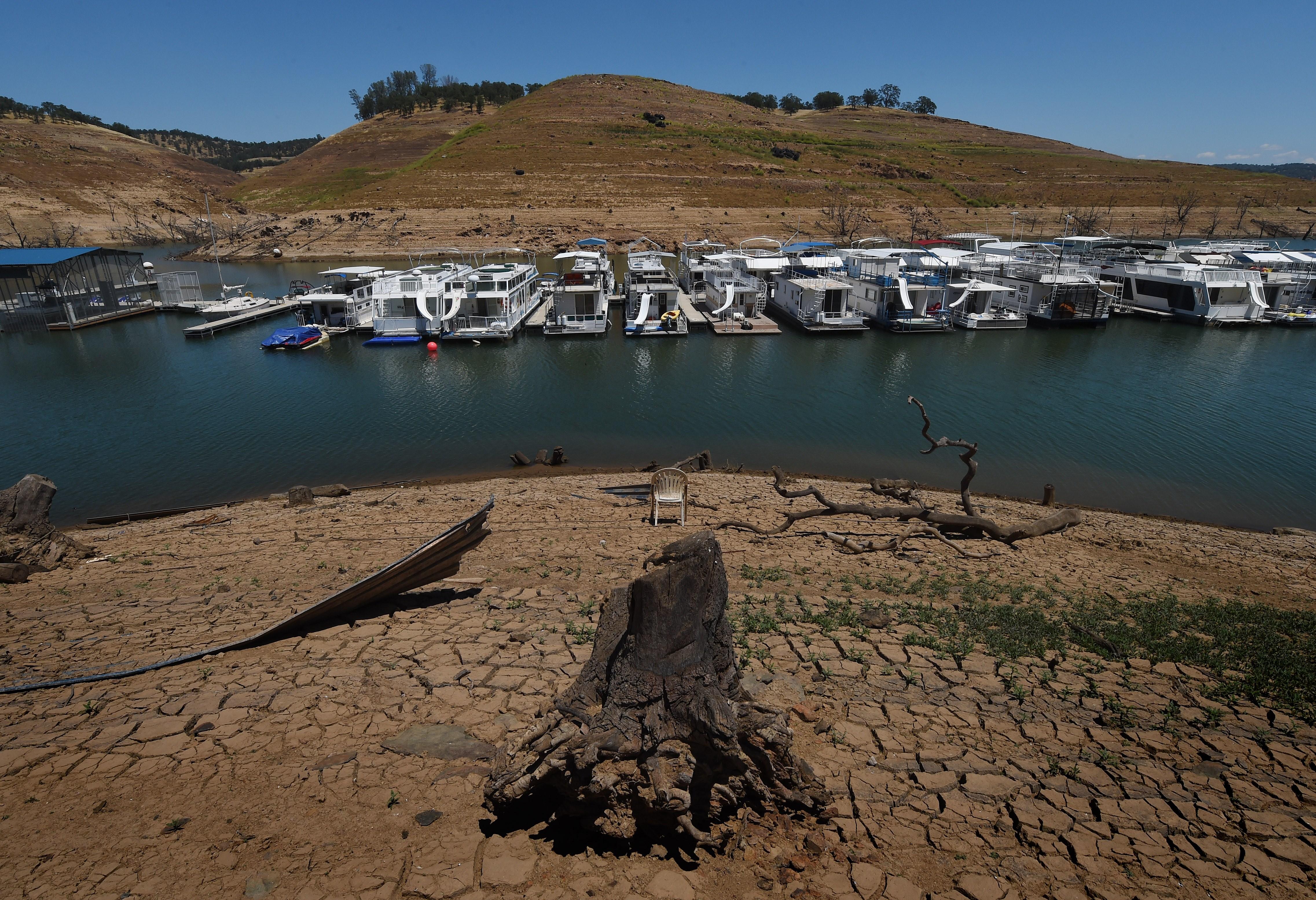 California drought returns; water use climbs in enclaves
TUSTIN, Calif. -- Overall water use is climbing in Southern California as that part of the state plunges back into drought. State and regional water managers are considering permanently reinstating some watering bans and conservation programs.
Gov. Jerry Brown lifted California's drought emergency status a year ago, after a wet winter that snapped a historic 2013-2017 drought, and the state ended his 25 percent mandatory conservation order.
Water use has been moving steadily upward since then, especially in a six-county area of Southern California that includes the biggest chunk of the state's nearly 40 million people.
Water use there was up 3 percent in December, the last month for which figures are available, compared to the same month in 2013 before mandatory conservation.
Many of the biggest offenders are well-off communities, with sweeping lawns to keep alive. The average residential user in one Malibu water district, for instance, used 255 gallons a day, according to the state water board -- three times the U.S. average of 83 gallons per person per day. It's also up 7 percent from the same month in 2013, before Brown ordered the 25 percent conservation by cities and towns in 2015.
The water district for an enclave north of Pasadena, La Canada Flintridge, hit 270 gallons per person, per day water use that month. Residents of an east Orange County water district used 203 gallons a day.
Despite a fall and winter that have brought Los Angeles less than one-fourth of normal rainfall, "you still see thick green lawns" in some communities, said Conner Everts, a Los Angeles-based conservation specialist who works with nonprofits and government agencies.
Wendy Silva, a 57-year-old homemaker from the Orange County city of Santa Ana, wasn't lured by multimillion-dollar rebate programs during the drought that paid homeowners to remove thirsty lawns, and admits to her husband giving their lawn extra water since conservation orders eased.
Silva said she's glad to have her green grass back after seeing it turn brown during the drought. She doesn't plan to swap it out for drought-tolerant landscaping as some of her neighbors in arid Southern California have done.
"I like the lawn," she said. "I don't like the desert look."
Many other Southern California communities have winnowed water use to well below the national average over successive droughts, water officials say. Residents of lower-income communities -- with much less lawn -- are some of the heroes when it comes to keeping water use down. That includes residents of East Los Angeles, who used an average of 42 gallons a day, and people in Huntington Park, who got by on just 34 gallons.
U.S. drought monitors this month declared parts of Southern California back in severe drought, just months after the state emerged from that category of drought.
A winter of shorts and T-shirts, record warm days, and growing worry over water supply in Southern California are leading California's Water Resources Control Board to consider next week whether to permanently reinstate some bans on water use that were imposed during the drought state of emergency.
If board members say yes, a handful of old-style water practices including using a hose to wash down sidewalks, and leaving automatic sprinklers on during and just after a rain, would be specifically outlawed statewide and could draw $500 fines.
Pending state legislation, meanwhile, would also give local water districts that kind of enforcement power over wasteful water use.
Board members of the Los Angeles-area Metropolitan Water District, the nation's largest urban water wholesaler, also are looking this winter and spring at making drought-style public-education conservation campaigns on social and news media permanent, along with programs encouraging homeowners to replace lawns. More than two-thirds of the water households consume is used outdoors, chiefly for lawns.
The permanent water restrictions that the state is looking at acknowledge that what California is facing now is growing extremes in wet spells and dry spells, not just the occasional drought.
The measures are about "transforming the relationship we have with water, which is increasingly scarce due to climate change," said Max Gomberg, a leader of water conservation programs at the state water agency.
California, the country's top state economy and agricultural producer, depends on 700 miles of canals and pipelines and a concrete network of dams, reservoirs and pumps to pipe water from the wetter north to Silicon Valley and the farms and population centers of the Central Valley and Southern California.
Weather trends are undermining the state's complex water system, however. Rising temperatures and changing storm patterns mean less snow is falling in the Sierra Nevada. Much of what snow does fall melts in place before spring runoff ever reaches the reservoirs that depend on it.
Water reservoirs are full from last winter's welcome, near-record rain. But if Californians draw them down over a dry year, and "we head back into next winter and it's really dry, we're right back in emergency this time next year," Gomberg said.Members of the Water Resources Control Board are expected to vote next week on whether to permanently reinstate some water-use restrictions.
Thanks for reading CBS NEWS.
Create your free account or log in
for more features.