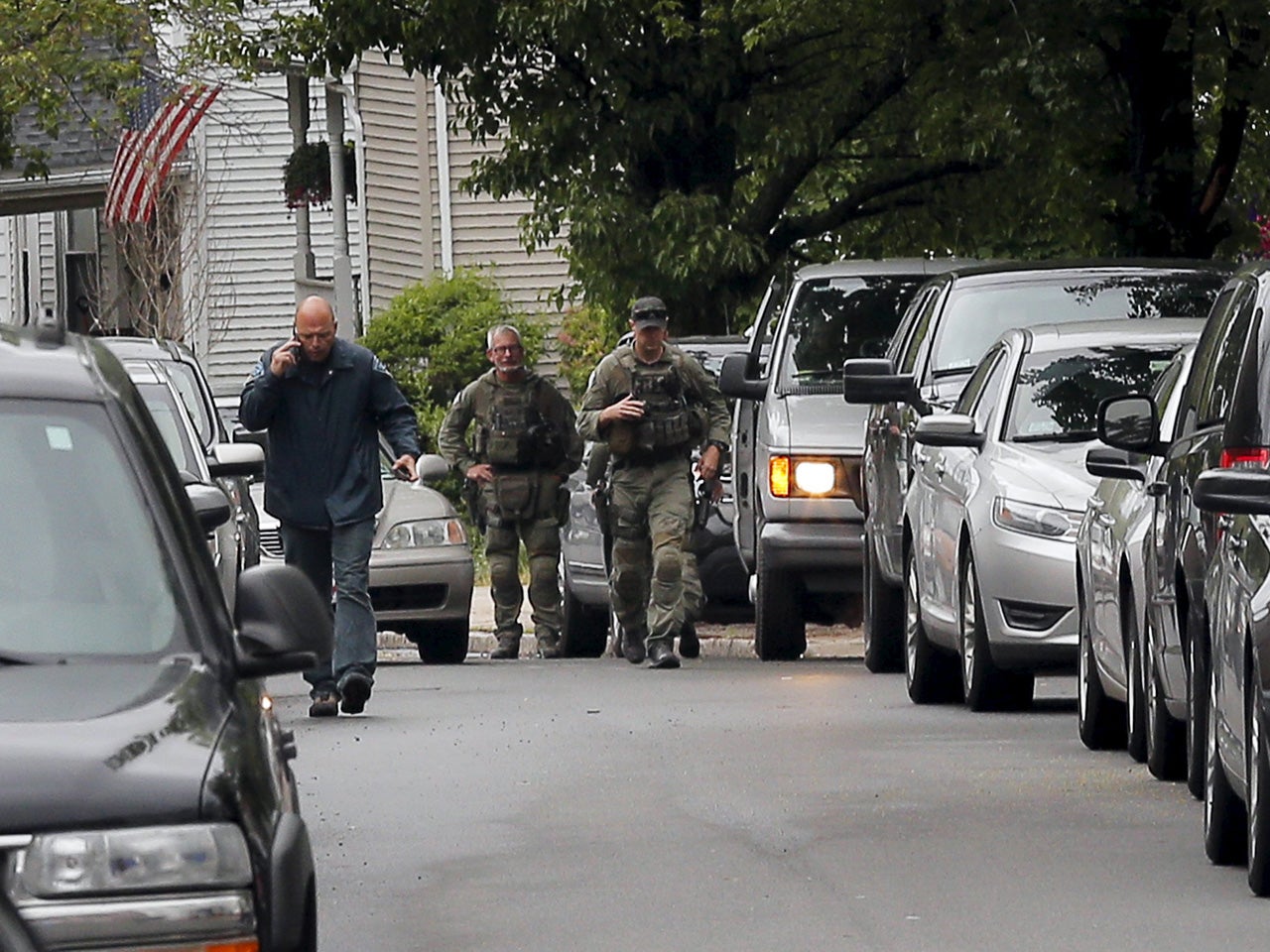 Official: Boston terror suspects wanted to behead cops
BOSTON - The terror suspects at the center of an investigation in the Boston area were actively plotting multiple attacks on law enforcement, including the possible beheading of police officers, a source tells CBS News.
They had been discussing attack plans on social media, the law enforcement source told CBS News senior investigative producer Pat Milton.
One suspect, David Wright, was taken into custody Tuesday by officers in Everett, Massachusetts. The other, Usaama Rahim, was killed earlier in the day after he pulled out a knife and lunged at a police officer and a FBI agent in Boston. He was under 24-hour surveillance at the time he was killed.
"We believed he was a threat," Boston Police Commissioner William Evans said.
Evans said the shooting was caught on nearby surveillance cameras, and the video shows police guns weren't drawn at first.
"And they kept retreating, verbally giving commands to 'drop the weapon, drop the weapon,"' Evans said. "At some point the individual -- proximity came [so] close that the officers were in danger."
Officials have shown video of the incident to members of Boston Muslim and civil rights communities in a closed-door meeting at police headquarters, CBS Boston reports. The surveillance video came from a nearby restaurant across the street from the scene.
Abdullah Faaruuq, a frequent spokesperson for the Islamic Society of Boston, told reporters afterwards that the video was "inconclusive" about whether officers had to use deadly force on Rahim, but it did not appear they shot him in the back.
"They might have approached him in a different way," Faaruuq said.
Darnell Williams, head of the Urban League of Eastern Massachusetts, said after viewing the video that he could "150 percent corroborate" the police account of how the officers engaged with Rahim.
Investigators said the video will not be released publicly at least until members of Rahim's family have had the opportunity to see it themselves.
Rahim's brother, an Imam in a mosque in Oakland, tweeted that, before Rahim was shot, he was on the phone with his father and his last words were, "I can't breathe."
"It's unfortunate that it feels like we've become a place where we shoot first and ask questions later," said Ali Samee, a member of the mosque. "This is deeply troubling and we're all very, very hurt right now."
Boston community members who viewed the tape Wednesday said it did not appear Rahim was on the phone at the time of the shooting.
Usaama Rahim had been under surveillance by a Joint Terrorism Task Force and spreading online propaganda for the Islamic State of Iraq and Syria (ISIS) before he was shot and killed on Tuesday, said U.S. Rep. Michael McCaul, who chairs the House Homeland Security Committee.
The task force was investigating Usaama Rahim because he had been "communicating with and spreading ISIS propaganda online," the Texas Republican said. "These cases are a reminder of the dangers posed by individuals radicalized through social media."
Sources told CBS News that Rahim and Wright were communicating with each other about attacks in the U.S., which is why Wright was arrested. Authorities continue to search for other people both Rahim and Wright were communicating with, the sources said.
Wright is expected to appear in federal court in Boston Wednesday, according to Christina Sterling, a spokesperson for U.S. Attorney Carmen Ortiz.
In the aftermath of the failed attack in Garland, Texas, the FBI increased surveillance and investigations of closed cases and perceived low priority threats.
Recent intelligence bulletins have warned about homegrown violent extremists influenced by online propaganda from ISIS which has been urging attacks against law enforcement and military targets.
Ibrahim Rahim has spent decades as an imam leading prayers and teaching moderation in Boston and around the country. He "is a great guy and preaches a very moderate form of Islam," said Yusufi Vali, executive director of the Islamic Society of Boston Cultural Center, where Usaama Rahim worked as a guard.
After the Boston Marathon bombings in 2013, Ibrahim Rahim described Jihadis who promote terror as "hell-bent on Islam's destruction from within," and urged fellow Islamic leaders to drive "a mass recall of the rhetoric of hate and to suppress any and all human desire to harm others based on any contrived justification."
The imam could not be reached for comment Wednesday. His e-mail said he was traveling to Boston to bury his brother.
Boston voter registration records for Rahim list him as a student. Records indicate that as recently as two years ago he was licensed as a security officer in Miami, but they don't specify in what capacity. A spokeswoman said Rahim had worked for CVS since March.
Vali said Usaama Rahim did not regularly pray at the center and did not volunteer there or serve in any leadership positions.
Thanks for reading CBS NEWS.
Create your free account or log in
for more features.