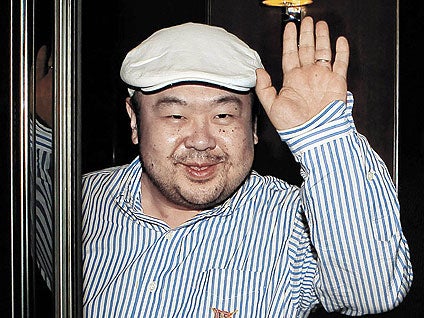 Official: N.K. leader's half-brother said he was attacked with chemical spray
KUALA LUMPUR, Malaysia - The half-brother of North Korean leader Kim Jong Un was assassinated at an airport in Kuala Lumpur, telling medical workers before he died en route to a hospital that he had been attacked with a chemical spray, a Malaysian official said Tuesday.
Kim Jong Nam, 46, was attacked Monday in the shopping concourse at the airport and had not gone through immigration yet for his flight to Macau, said the senior government official, who spoke on condition of anonymity because the case involves sensitive diplomacy.
According to South Korean media, Kim Jong Nam was attacked by two female assassins with poisoned needles at the Malaysian airport, CBS News' Adriana Diaz reported from Beijing. There were other reports that he had a cloth sprayed with a chemical shoved on his face.
Malaysian police confirmed he was rushed to the hospital, where he was declared dead on arrival, Diaz reported.
There was no comment from North Korea's tightly-controlled media.
Many outside observers think, erroneously, that Kim Jong Nam was tipped to succeed Kim Jong Il but fell out of favor when he was caught trying to enter Japan in 2001 to go to Disneyland. In fact, Kim Jong Il never considered Kim Jong Nam to be in line for the succession.
He was believed to have been living recently in Macau, Singapore and Malaysia.
Multiple South Korean media reports, citing unnamed sources, said Kim Jong Nam was killed at the airport by two women. TV Chosun, citing unidentified "multiple government sources," said the women were believed to be North Korean agents. It said they fled in a taxi and were being sought by Malaysian police.
Since taking power, North Korea's leader Kim Jung Un has executed several of his inner circle, including his uncle -- anyone who threatened his authority, reports Diaz.
Kim Jong Un has had a number of senior North Korean officials executed for vague crimes of disloyalty, from education and defense ministers to intelligence chiefs, as he seeks to consolidate his power in the isolated nuclear kingdom.
In 2013, North Korea said it had executed Kim's uncle, calling the leader's former mentor a traitor who tried to seize power and overthrow the state. The announcement came only days after Jang Song Thaek -- long considered the country's No. 2 power -- was removed from all his posts because of a long list of allegations, including corruption, drug use, gambling and womanizing.
More than a decade ago, Kim Jong-Nam, the casino-loving eldest son of late North Korean leader Kim Jong Il, spoke out against his little brother Kim Jong Un inheriting power in the country.
Analysts said at the time, toward the end of 2010, that Kim Jong Nam was prone to spending so much time outside his native land that his opinion carried little weight within the Kim dynasty.
The oldest of three brothers who were then in the running to take over secretive North Korea, Kim Jong-Nam was the closest thing the country had to a playboy.
Unlike many of his countrymen back home who lack the resources and connections to travel overseas, Kim always traveled freely and spent much of his time in China or the country's special autonomous region of Macau -- the center of Asian gambling with its Las Vegas-style casinos.
He sported the family pot belly and favored newsboy caps and an unshaven face, while frequenting five-star hotels and expensive restaurants.
Mark Tokola, vice president at the Korea Economic Institute in Washington, said it would be surprising if Kim Jong Nam was not killed on the orders of his brother, given that North Korean agents have reportedly tried to assassinate Kim Jong Nam in the past.
"It seems probable that the motivation for the murder was a continuing sense of paranoia on the part of Kim Jong Un, which may be a well-placed paranoia," Tokola wrote in a commentary Tuesday. Although there was scant evidence that Kim Jong Nam was plotting against the North Korean leader, he provided an alternative for North Koreans who would want to depose his brother.
The assassination came just days after North Korea launched its most sophisticated ballistic missile yet. A white burn can be seen in video from state television, which indicates the use of solid fuel, CBS News' Diaz reported. That's important because solid fuel -- rather than liquid -- can dramatically decrease the warning time needed before firing.
Thanks for reading CBS NEWS.
Create your free account or log in
for more features.