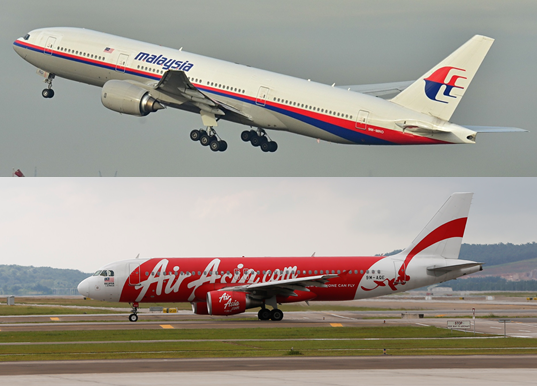 How does AirAsia Flight 8501 compare to Malaysia Airlines Flight 370?
At first glance, the disappearance of AirAsia Flight 8501 echoes that of Malaysia Airlines Flight 370. The airline, and regional governments, have so far failed to explain how this happened, but the circumstances surrounding its disappearance, and the reaction of all involved, are shaping up to be very different, reports CBS News correspondent Elaine Quijano.
AirAsia Flight 8501 left the Indonesian city of Surabaya bound for Singapore around 5:30 am Sunday. Approximately 40 minutes later, Indonesian air traffic control lost contact with the plane over the Java Sea.
It sounds eerily similar to the disappearance of Malaysia Airlines Flight 370, which vanished last March en route to Beijing. But while some similarities exist, their trajectories are strikingly different.
"It's natural to look for patterns," CBS News aviation and safety expert Chesley Sullenberger said. "And certainly the investigators are going to analyze all the evidence and find all the causes and contributing factors."
Investigators are now searching for any sign of Flight 5801.
Unlike the vast Indian Ocean, where crews spent months scouring the surface and combing its depths for the Malaysia Airlines plane, the Java Sea is a busy shipping area, and fairly shallow.
"The fact that the water on average is shallower means it will not be as difficult to recover parts of it and recover and analyze the recorders," Sullenberger said. "It makes it much more likely that this mystery will be solved."
The AirAsia plane disappeared from radar suddenly, a clue that severe weather may have been a factor. Strong thunderstorms were reported in the area shortly before contact was lost. And the pilot's last transmission, requesting to go from 32,000 to 38,000 feet, was presumably to fly over the storm.
Flight 370, by contrast, was tracked by radar for another hour before disappearing. The aircraft made a sharp left turn, recrossed the Malay Peninsula, and flew into the Indian Ocean.
The skies were clear, and the cockpit's last transmission implied all was normal.
"The search operation has been difficult, challenging and complex," Malaysia defense minister and acting transport minister Hishammuddin Hussein said. "But despite of all this, our determination remains undiminished."
While Malaysian officials were criticized for withholding information that slowed down the search effort, investigators in Indonesia have frequently updated the public.
Scenes of upset and angry families that dogged Malaysian officials have so far been absent and crisis centers have been set up in Singapore and Indonesia.
On Sunday, AirAsia's CEO Tony Fernandes tweeted:
Another difference, the Malaysia Airlines plane was a Boeing 777, a wide-bodied plane meant for long distances. AirAsia's was a smaller plane, an Airbus 320. That's the same type of plane Captain Sullenberger landed safely on the Hudson River nearly six years ago during an emergency.
Thanks for reading CBS NEWS.
Create your free account or log in
for more features.