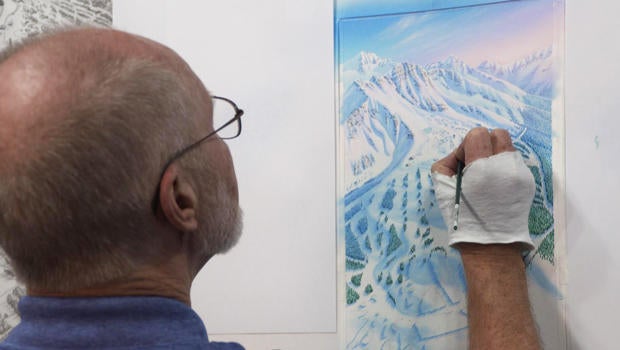 Before you ever lay your eyes on that spot which says "You Are Here," a map maker has to get there first ... ideally a map maker with an artist's touch, like the man our Serena Altschul has been watching at work:
Artist James Niehues might not be a household name, but his work is held in the hands of millions of people every year.
Altschul asked, "Do you see yourself as a map maker? Or a landscape artist?"
"Well, first and foremost, it's a map," Niehues replied. "Then I really think it's the artist coming in. I really want to produce a beautiful piece."
If you ski or snowboard, you've probably relied on Niehues' work to help get you down a slope or two. He has created maps for 194 different resorts.
Niehues is the most sought-out ski map maker in the country. For the last 30 years, he's created maps for big-name resorts, from Killington in Vermont, to Vail in Colorado, and a heap of others.
""If you open it up something that's pretty to look at, and it's been a good map to you, you'll remember good experiences," he said.
Based about an hour north of Denver, Niehues works out of his home studio. His process is fairly simple: Using aerial shots, he creates a sketch, which he then projects onto his easel, and then begins painting by hand.
Altschul asked, "Are people always surprised to learn that you hand-paint these?"
"Yes, they are. I can't use a computer!" he laughed, adding, "I wouldn't get the same look."
His latest project, Breckenridge Resort in Colorado, is one monster of a mountain, made up of five peaks, 187 trails and 34 lifts. Whether you're a skier or a map maker, this one is no bunny trail.
"So when you see people holding this map on line, waiting for the lift, do you feela little pang of pride?" Altschul asked.
"Oh, yeah, it is nice to produce art that is useful," he replied.
Useful in getting skiers, including Niehues, down the mountain.
"Whenever I started these maps, I didn't ski hardly at all!" he laughed. "But I'm an intermediate skier now."
"So you've become a good skier because of these maps?"
"Yeah. That's right. I had to ski 'em!"
At age 72, Niehues doesn't plan to put down his paint brushes. His soft spot for those slopes hasn't melted away just yet.
"It seems," Altschul said, "like you have a job you love."
"Absolutely. I love doing everything that I do," he said. "I know that I have probably the best job in the world!"

For more info:
Thanks for reading CBS NEWS.
Create your free account or log in
for more features.