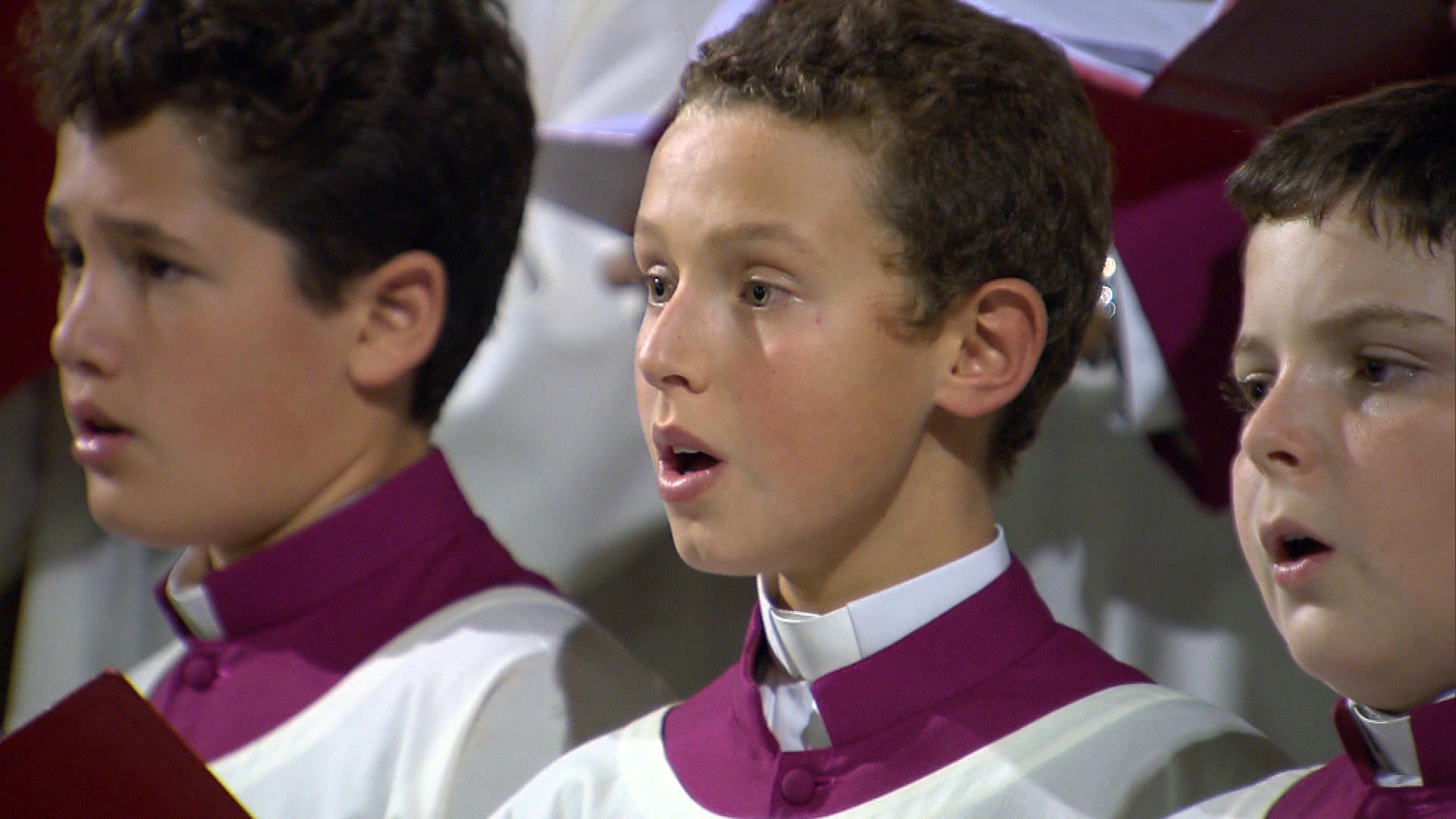 The following script is from "The Pope's Choir," which aired on Dec. 18, 2016, and was rebroadcast on Dec. 25, 2016. Charlie Rose is the correspondent. Draggan Mihailovich and Sabina Castelfranco, producers.
We are about to do something we have never done in 49 years of 60 Minutes: broadcast the same story two weeks in a row. But this one's special, and our present for you on Christmas night.
It is the oldest choir in the world. Evidence of its existence dates back to the 7th century. Today, it's called the Sistine Chapel Choir, but is more commonly known as the "Pope's Choir." That's because it's at the pope's side for all of the important papal celebrations.
This coming week, during the pope's Christmas Eve mass, the choir will perform in St. Peter's Basilica and just yesterday, the choir sang at a private mass at the Vatican honoring the 80th birthday of Pope Francis. The choir may be dedicated to the pope, but historically it has held concerts on its own, especially at its home base, the magnificent Sistine Chapel. It was here, beneath Michelangelo's breathtaking frescoes in one of the world's greatest wonders, where we recently attended a concert staged by the Pope's Choir.
The music is sacred, contemplative, mystical. It soars, whether in concert at the Sistine Chapel or during mass next door at St. Peter's Basilica.
When the pope presides, the choir provides a holy soundtrack made up of 30 boys and 22 men, the choir helps spread the pope's message.
Mark Spyropoulos: We have a job to inspire people. They may not understand a word of what's going on at the Vatican. But when they hear us singing, we have to direct them to consider something which is transcendent and divine. That's our job.
Mark Spyropoulos, a baritone from Britain, Vittorio Catarci, a bass from Italy, and Cezary Arkadiusz Stoch, a tenor from Poland, consider themselves more than just voices of the pope.
Charlie Rose: What does it mean that you're called the Pope's Choir?
Vittorio Catarci: Well, we are, we are…
Cezary Arkadiusz Stoch: The family.
Vittorio Catarci: Pope's family.
Charlie Rose: Pope's family.
Vittorio Catarci: Yes. His personal choir.
Pope Francis is the most popular pope in a generation. He spends much time tending to the poor and the dispossessed. It is this humility that also makes his choir feel at home, as Mark Spyropolous learned when he joined last year.
Mark Spyropolous: When I first met him, the whole thing was completely overwhelming. And he said, 'You're from London. Well, welcome to the Vatican' like this. And I was expecting, you know, sort of (making sign of cross) I was so, so embraced and welcomed by this. I, it was very surprising, and very impressed by quite how, what a personal touch he had.
As it tours Italy, performing in some of the country's great cathedrals, the choir sings in harmony.
But until recently the Pope's Choir wasn't worthy of the name or the settings where it sang. For decades, the choir lacked cohesion. Many members came from opera, and made sure they were heard.
Charlie Rose: The choir was called the "Sistine Screamers."
Vittorio Catarci: We were aware that we were singing too loud.
Vittorio Catarci remembers the era of the booming voices. He's been with the choir for 30 years and three popes.
Charlie Rose: Can you sing for me the difference between the way it was and the way it is now?
Vittorio Catarci: Oh, for example we used to sing (Sicut Cervus), and now we sing (Sicut Cervus). It's completely different, because we are looking for a very spiritual sound, not a meaty sound.
The choir turned around after Maestro Massimo Palombella was hired in 2010 -- only the sixth man to be appointed director of the Pope's Choir in 200 years.
Massimo Palombella: I did not have to invent a sound. I had to rediscover a sound which was the sound the choir once produced in the Sistine Chapel.
Palombella went back to the past, combining hi-tech and ancient texts, he studied endlessly, looking for the precise vocal range that Palestrina originally intended when he wrote the sacred music that provides the bulk of the choir's repertoire. Palestrina composed his music with the Sistine Chapel in mind, after Michelangelo had finished painting his masterpiece.
Mark Spyropoulos: Palestrina was writing when, the paint was still wet, you know, the, of these incredible frescoes. And when we sing Palestrina, it's not like looking at a fresco. It's the equivalent of being in a fresco.
Maestro Palombella also softened the tone by hardening the workload. The choir went from rehearsing three hours a week to three hours a day.
Charlie Rose: So you have to be a perfectionist? Tough.
Massimo Palombella: That's exactly right.
Charlie Rose: If you are on a journey of excellence how far along are you on your journey?
Massimo Palombella: Circa a meta.
Charlie Rose: Halfway.
Charlie Rose: You sound like an American sports coach.
Vittorio Catarci: A choir is a very, very terrifying beast, because, if you are not able to handle it, it goes away. It runs away.
Cezary Arkadiusz Stoch: This not safari. This is more dangerous.
Vittorio Catarci: You have to handle the choir. We were compared to a Ferrari. But you have to drive Ferrari to do dressage like, you know, the horses. Just little bend, little, you know, very, light. Dressage, dressage, not vroom!
At rehearsal and in concert, Palombella conducts the choir like a manic traffic cop.
The maestro was born on Christmas day but with his choir he's not always in a holiday mood. For the boys in the choir, commands from the maestro can be jolting.
Charlie Rose: And when he's not happy Lorenzo?
Lorenzo Malizia: Eh, eh, he has moments of…
Charlie Rose: What?
Lorenzo Malizia: He has some explosions of anger but then he calms down because then we sing the piece properly.
13-year-old Lorenzo Malizia is one of the boys, all sopranos, who are able to produce the high notes that give the choir its celestial sound. Just listen to how the boys warm up.
The Vatican refers to them as the "white voices" for the purity of their sound.
At home, like many Italian boys their age, they have ordinary pictures on their walls and then there are reminders of why the boys are extraordinary.
Charlie Rose: So when people ask you about the pope what do you tell them?
Riccardo Catapano: They ask us how is the pope? Is he fun? Does he always crack jokes? We say yes, yes, it's true, so he's fun.
13-year-old Riccardo Catapano has been in the Pope's Choir for four years.
Charlie Rose: I'd be nervous if I were singing in front of the pope.
Riccardo Catapano: I am little anxious but then I think that the pope does not understand anything about music, he only says how beautiful it sounds. So I continue to sing.
Across Rome, auditions for the choir are held in the second and third grades. Several times a year, instructors fan out to see who has the right timbre. Seven hundred boys are tested a year in all. It can be painstaking, few make it.
Only a dozen at most are selected annually. The chosen ones are sworn in during an elaborate ceremony…
Each are given five-year scholarships at a special school in the center of Rome. They aren't studying to become priests, their curriculum runs the gamut.
They may be known as choir boys on Sundays but the rest of the week they are typical boys on the cusp of their teenage years. These are hallowed times for the boys, until the day arrives when their voices break and they must leave the Pope's Choir. They can return as adults, but 11-year-old Emanuele Buccarella fears what's coming soon.
"We recently did a concert and a man came up to me at the end of the concert and said that the choir that I conduct is missing one thing: wings."
Charlie Rose: What happens when your voice breaks, will that be a sad day?
Emanuele Buccarella: For me, it will be an ugly moment when that time will come in which my voice will no longer be ready to sing the way we sing now. I try to make the most of everything now until that day will come in which they tell me my voice is no longer good to sing.
In their remaining time with the choir, their voices will join those of their adult brethren to bring the sounds of heaven to earth. The music of the Pope's Choir speaks to the soul.
Massimo Palombella: We recently did a concert and a man came up to me at the end of the concert and said that the choir that I conduct is missing one thing: wings.
Charlie Rose: Wings, to go, as an angel.
Massimo Palombella: Like an angel.
Thanks for reading CBS NEWS.
Create your free account or log in
for more features.