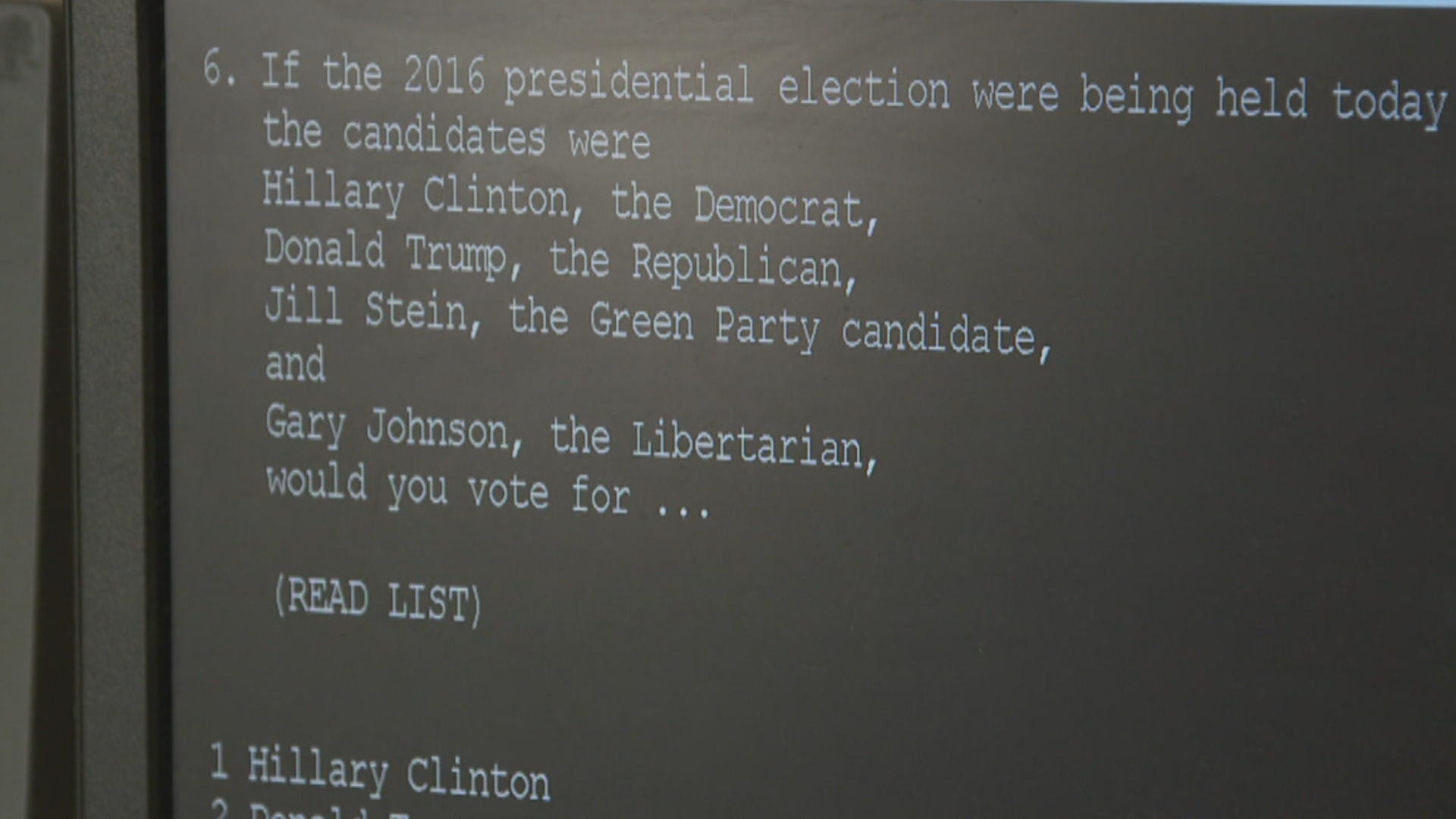 Inside the complex process of taking America's political pulse
Since 1975, CBS News has done its own polling, but there's been a sharp rise in the number of polls since 2012.
So who's actually taking America's political temperature and how are they doing it? CBS News correspondent Mark Albert went behind the scenes to find out how pollsters measure the constantly shifting views of voters.
Eran Ben-Porath is vice president at SSRS, a national polling firm with an office in a nondescript, one-story building in Allentown, Pennsylvania, where callers persuade voters to share their views on issues, events and candidates.
"We have the site here, we have another site... up in Redding, Pennsylvania, and one more site in Las Vegas," Ben-Porath said.
"If the 2016 presidential election were being held today and the candidates were Hillary Clinton, the Democrat, Donald Trump, the Republican, Jill Stein, the Green Party candidate, and Gary Johnson, the Libertarian, who would you vote for?" asked a pollster.
No one knows who'll win and suspense sells.
"How's business this year for you?" Albert asked.
"Election season is a good season for this industry obviously. There's a lot of interest in polling," Ben-Porath said. "No down time. This place is fully booked."
The results of one CBS News poll -- which ran five days and randomly called 13,000 people to get 1,700 willing to answer questions -- made headlines the following week. It showed a tie in a four-way race.
Sarah Dutton helped craft the more than 60 questions for that poll as director of surveys at CBS News.
In order to get an accurate poll, Dutton said everything matters, from who you're calling, to the order and wording of questions, to which presidential candidates' name comes first in the question.
"Half the time it will be Clinton-Trump, and half the time it will be Trump-Clinton," Dutton said. "It's endlessly interesting to me to understand public opinion in this country, and I think, frankly, we contribute to a conversation about our country's social and cultural history. We provide an insight into how Americans are feeling about things that are happening around them and I think that can play a useful role in understanding America."
"It sounds like you consider yourself not just a pollster but perhaps a storyteller," Albert said.
"Absolutely," Dutton said.
And there are more players than ever taking the field.
"Are there too many polls this year?" Albert asked.
"No, I don't think you can have too many high-quality public opinion polls," said Courtney Kennedy, director of survey research at the Pew Research Center.
"Polling serves at least two really important functions," she said. "One, it's a check on elected officials. So it prevents them from just asserting what public opinion is. Polls are designed to give each citizen an equal voice. And it's one of the only tools that we have to do that."
Today, pollsters' work is used by a growing number of election forecasters – many of whom aggregate polls and use other data to boldly predict each day who's going to win. But like all predictions, they can change.
Take Nate Silver's 538 election forecast. On Aug. 14, it gave Clinton an 89 percent chance of becoming the 45th president. Six weeks later though, her chances had dropped to 54 percent.
Over the same time period, the New York Times' Upshot had Clinton's chances drop from 87 percent to 69 percent.
When it comes to election forecasting, though, few have predicted the way the winds would blow on Election Day better than Alan Abramowitz, a political science professor at Emory University in Atlanta.
His model, called "Time for a Change," has correctly predicted every winner of the popular vote since 1988. He's 7-0.
"This is a prediction that's made several months before the election. So I'm not using any of the horse race polling that comes after that," Abramowitz said.
Abramowitz's model factors in only three things -- presidential approval rating, GDP economic growth and how long the incumbent's party has been in power -- and no campaign trail gaffes or slick slogans.
"One can accurately predict the outcome without taking into account candidates or the campaigns," Abramowitz said.
This year's "Time for a Change" predicts exactly that – a change and a win for outsider Donald Trump. But Abramowitz actually thinks this is the year his streak finally ends.
"This is not an election like a normal election, where we have offsetting candidates and campaigns. So I would expect in the end that Donald Trump is going to underperform," Abramowitz said.
But for traditional pollsters, it's not about picking the winner.
"It's a snapshot. It's not a prediction," Dutton said. "It is a snapshot in time, of this moment in time, where the race stands."
But if you don't trust the predictions or the polls, you could always try following the bulls and the bears. Since World War II, the performance of the S&P 500 in August, September and October of a presidential election year has correctly predicted the winner by party 15 out of 18 times.
And with the closing bell on a wild campaign season just five weeks away, all these pollsters know there's a lot on the line.

Thanks for reading CBS NEWS.
Create your free account or log in
for more features.