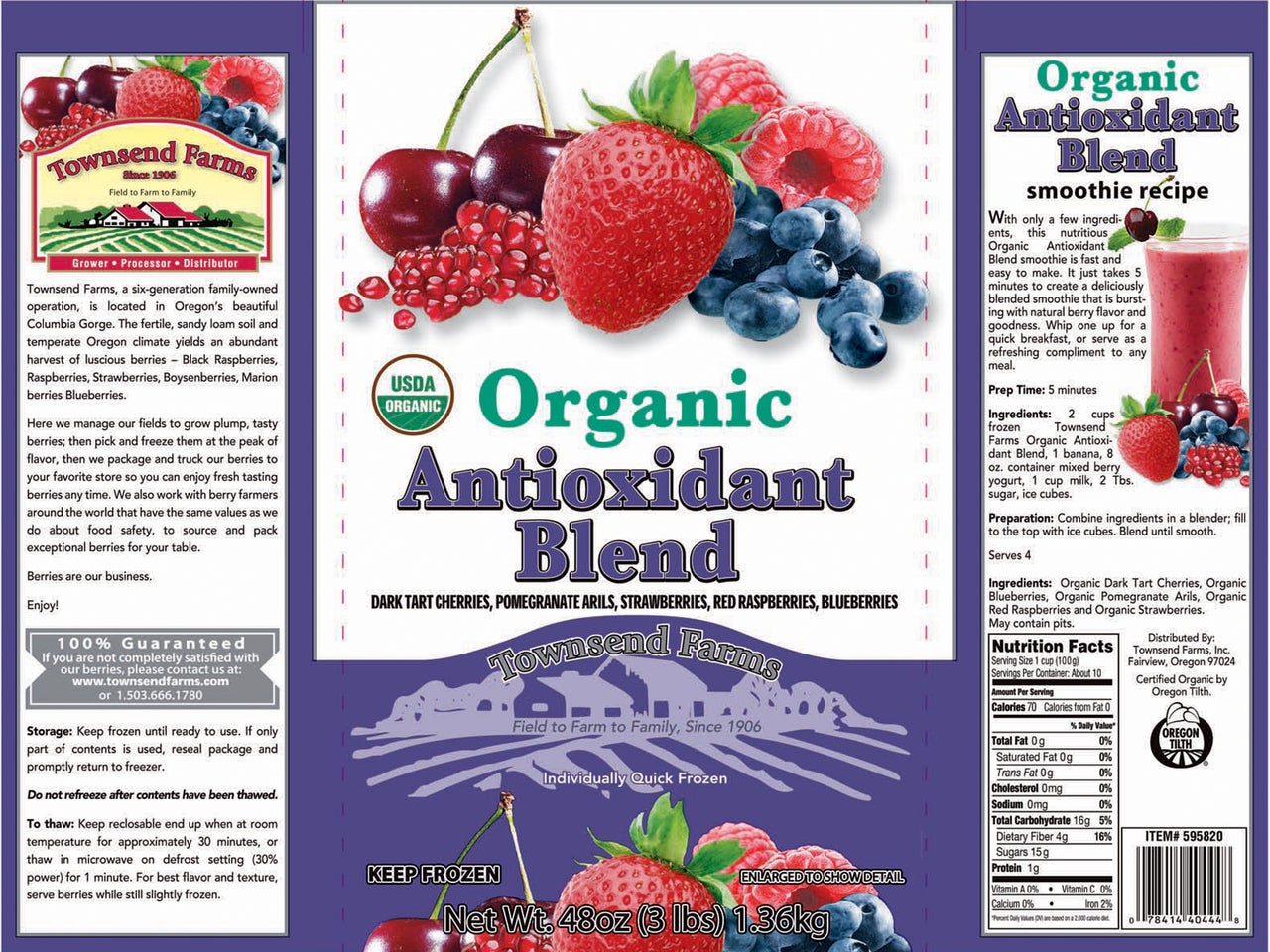 15 more Hepatitis A cases linked to frozen fruit from Towsend Farms
A hepatitis A outbreak linked to a frozen fruit mix from Oregon-based Townsend Farms has hit 15 more Americans, federal health officials said Wednesday.
The cases, which are now seen in seven states -- up from the previously-reported five -- are expected to grow in numbers, the Centers for Disease Control and Prevention (CDC) said on its website.
The outbreak of the liver-damaging infection is tied to the Organic Antioxidant Blend sold by Townsend Farms of Fairview, Ore., according to the Food and Drug Administration.
The illnesses, which began in April, are associated with pomegranate seeds processed in Turkey that were used in the frozen mixes. They have been reported in Colorado, New Mexico, Nevada, Arizona, California and the two latest states, Hawaii and Utah.
Product lots of the antioxidant blend were recalled yesterdayfrom Costco stores where they were sold. Harris Teeter stores sold the product as Harris Teeter Organic Antioxidant Berry Blend and some lots of those bags have been recalled as well.
Consumers with questions about the recall can view the FDA's website or contact Townsend Farms at 1-800-875-5291 or townsendfarms5148@stericycle.com.

People sickened in the outbreak range from 2 to 71 years old, and 11 have been hospitalized.
Patient interviews by the CDC determined 19 of 25 cases reported consuming the fruit blend. Nineteen people interviewed also reported buying the product from Costco, but investigations are ongoing as to whether products were sold at other stores.
Hepatitis A is a highly infectious disease that people are most likely to get through fecal-contaminated food or drinking water.
Illness occurs within 15 to 50 days of exposure to the products, the FDA said. This strain of hepatitis A linked to the outbreak is rarely seen in the Americas but circulates in the North Africa and Middle East regions, according to the CDC.
The strain was previously implicated in a 2013 hepatitis A outbreak in Europe linked to frozen berries and another 2012 outbreak in British Columbia related to a frozen berry blend with pomegranate seeds from Egypt.
Symptoms of hepatitis A include fatigue, abdominal pain, yellowing of the skin (jaundice), dark urine and pale stool. Liver tests may report abnormal findings.
Mild cases of hepatitis A may not require treatment, and most of those infected will recover completely with no major liver damage. However, in rare cases liver failure may occur and a transplant may be necessary. A vaccine can prevent disease as long as it's given within two weeks of exposure to the virus.
If you've already gotten a vaccine, you're unlikely to get ill from this outbreak.
Consumers should not eat the recalled products and should toss out anything remaining, according to health officials. If you are sick, see a doctor who may contact the local health department.
No other Townsend Farms products are covered by the recall or linked to the hepatitis A outbreak at this time, the FDA said Wednesday.
Bill Gaar, a lawyer for Townsend Farms, told the Associated Press last week,"We do have very good records, we know where the (pomegranate seeds) came from, we're looking into who the broker is and we're sourcing it back up the food chain to get to it."
Thanks for reading CBS NEWS.
Create your free account or log in
for more features.