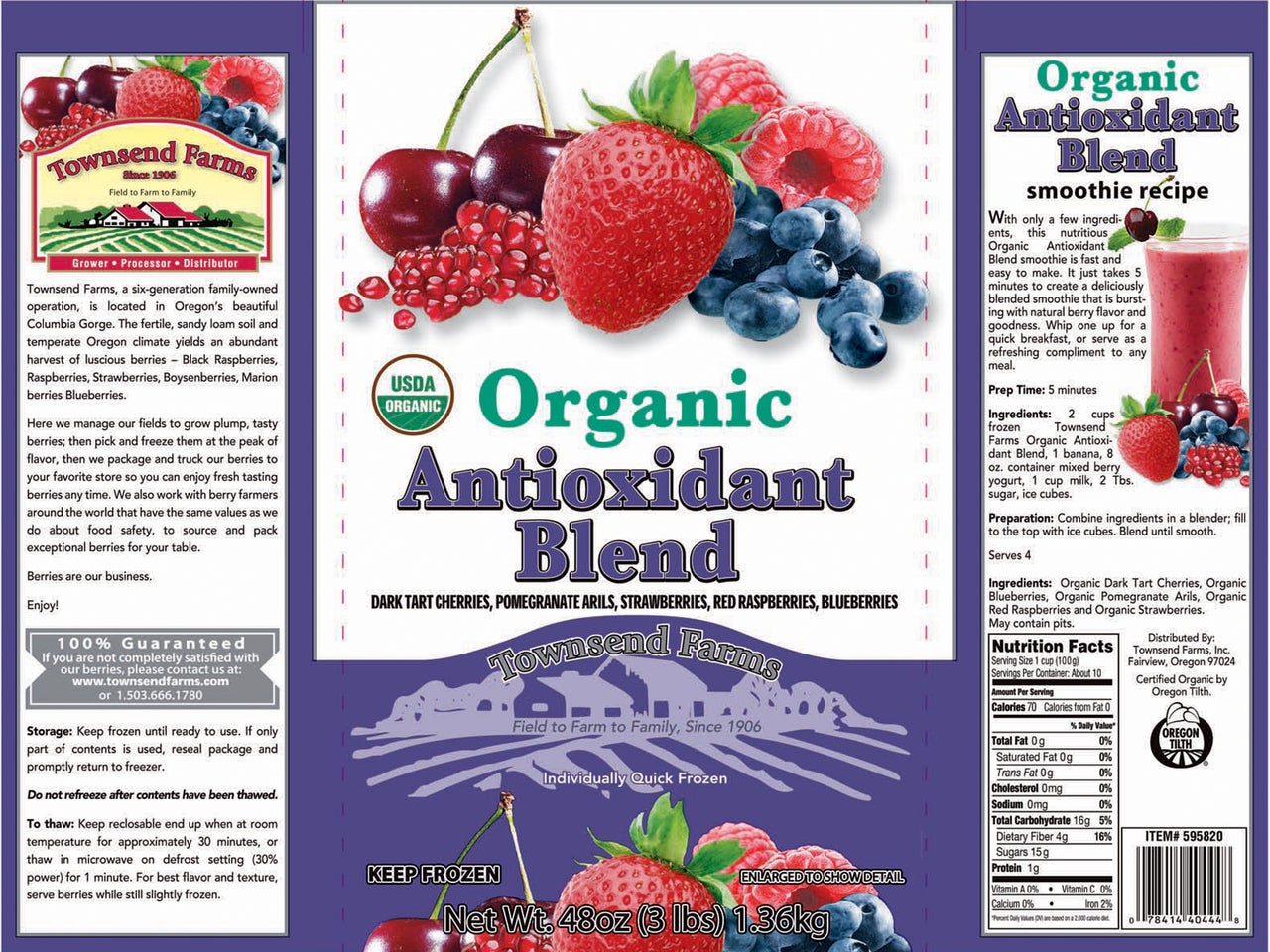 Townsend Farms recalls frozen berries as hepatitis A cases increase
Townsend Farms, a firm linked to a five-state hepatitis A outbreak, is now recalling the frozen berry blend health officials have been investigating as a culprit behind the diseases.
Townsend Farms said in a recall notice emailed to CBSNews.com Tuesday its voluntary recall of its "Organic Antioxidant Blend" is "out of an abundance of caution," because the frozen fruit may be contaminated with the virus that causes the liver-damaging disease.
The frozen fruit was sold in 3-pound bags at Costco warehouse stores with "UPC 0 78414 404448" on the label. The recalled product codes are located on the back of the package with the words "BEST BY", followed by the code T012415 sequentially through T053115, followed by a letter.
The products were also sold under a different brand name, Harris Teeter Organic Antioxidant Berry Blend, in 10-ounce bags. The bags say "UPC 0 72036 70463 4," with "BEST BY" codes of T041615E or T041615C on the packaging.
The product was sold at Harris Tweet stores April 19 until May 7, 2013.
As of June 3, 34 people have been infected with hepatitis A, with cases appearing in Colorado, New Mexico, Nevada, Arizona and California, the Centers for Disease Control and Prevention and the Food and Drug Administration said in a joint statement Tuesday.
The illnesses, which began in April, are associated with pomegranate seeds processed in Turkey that were used in the frozen mixes. Patient interviews by the CDC determined 19 of 25 cases reported consuming the fruit blend.
All people are ages 18 or older, ranging from 24 to 71 years old. Eleven patients had to be hospitalized. The strain of hepatitis A infecting them is rarely seen in the Americas but circulates in the North Africa and Middle East regions, according to the CDC.
Hepatitis A is a contagious disease people are most likely to get through contaminated food or drinking water. Symptoms can range from mild illness lasting weeks to severe sickness lasting months, with symptoms including fatigue, nausea and vomiting, abdominal pain or discomfort, loss of appetite, low-grade fever and yellowing of the eyes and skin (jaundice), dark urine and pale stool.
Illness occurs within 15 to 50 days of exposure, the FDA said.
Mild cases of hepatitis A don't require treatment, and most who are infected will recover completely with no permanent liver damage. However, in rare cases liver failure may occur and a transplant may be necessary. A vaccine can prevent disease as long as its given within two weeks of exposure to the virus.
People who have already gotten a hepatitis A vaccine are unlikely to become ill if exposed to the contaminated foods.
Consumers with questions about the recall can contact Townsend Farms at 1-800-875-5291 or townsendfarms5148@stericycle.com.
Thanks for reading CBS NEWS.
Create your free account or log in
for more features.