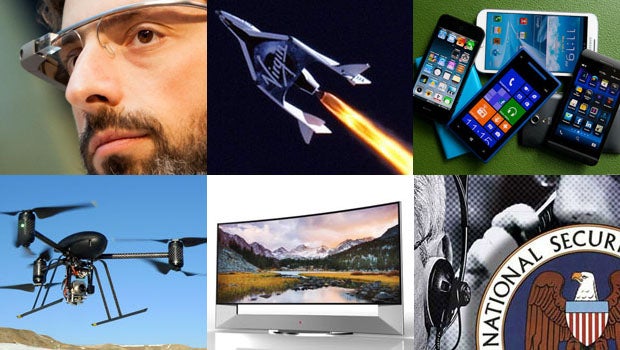 10 technology trends to watch in 2014
1. Space tourism
Virgin Galactic is scheduled to become the first private commercial "spaceliner" to blast tourists into space, with an inaugural trip in 2014 carrying its founder, Sir Richard Branson. Branson and his children, Holly and Sam, will lift off on SpaceShipTwo from the Spaceport America in New Mexico.
Beyond 2014, a handful of private companies are also racing to bring tourists to space, including the ambitious Mars One colony trip to the red planet and Space Adventures' trip to the moon.
2. Wearable tech
Ok, Glass. Show us the future. Google is expected to ship its groundbreaking augmented-reality glasses to the public in 2014, expanding the wearable tech market.
Smartwatches like Samsung's Galaxy Gear watch and the Pebble Smartwatch will continue to be more useful as developers create more apps for the devices. Health-tracking devices like the Nike Fuel Band, Jawbone Up and Fitbit Force will continue to drive the health technology marketplace into the mainstream.
3. Internet of things
At the 2013 IFA consumer electronics show in Berlin, technology company Philips demonstrated a concept called the HomeCooker Next that could time cooking, change temperature and stir food -- using a smartphone. The Nest thermostat not only can control your home's temperature remotely, it also learns your behavior and makes adjustments accordingly.
The networking of our physical world will continue to boom in 2014. Connected devices are no longer just limited to smartphones and computers. Everything from door locks and home appliances to bikes and watches can now be networked.
4. Robots on the rise
Will the machines become self-aware in 2014? We certainly hope not, but advancing technology in robotics and artificial intelligence are definitely on the rise.
Google acquired a portfolio of incredible robots with its purchase of Boston Dynamics in 2013, including the Cheetah, Petman and Atlas, making spectators wonder what the tech giant has planned for the machines.
The Defense Advanced Research Projects Agency (DARPA) is challenging robot-makers to address the need for rescue workers in dangerous emergency response situations. The DARPA robotics challenge is underway and will have finals happening at the end of 2014. Winners will receive a $2 million prize.
5. Machines in the sky

Keep an eye on the sky in 2014 because unmanned aerial vehicles - or drones - are about to become a big part of the airspace.
Amazon made a big splash when CEO Jeff Bezos on "60 Minutes" revealed plans for a drone that would deliver packages in 30 minutes. But a handful of other drones garnered attention in 2013, including drones that could deliver beer at a festival and pizza to a home in the United Kingdom.
In 2013, the Federal Aviation Administration (FAA) released its first annual roadmap to address concerns that are arising with the increased use of drones in American airspace, paving the way for clear regulations of the flying devices. The FAA recently announced the locations of six drone test sites in the United States, setting the stage for what could be the next booming industry.
6. Bigger, smarter TVs
Just watching movies and shows on TV won't cut the mustard in 2014. A growing market of smart TVs will continue to expand, with more households having the option to browse the Internet, launch apps and have social interactions through their TV sets.
LG is planning to release a feature that lets users communicate with smart home appliances, using a mobile messaging app called Line, at the Consumer Electronics Show (CES) in January. Samsung's smart TVs will soon let users use voice command and gestures to change the channel, control the volume and stop videos. The two companies are also planning to show 105-inch curved 4K TVs at CES. Samsung has already begun selling a 110-inch TV in South Korea for a whopping $150,000.
7. 3D printed everything
Need a new iPhone case? There's a printer for that. The future of 3D printing is bright and may hit the mainstream soon. According to growth projections by IDC, 3D printers units will have a compound growth rate of 59 percent and revenue growing by 29 percent from 2012 to 2017.
Hobbyists aren't the only ones that have use for 3D printers - the medical, aerospace and automotive industries are also using 3D printers.
8. Multi-screen world
Spoiler alert: Live-tweeting TV shows is now a thing. As more mobile devices hit the market in 2014, so will more opportunities for a second-screen experience.
More TV programming will include hashtags to continue the conversation online, during breaks or after shows air. Apps like Zeebox notify users when a program is about to air, shows trending conversations online and highlights related content.
9. The fight for privacy
Privacy became a buzzword in summer of 2013, with the details of the National Security Agency's surveillance programs coming to light through leaked documents by former contractor Edward Snowden.
According to a July 2013 Pew Research survey, 86 percent of Internet users have taken steps to protect their digital footprint by using methods like encrypting their email or clearing cookies.
Privacy advocates may want to keep their eyes on several cases filed against the U.S. government in 2013 that are still pending. NSA director Gen. Keith Alexander will retire in 2014, which could spark a new round of conversations about privacy.
10. Smartphone market continues to grow
Not everyone has a smartphone, but that will eventually change. One prediction by Credit Suisse says that over 1 billion smartphones will sell worldwide in 2014, getting a boost from demand in China. According to IDC, smartphone shipments in China's growing market are estimated to hit 450 million in 2014 - compared to an estimated 360 million in 2013.
Thanks for reading CBS NEWS.
Create your free account or log in
for more features.