Hassan Whiteside and Draymond Green Engaged in Some Twitter Beef
Hassan Whiteside erupted onto the NBA landscape last season, averaging a double-double in limited minutes as he morphed into the Miami Heat's center of the present and the future.
Through his highlightable style on the court and his knack for delivering entertaining, honest quotes off of it, the Hassan Whiteside fan club is swelling.
Among those who may not be entering said club is Warriors mini-big Draymond Green, fresh off helping Golden State win a title through small-ball means.
It began when Hassan tweeted how small ball has a stipulation: that it only works against offensively-limited centers. Green appeared to take this as a personal slight when he got wind of the seven-footer's tweet (probably by a Twitter troll), considering he might be the quintessential small-ball big man, generously listed at 6-foot-7.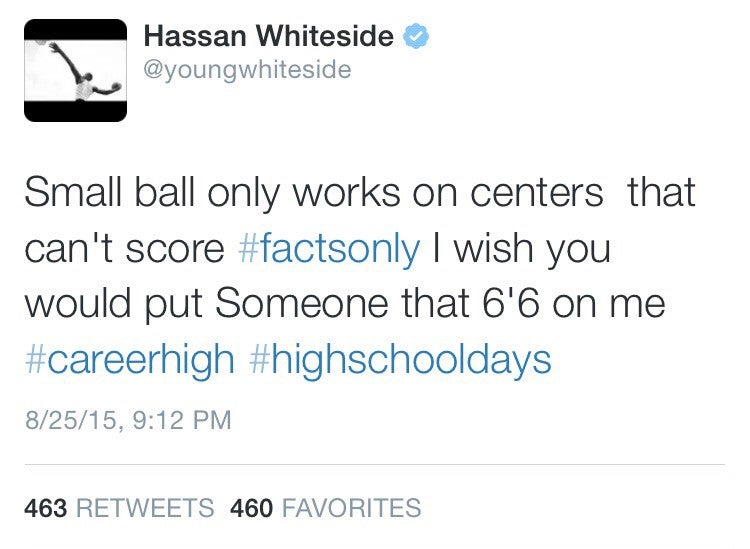 Then a Hassan Lifer got involved, pointing out Whiteside actually outscored Green last year -- by 0.1 points (and in eight less minutes).

Here's where Draymond got a bit snippy and defensive, pointing out Whiteside's season was a mere 48-game sample.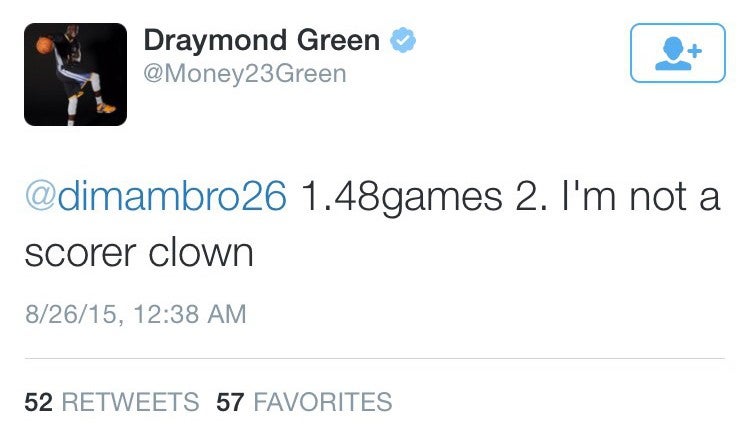 (The best part of this was both players veered away from tagging each other.)
Some hours later -- 4:35 a.m. to be exact -- when sane individuals were sleeping, Hassan threw out the finisher.
Until Draymond wakes up...
And he did:
My two cents?
Draymond is a heck of a talent in a NBA era perfectly suited for his size and skillset. But Hassan is a seven-foot cyborg -- who may be infused with Bill Russell's DNA -- gifted to Pat Riley from the basketball gods in wake of LeBron's abrupt departure. Green may want to sit January 11 (when the Heat play the Warriors in Oakland) out because Whiteside will be looking to dunk on his skull and I'm not certain there is anything the small-ball big will be able to do about it.
Update: Draymond Green deleted his tweets -- Whiteside TKO.
Follow Josh on Twitter @JoshBaumgard
Thanks for reading CBS NEWS.
Create your free account or log in
for more features.