PG&E Warns Of Power Shutoffs To Lower Wildfire Risks This Weekend
VACAVILLE (CBS13/AP) - The year's fire danger warning in Northern California is putting Pacific Gas & Electric on alert.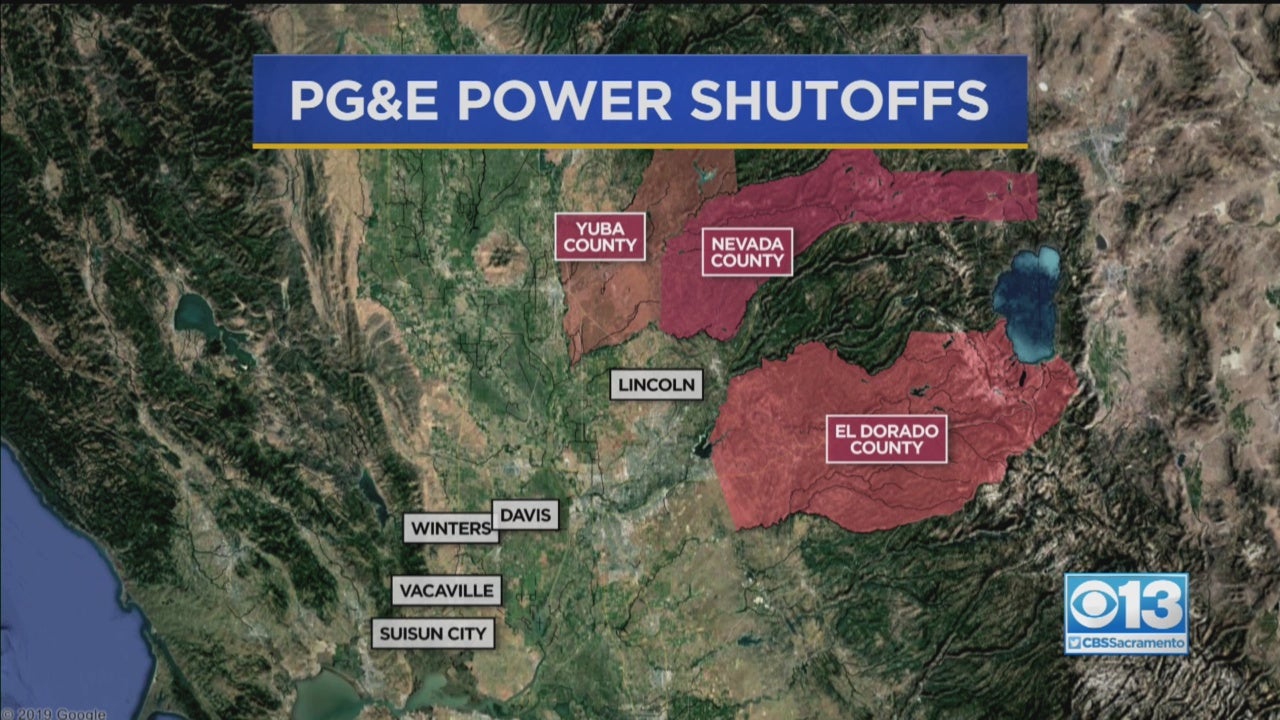 The utility said starting Saturday morning, it might turn off power to thousands of customers in areas north of San Francisco and in the Sierra foothills to help reduce the risk of fire.
That's where the state's most destructive and deadliest wildfires occurred the last two years.
Friday night, PG&E announced they will cut power to parts of Yolo, Solano and Napa Counties early Saturday morning through at least Saturday afternoon.
READ MORE: PG&E To Turn Off Power To Unincorporated Areas Near Winters, Davis
"We're planning for a shutoff even though the messaging is still we don't know yet and it may, because it's better to be prepared than to be caught off-guard," said Yolo County Emergency Manager Dana Carey.
Soaring temperatures, wind, and humidity levels are triggering a Red Flag fire warning. That has PG&E considering shutting off power to more than 30,000 customers.
"We work to contact the customers within about an hour before we're going to actually shut the power off," said Brandi Merlo with PG&E.
This is a precaution against potentially devastating wildfires. But it means thousands of people in portions of Yuba, Nevada, Yolo, Placer, and El Dorado county might not have power this weekend.
READ ALSO: Firefighters Stop Forward Progress On 4-Alarm Wildfire In Solano County
"I'm not too fond of the idea actually. I think it's a little bit presumptive to start shutting people's power off because the temperature is going to be high," said Napa resident Greg Strath.
Forecasters predict hot and dry conditions starting Friday and winds blowing 15 to 30 mph, with gusts of up to 45 mph. The National Weather Service said humidity could drop to 10 percent.
With temperatures nearing 100 degrees over the next few days, thousands might not have air conditioning or refrigerators.
"We want customers who maybe need medication that's refrigerated to think ahead and be prepared," said Merlo.
If the power does get shut off, customers should be prepared. Shutting it off is the easy part, but turning the power back on takes a lot more work.
"We have to go and patrol every foot of line that we shutoff in the interest of safety. So we are hoping to re-energize customers within 24 to 48 hours but we are telling customers to potentially be prepared for two to five days," Merlo said.
The warning extends to 5 p.m. Sunday. It covers inland valleys below the 1000-foot level, where fire officials say grass and shrub have dried despite an unusually rainy May across the state.
Copyright 2019 The Associated Press.
Thanks for reading CBS NEWS.
Create your free account or log in
for more features.