Man In Critical Condition After Shot On Crowded SEPTA Bus In Center City, Philadelphia Police Say
PHILADELPHIA (CBS) - Philadelphia police are searching for a shooter after a man was shot on a crowded SEPTA bus in Center City overnight Thursday. Police say the shooting happened inside the bus at Broad and Chestnut Streets, around 1 a.m.
Investigators say the bus was actually moving at the time and there were 15 passengers on board.
You can only imagine the panic and rush of those on that bus to get away from the gunfire.
The victim is a 29-year-old man. He was shot in the chest and is in very critical condition.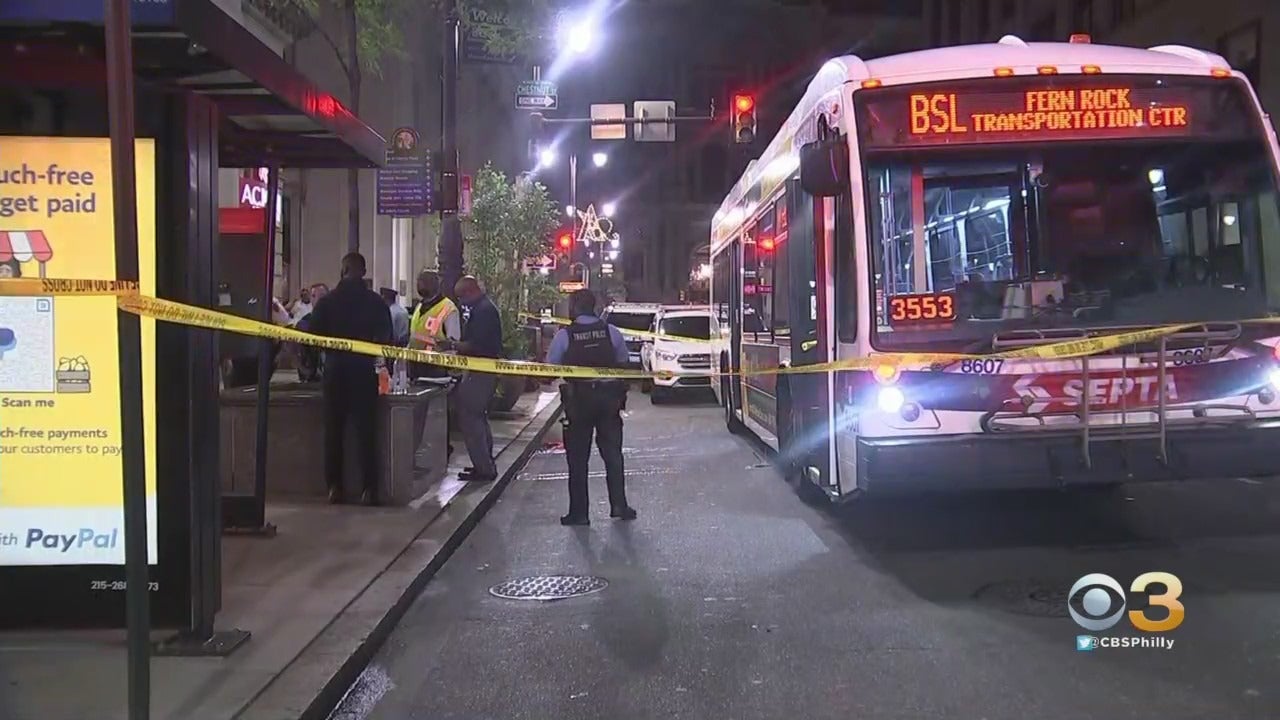 When the driver heard the gunfire, he immediately stopped and the 15 passengers and the shooter ran. The driver stayed with the victim on the bus.
"All the other passengers fled from the doors of that SEPTA bus so we don't have any witnesses that were on that SEPTA bus," Philadelphia Police Chief Insp. Scott Small said.
When police arrived, they found a 29-year-old man shot in the chest. Medics took him to Thomas Jefferson University Hospital for treatment.
Investigators have been processing the scene ever since.
They found a spent shell casing in the back of the bus, along with a loaded magazine.
They also found evidence outside the bus.
"One spent shell casing is on Broad Street just a few feet away from the side doors of the bus. We believe that spent shell casing was kicked out when the 15 passengers fled from the side door," Small said.
Fortunately, there are surveillance cameras in the bus that police are hopeful captured the incident.
People who live and work in Center City point out gun violence in this area is rare.
"I feel pretty safe," Madeleine Garcia said.
Another person added, "I always feel safe when I'm downtown in Philadelphia."
But in other neighborhoods like West Philadelphia, gun violence is a major problem.
Security video shows a shooting during a Fourth of July cookout in West Philadelphia. More than 100 shots were fired and two men were killed.
Some business owners even make sure to close up before nightfall, says Jabari Jones, of the West Philadelphia Corridor Collaborative.
"They also feel they have no confidence in the City of Philadelphia to keep them safe, the gun violence has skyrocketed out of control," Jones said.
Eyewitness News brought those concerns to Philadelphia Mayor Jim Kenney as the city faces a record number of homicides this year.
"We're investing $150 million in social programs to direct at these issues, we're trying to get our young people trained, trying to get our young people to work and we're trying to interrupt the violence, the groups that are having issues with each other," Kenney said. "That's what we're doing every day."
2021 is on pace to be the deadliest year in Philadelphia. The city is approaching the grim milestone of 300 murders so far this year, that's more than all of 2013.
CBS3's Jan Carabeo and Matt Petrillo contributed to this report.
For a list of gun violence resources in Philadelphia, click here.
Thanks for reading CBS NEWS.
Create your free account or log in
for more features.