Trump Casts Shadow On Long Island's Zeldin-Gershon Midterm Race
RIVERHEAD, N.Y. (CBSNewYork) - With the control of congress at stake, nearly 100 house races could switch seats, changing the national political landscape.
One of those races is in Suffolk County, Long Island, reports CBS2's Carolyn Gusoff.
Two-term Republican Congressman Lee Zeldin - an attorney, former state senator and army paratrooper – touts his home-grown roots.
Democratic challenger and first-time candidate Perry Gershon, a successful businessman, has a national message to "take control of the country" from President Donald Trump.
The rhetoric makes the president an unnamed contender in the race. The battle for New York's 1st Congressional District is seen as a referendum on Trump who Zeldin enthusiastically supports, but has differed with.
"He voted to take away health care for people with pre-existing conditions," said Gershon. "He's voting with Trump trying to decimate our environment. Lee Zedlin has embraced Trump, he's held rallies with Steve Bannon."
"Where I agree with the president: Working with him on MS-13 , strengthening our military, and when I disagree I speak up as well," said Zeldin."I voted versus the tax bill, I oppose off shore drilling off the coast of Long Island.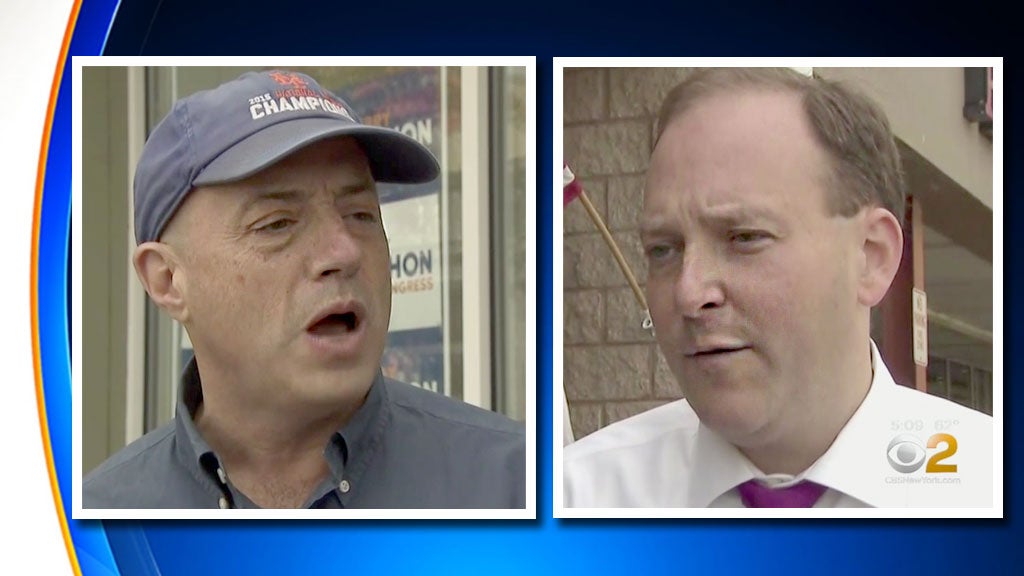 Perry Gershon, Lee Zeldin (credit: CBS2)
The men are running in an expansive district that runs from the wealthy East End, though farmland, to middle and working class central Suffolk County.
Zeldin portrays Gershon as a carpetbagger, raised in Manhattan with a Yale pedigree - only recently making East Hampton his full-time home.
"He's a NYC liberal Democrat who decided to register in the district just to run," says Zeldin.
"I think it's absurd," said Gershon. "East Hampton is my home, I've paid property taxes there for 20 years."
They are in a district that has pivoted more than once: Voting for Barack Obama, then Donald Trump.
Both candidates are Jewish, but on opposite sides of gun control. Zeldin is endorsed by the NRA.
"Regardless of what tool they have, whether they have a knife or a firearm, a bomb, we need to get at that hate and combat it successfully," said Zeldin.
"We need to condemn hate early before it take hold, but then it's also about guns," said Gershon. "We can't have AR-15s, we should have a ban on the sale of AR-15s," said Gershon.
The district has more registered Republicans than Democrats, but nearly a third of voters are uncommitted. A recent New York Times poll shows Zeldin has a 9-point head over Gershon, with 10 percent of the voters undecided.
Thanks for reading CBS NEWS.
Create your free account or log in
for more features.