USWNT World Cup Parade: NYC Readies To Celebrate U.S. Women's National Team
AT-A-GLANCE:
NEW YORK (CBSNewYork) -- Roaring crowds of enthusiastic fans are expected to pack Lower Manhattan Wednesday morning to celebrate the World Cup champion U.S. Women's National Team.
The U.S. woman will be passing through the Canyon of Heroes.
The sidewalk along Broadway is decorated with names of the United States' greatest athletes.
Fans will gather to celebrate the American women capturing their record fourth World Cup championship with Sunday's 2-0 win over The Netherlands.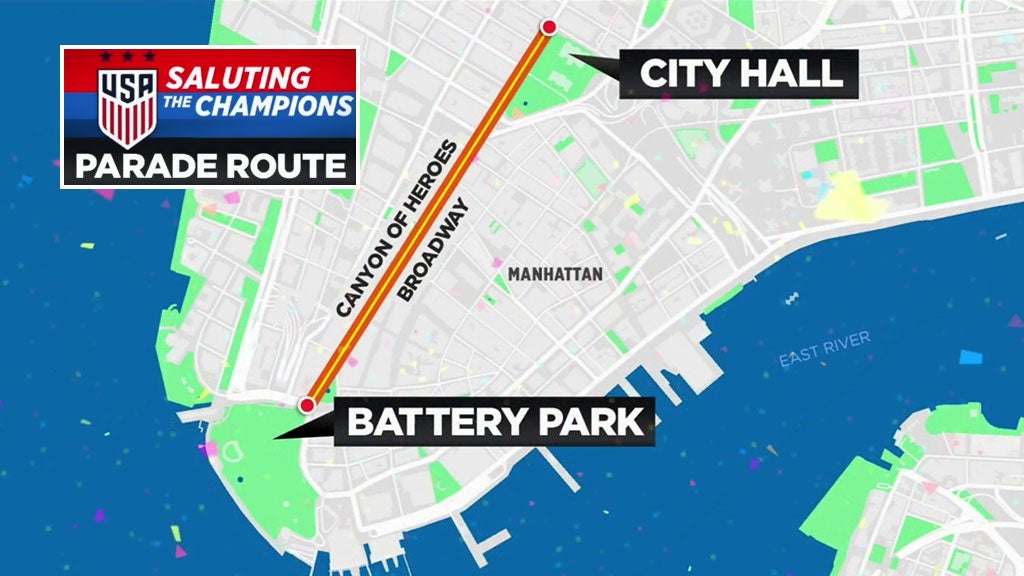 The team returned to the United States on Monday afternoon.
Fans young and old have been getting a kick – no pun intended – out of seeing and meeting the Women's World Cup champions, who were coming and going from their Manhattan hotel all day Tuesday under the watchful eye of the NYPD.
Players have been spotted all day by hotel guests and fans outside, CBS2's Alice Gainer reports.
Nine-year-old Anais Biggers got her picture taken with goalkeeper Ashlyn Harris.
"Seeing how good they are makes me feel like I can work much harder to get to that level [in soccer]," she told CBS2's Alice Gainer.
Jeffrey Reed, of Nashville, bought a soccer ball, hoping to get players to sign it for his daughter back home.
"We just spent 20 hours over the last couple of weeks watching the USA women's team," he said.
"Just a whole rush of energy in the hotel and everyone is so excited because the world champions are here," 12-year-old Mary Tyson said.
Paul Williams, a hotel guest from Pennsylvania, extended his stay so he can attend Wednesday's parade.
"It's a thrilling day and it's wonderful to have them and it's wonderful. What a victory for women. What a victory for America. It was incredible," he said.
Over at City Hall, preparations are underway and barricades are up along the parade route. The floats are ready and the paper is being shredded to rain down.
Jessica Lappin, President Of The Alliance For Downtown New York, On Preparing For The Parade
But it's not all about celebrating for the women on the team. It's about delivering a message as they fight for equal pay.
"I think that this win changes the conversation [from] 'do we deserve it' to OK, how are we actually going to get the action? What are we going to see from FIFA, from U.S. soccer, from the sponsors?" midfielder Kelley O'Hara said.
According to Nielsen ratings and other streaming services, here in the United States, Sunday's match ranked as one of the highest-rated soccer telecasts in history. It drew bigger ratings than the 2018 men's World Cup final.
U.S. Soccer has said that the women are paid less because their games typically bring in less revenue and lower ratings, but according to the federation's own financial reports, the women's team generated more total revenue than the men's in the three years after the women's 2015 World Cup victory.
Team co-captain Megan Rapinoe, who won the Golden Ball as best player of the tournament and the Golden Boot as top scorer, spoke out on Good Morning America on Tuesday.
"Go watch your team. Watch the national team. Watch your local club teams. I think that there's a part in this for everybody to do," she said.
The women will also be given keys to the city at Wednesday's parade.
As for the rest of Tuesday? The women have the night off.
The parade begins at Battery Park at 9:30 a.m. and will end at City Hall. CBS2, CBSN New York and CBSNewYork.com will have live coverage all throughout the event. Join us!
Thanks for reading CBS NEWS.
Create your free account or log in
for more features.