Latest Updates From Thursday's Play At The PGA Championship At Bethpage Black
FARMINGDALE, N.Y. (CBSNewYork/AP) — Here's the latest on the PGA Championship on Thursday at Bethpage Black.
The PGA Championship began poorly for Tiger Woods. Although he got masterful in the middle of the round, things then fell apart down the stretch.
Not making any of it more palatable, Woods was paired with defending champion Brooks Koepka, who shot a 63 Thursday on a somewhat benign Bethpage Black. A nine-shot deficit after one round was not exactly what the galleries cheering his every move projected for Woods as he comes off his Masters victory, his 15th major championship.
Hardly what Woods expected, either, but when you don't stay in the fairway off the tee and miss a bunch of makeable putts, a 72 is what you get.
PHOTOS: Day 1 Of The PGA Championship At Bethpage Black
"It wasn't as clean as I'd like to have it, for sure," Woods said of his 6 on the par-4 10th hole. "Didn't get off to a very good start. It was a good drive and ended up in a bad spot, and I compounded the problem with trying to use the backboard behind the hole there and missing a putt I should have made.
"And then found my way back around, got it back under par for the day, and let a couple slip away with a couple bad putts and a couple mistakes at the end."
More than a couple. Woods bogeyed Nos. 5, 7 and 8, never looking like the guy who finished so brilliantly at Augusta National last month.
"I didn't take advantage of my opportunities there," he said, reviewing all of his bad holes in near-perfect conditions. "I thought I hit a good drive at 1 — or sorry, 10 ended up in — I had no lie. On 17, I hit it up against the face and it plugs, and we get down there and there's no sand but a lot of rocks (in the bunker). It was just bizarre."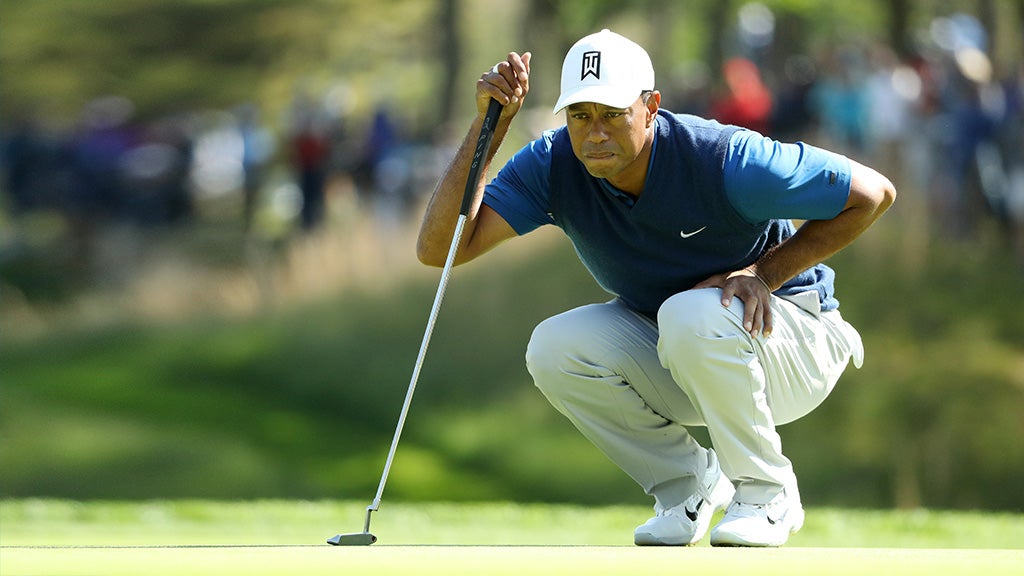 When his tee shot at the par-3 17th found the stone-filled bunker, it made an up-and-down a dicey proposition. Woods hit over the green, then faced a downhill chip that left him with an 8-foot putt for bogey. He missed that, too, never really hitting a good shot in making his second double bogey of the round. Woods shook his head as he walked off 17, knowing he needed a spree of birdies — or better.
He got those.
Quick birdies on Nos. 1 and 2 got the crowd going. His 300-yard drive on the par-5 4th left him at 210 yards and his approach put him 31 feet away.
When he drained that, the cheers echoed throughout the five public courses at Bethpage.
"I felt like I was getting back into the round," he said. "I fought my way back and I had two double bogeys in through there and was still able to get it to under par for the day. Unfortunately, I had a couple three-putts there and hit a bad chip at 8 and left myself in a bad spot."
He is not exactly in a good spot after the opening round. Woods, who skipped practice on Wednesday because he "felt a little bit sick," said he was fine on Thursday. His game was not.
That, of course, could change. Woods wasn't front and center in the picture at the Masters after the first round, though he certainly was in contention.
"We'll see what the golf course offers up (Friday)," he said. "It changed quite a bit from when we played this morning to this afternoon. The greens got a lot faster. We'll see how it dries out over the next few days. I don't see them cutting the rough down, so it's just going to place another premium on driving the ball."
And putting better. And managing the game. All of which Woods must improve on to have any chance of catching up.
Complete Coverage Of The PGA Tournament...
Live Coverage From CBS Sports
Watch videos, live updates, live leaderboard and more on CBSSports.com - click here.
About the 101st PGA Championship at Bethpage Black
Dates: May 16-19.
Site: Bethpage State Park (Black Course).
Length: 7,459 yards.
Par: 35-35-70.
Field: 156 players (136 tour pros, 20 club pros).
Prize money: TBA ($11 million in 2018).
Winner's share: TBA ($1.98 million in 2018).
Defending champion: Brooks Koepka.
Last year: Koepka blocked out the cheers for a charging Tiger Woods with two birdies on the back nine at Bellerive for a 4-under 66 and a two-shot victory over Woods. In oppressive heat in St. Louis, Koepka finished at 264 to set the PGA Championship record and tie Henrik Stenson (2016 British Open) for lowest 72-hole score at all majors. Koepka became only the fifth player to win the U.S. Open and PGA Championship in the same year, and the first since Woods in 2000.
Tiger Tales: Tiger Woods ended 11 years without a major by winning the Masters for his 15th major, three behind the record held by Jack Nicklaus. A victory would tie him with Nicklaus with five PGA titles.
Grand Slam: Jordan Spieth gets his third attempt at winning the PGA Championship to become the sixth player with the career Grand Slam. He tied for 28th and tied for 12th in his previous two attempts.
Move to May: The PGA Championship moves to May for the first time since 1949.
Bethpage champions: Tiger Woods (2002 U.S. Open), Lucas Glover (2009 U.S. Open), Nick Watney (2012 Barclays), Patrick Reed (2016 Barclays).
Key statistic: Brooks Koepka is a combined 47-under par in his last five PGA Championship appearances.
Noteworthy: None of the five players with the career Grand Slam completed it at the PGA Championship.
Quoteworthy: "We thought it was smart. It looks brilliant now." — PGA of America chief executive Seth Waugh on the PGA Championship moving to May in a year that Tiger Woods won the Masters.
Television: Thursday and Friday, 2 p.m. to 8 p.m. (TNT); Saturday and Sunday, 11 a.m. to 2 p.m. (TNT), 2 p.m. to 7 p.m. (CBS Sports).
Brooks Koepka is the defending champion and will try to join Woods as the only back-to-back winners of the PGA Championship since it switched to stroke play in 1958. Woods did it twice. Koepka held off a noisy charge by Woods at Bellerive in St. Louis last year to win by one. At the Masters, Koepka finished one shot behind Woods.
"I got the better of him at St. Louis and he got the better of me at Augusta," Koepka said. "I texted him on the way home on Sunday, on the flight home. Just said, 'Congrats.' That was awesome, fun to see. He responded with, 'We're 1-1.' Hopefully, we'll make that 2-1 very shortly."
Adding to the anticipation of the PGA Championship is that it's more than just Woods and Koepka.
Dustin Johnson, the No. 1 player in the world, also was a runner-up at the Masters. That might have been the toughest major for Woods to win because it was the first time he had a half-dozen players to contend with on the back nine. In his previous 14 majors, he never had to worry about more than one or two players, if any.
Jordan Spieth would love to be in the mix this time around, considering what's at stake.
This is the third time Spieth comes to the PGA Championship with a chance to become only the sixth player to complete the career Grand Slam. Rory McIlroy missed his fifth attempt at the Masters. Mickelson gets his fifth chance at the U.S. Open next month at Pebble Beach.
Recent form would suggest a struggle for Spieth. He hasn't won in his last 43 events worldwide. He hasn't been in contention since he played in the final group of the British Open last year.
"I think I'll be flying under the radar compared with previous years, just based on results of the last year or so," he said. "But I don't mind that."
Maybe it helps that the PGA Championship is no longer the last major of the year, in August when temperatures approach triple digits and the season already feels long. The forecast next week is for temperatures in the upper 60s to lower 70s, which might make this feel more like the West Coast Swing.
MORE: PGA Championship: Woods, Johnson, Koepka Look To Tame Bethpage Black
Bethpage Black is still a tough. There's a reason it has a sign posted on the first tee that says, "Warning: The Black Course is an extremely difficult course which is recommended only for highly skilled golfers." In two majors, only six players have finished under par.
It might be different for the PGA Championship, although Kerry Haigh, who sets up the course for the PGA, says the fairways will be the same width as they were for the U.S. Open except on No. 18.
What likely won't change is the energy outside the ropes. Bethpage is notorious for its vocal crowds, and if bringing a major championship back to their public golf course isn't enough, they now have the Tiger Woods they were used to seeing.
(© Copyright 2019 CBS Broadcasting Inc. All Rights Reserved. The Associated Press contributed to this report.)
Thanks for reading CBS NEWS.
Create your free account or log in
for more features.