Firefighters Salute Family As Wake Held For Michael Fahy
NEW YORK (CBSNewYork) -- Grieving firefighters gathered to salute the family of a fallen hero Thursday as Michael Fahy's parents, wife and three young children arrived at his wake in Yonkers.
FDNY Chief Daniel Nigro described his death as a "tragedy for his family and a tragedy for our family in the fire department to lose such a great man."
Mayor Bill de Blasio and FDNY Chief Daniel Nigro also announced that Fahy was promoted to deputy chief. Fahy passed his deputy chief exam in 2013 and was on the list for promotion to that title.
"Chief Michael Fahy was a very talented member of the FDNY who died protecting and serving our great city," de Blasio said in a statement. "His career was remarkable both for his selfless devotion to duty and his meteoric ascension in rank, which continues today with this deserved promotion to Deputy Chief in the FDNY."
"Chief Fahy achieved the rank of Chief Officer faster than any active member of the Department," Nigro said in a statement. "He was a rising star who accomplished so much during his 17 years with the FDNY, and is deserving of this promotion for his selfless dedication and service."
"It's something well-deserved. I have no doubt that in a number of years Chief Fahy would've lead this department," Nigro said Thursday afternoon. "That's the type of man he was."
Fahy's was held Friday at the Flower Funeral Home in Yonkers. His funeral will be held Saturday at 11 a.m. at Annunciation Church in Yonkers.
His neighbor and long-time friend, Bill McLoughlin, attended law school with Fahy and spoke with CBS2's Brian Conybeare about why the firefighter chose to forgo a career as a lawyer.
"Passion. He followed his heart, his dreams, and he thought there was a greater good than being a lawyer and he could give back," McLoughlin said.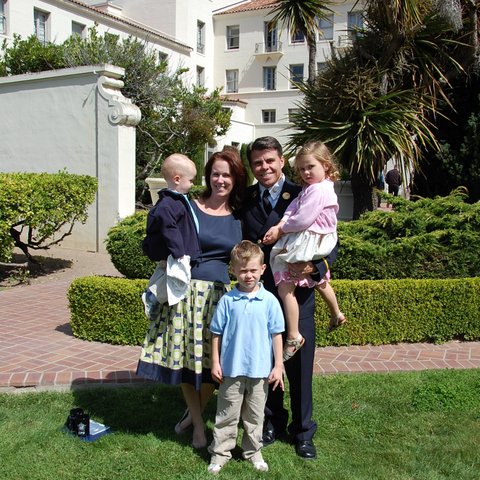 Fahy was hit and killed by flying debris Tuesday morning while he and several fire units were responding to calls of a gas odor at a house in the Bronx.
He was on the scene for about an hour, directing operations from the street, when the two-story home exploded.
New York's Bravest reflected on the loss of a fallen brother.
"This is a very sad time. We're broken and distraught," retired Captain Stephen Damato said.
Wednesday night, members of the FDNY stood outside the 50th precinct as police escorted a suspect who was arrested in connection with the blast out of the station.
Garivaldi Castillo, 32, was charged with marijuana possession. Investigators believe he and a second man, 34-year-old Julio Salcedo Contrer, were involved in a suspected marijuana farm that was operating inside the home.
Authorities are investigating whether those running the pot farm rigged up a propane tank or tampered with utility lines, leading to the deadly blast, CBS2's Andrea Grymes reported.
Meanwhile, Fahy's fellow firefighters placed black and purple bunting outside the Bronx firehouse where he served Wednesday in a solemn tribute.
A donation page has been set for the Fahy family. If you'd like to donate, visit fdnyfoundation.org/donate and select the "Chief Michael J. Fahy Children's Educational Fund."
Thanks for reading CBS NEWS.
Create your free account or log in
for more features.