Amazon Makes It Official: Long Island City Will Host Part Of Its 2nd Headquarters
NEW YORK (CBSNewYork) – Amazon has made it official. New York City is one of two locations for the company's second headquarters, Amazon announced Tuesday.
Update: Amazon Cancels HQ2 Deal With New York
The other location will be in Arlington, Virginia.
News the corporate giant was eyeing the Big Apple broke last week. The new headquarters is expected to be built in the area of Vernon Boulevard and 44th Drive, in an area sometimes called Anable Basin.
This ends a yearlong search that generated interest from cities and towns across the country.
WHAT THIS MEANS FOR QUEENS AND NYC IN GENERAL
The tech giant says the move will bring more than 25,000 jobs to Queens. Amazon said it expects to invest $2.5 billion in the Long Island City headquarters, which will encompass 4 million square feet of office space, with the possibility of expanding to 8 million.
Gov. Andrew Cuomo said the average salary of the Amazon employees in Queens will be $150,000.
Amazon estimates the decision will bring more than $10 billion in tax revenue to New York City over the next 20 years.
WEB EXTRA: A Little History On Long Island City
In addition, Amazon says it has agreed to donate space on its campus for a tech startup incubator and for use by artists and industrial businesses, donate a site for a new public school, and will also create "infrastructure improvements" and green spaces.
"We are excited to build new headquarters in New York City and Northern Virginia," said Jeff Bezos, founder and CEO of Amazon. "These two locations will allow us to attract world-class talent that will help us to continue inventing for customers for years to come. The team did a great job selecting these sites, and we look forward to becoming an even bigger part of these communities."
MORE: First Amazon, Now Google? Tech Companies Reportedly Looking To Expand In NYC
Mayor Bill de Blasio and Gov. Andrew Cuomo lauded Amazon's decision.
"With Amazon committing to expand its headquarters in Long Island City, New York can proudly say that we have attracted one of the largest, most competitive economic development investments in U.S. history," Cuomo said. "With an average salary of $150,000 per year for the tens of thousands of new jobs Amazon is creating in Queens, economic opportunity and investment will flourish for the entire region."
"This is a giant step on our path to building an economy in New York City that leaves no one behind. We are thrilled that Amazon has selected New York City for its new headquarters," said de Blasio. "New Yorkers will get tens of thousands of new, good-paying jobs, and Amazon will get the best talent anywhere in the world. We're going to use this opportunity to open up good careers in tech to thousands of people looking for their foothold in the new economy, including those in city colleges and public housing. The city and state are working closely together to make sure Amazon's expansion is planned smartly, and to ensure this fast growing neighborhood has the transportation, schools, and infrastructure it needs."
"Long Island City – New York's emerging tech hub – is 'primed' for Amazon," said Queens Borough President Melinda Katz. "With its organic growth, wealth of local talent and inherent global assets to foster innovation, Queens offers a dynamic mixed-use community where workers can live, ideas can synergize, and businesses can flourish. New companies should take note, however, that New York is a union town. I have full faith that the City and State will be able to resolve all outstanding issues including organized labor, infrastructure and capacity concerns."
HOW IS IT BEING PAID FOR?
Amazon said it is receiving $1.525 billion in incentives from New York for the move. For the next 10 years, that will include a tax credit of $48,000 for each of the 25,000 jobs that will pay more than $150,000.
The Empire State Development Corporation is giving a cash grant of $325 million based on the square footage of buildings Amazon will occupy in the next 10 years.
The incentives will be provided to Amazon incrementally, based on job creation and occupancy targets.
Amazon will also apply for additional incentives through New York City's Industrial & Commercial Abatement Program and New York City's Relocation and Employment Assistance Program.
Further, New York City will provide funding through a Payment In Lieu Of Tax (PILOT) program. That will be used to fund "community infrastructure improvements" developed through input from residents during the planning process.
COMMUNITY REACTION AND OPPOSITION
"We're going to to get more transit, we're gong to get more shops, we're going to get more restaurants. I'm thrilled," said Long Island City resident Zane McDonald.
"It's going to bring a lot of jobs, a lot of construction is going to be happening here," said Middle Village resident Gabriella Giammarco. "I know people feel they're going to be pushed out, but I don't think so. I think it's great."
"There's a lot of good people that actually need the employment," said Felix Alvarez of Queensbridge. "I think it will be a good thing."
Alvarez lives in Queensbridge Houses, the largest public housing complex, which is just blocks away from where the new headquarters is expected to go.
"Originally, no one wanted to come here. Now, everyone wants to come out here. So help us out, help the community," said Linda Larrymore of Queensbridge. "If you want to come to our community, give to our community, and the best thing you can do is give people some jobs."
Many have expressed concerns about how it could impact housing, commuting and infrastructure.
"Long Island City is stretched to the limits already. The subways are overcrowded, parents are fighting over the school seats, we don't have enough healthcare facilities," said State Senator Michael Ginaris. "That's the kind of conversation we need to be having about how to use our public money."
Ginaris and City Council Member Jimmy Van Bramer are joining forces in the fight against Amazon, saying the city and state are giving up too much to the tech giant.
"It's not just a bad deal, it is literally a deal that tugs at the soul of who we are as a city," Van Bramer said. "A deal that promises the richest man in the world almost $3 billion in subsidies to beg him to come here."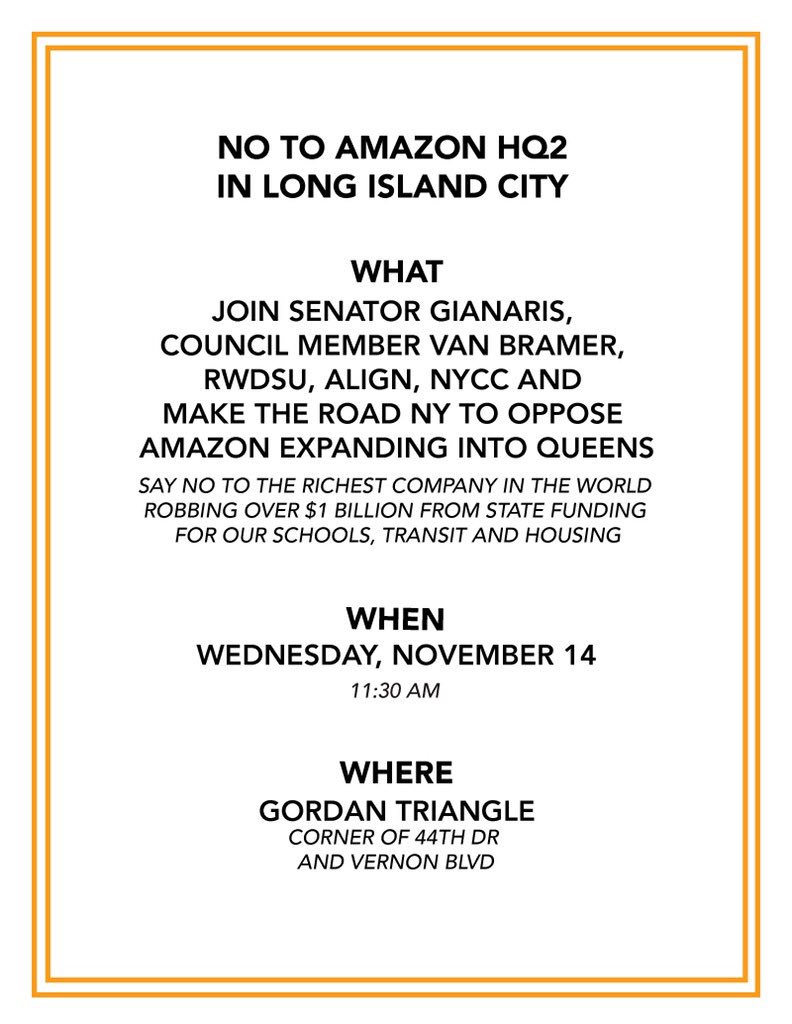 Van Bramer said he would hold a news conference to oppose Amazon's move Wednesday.
Incoming Rep. Alexandria Ocasio-Cortez, who will represent the adjacent congressional district, took to Twitter to sound off against the incentive package.
"Amazon is a billion-dollar company. The idea that it will receive hundreds of millions of dollars in tax breaks at a time when our subway is crumbling and our communities need MORE investment, not less, is extremely concerning to residents here," she wrote.
"Shuffling working class people out of a community does not improve their quality of life," Ocasio-Cortez tweeted.
Thanks for reading CBS NEWS.
Create your free account or log in
for more features.