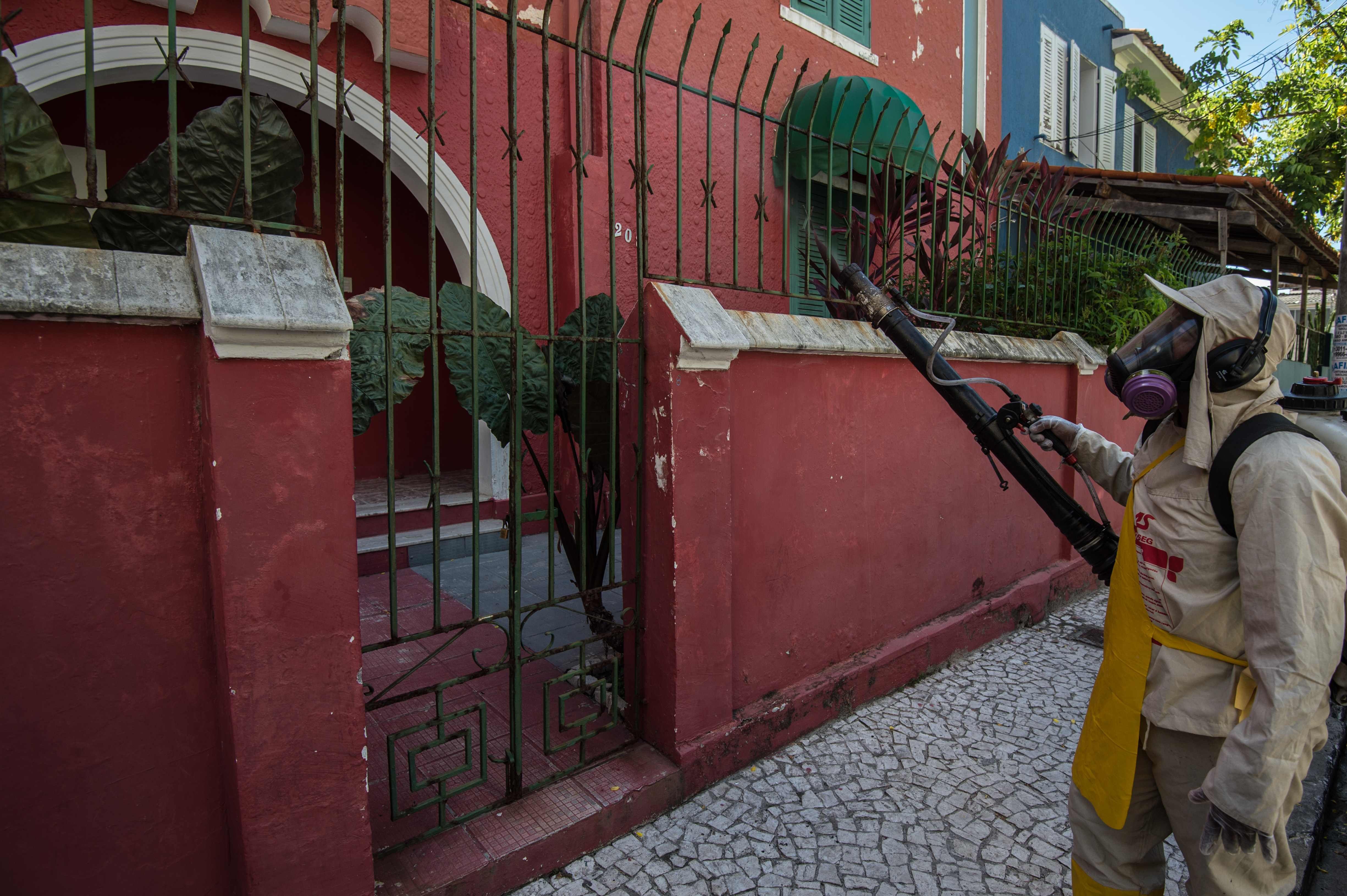 Zika survivor: "All of my joints felt like lead weights"
With the Zika virus "spreading explosively," according to the U.N.'s World Health Organization, one man is telling CBS News his story of surviving a harrowing case of the disease that left him disabled for weeks.
Zika has been linked to birth defects in newborns of infected mothers, and some patients have developed Guillain-Barré syndrome, which can kill or cause paralysis as the body's immune system attacks the nervous system.
CBS had the chance to speak with this survivor of the Zika virus on Friday. He is a prize-winning Brazilian-American well known in the performing arts, who is a resident of New York City. He did not want to be identified because of the sensitivity of the issue, so we'll call him João.
João contracted the Zika virus last spring, along with 12 colleagues, when they were working in Bahia, in the fourth-largest state of Salvador in northeastern Brazil.
Soon after, he developed Guillain-Barré syndrome.
"I was on my way to the airport to leave and had to turn back," he said, because he was so weak.
João said he was misdiagnosed by three doctors. After sending his colleagues back to New York City to recover and get on with their performance schedule, João spent a few days in a private hospital (because public clinic lines were too long) called Hospital Aliança. That was followed by two more weeks in bed at home in Bahia, barely able to move.
"Everyone knows the Zika symptoms, because so many people get it. With Guillain-Barré, I was paralyzed, I could not walk. All of my joints felt like lead weights."
When he was finally strong enough, in July, he got on a plane back to New York City, where his doctor of many years sent him to Mount Sinai Beth Israel Hospital.
"At Beth Israel, I was diagnosed with Guillain-Barré deriving from the Zika virus," João said, "and had a relapse, at which point the hospital thought I might need blood work, but that did not have to happen."
"They had never seen a case of Zika," he said, "but they said I was recovering well."
He told CBS News he was frustrated by the Brazilian government's response to the outbreak. "Brazil was slow to respond to Zika," he said.
"The government has known about Zika - and dengue - for years and spent the money on stadiums, first for the World Cup and then for the Olympics. They are worried and should be, they waited too long."
He believes Zika started spreading in Brazil at least as far back as the World Cup in 2014, when hundreds of thousands of fans from around the world descended on Rio de Janeiro and other cities.
"My two nieces had Zika, one with Guillain-Barré, but they are young. I am 62 (turning 63 tomorrow) and it took me a long time to recover."
Despite it all, he said, "I was fortunate. But I would tell everyone not to travel to Brazil. There are mosquitoes everywhere," João said. "We all know about the women with children with birth defects."
He said that when his group traveled to Brazil last spring, they brought along cases of mosquito repellent to use, but it was not enough. The point is reinforced by CBS News chief medical correspondent Dr. Jon LaPook, who reported that insect repellent "only offers partial protection. That's why travelers have to take Malarone when going to areas with malaria," another disease spread by mosquitoes.
Three cases in New York City
New York City health officials said that three individuals with Zika virus have been identified in the city, including one pregnant woman.
Deputy Mayor Dr. Herminia Palacio told reporters, "We want to ensure all New Yorkers traveling to warmer climates are taking preventive measures, and we are prepared as mosquito season approaches."
In New York City, doctors, hospitals and labs are legally required to report cases to the city's Department of Health and Mental Hygiene, spokesman Chris Miller told CBS.
The CDC has said that Zika is not expected to pose as much of a threat to the U.S. as it has to Brazil and other countries in Latin America and the Caribbean. But officials said they do expect to see some locally-transmitted cases occur in the United States. "We will see mini-outbreaks like in Florida and in Texas that can be well controlled with mosquito vector control," said Dr. Anthony Fauci, director of the U.S. National Institutes of Health's National Institute of Allergy and Infectious Diseases.
State health departments are now required to notify the CDC about cases of the Zika virus, although many have been doing so voluntarily. "Diagnosis and reporting are incomplete, and the incidence of arboviral diseases [viruses spread by mosquitoes or ticks] is underestimated," the CDC said.
On Friday, Benjamin Haynes from the CDC's Division of Public Affairs told CBS News, "At this point we are still reporting 31 cases in 11 states, but that number is likely to increase over the coming days."
Haynes said that the CDC is working to make Zika virus infection nationally notifiable so that any case of Zika virus infection will be reported through ArboNET, a national electronic surveillance system for arboviral diseases, by the state health departments to CDC. But the CDC's website acknowledges the limits of ArboNET, calling it a "passive surveillance system" which is dependent on clinicians considering the diagnosis of the disease, obtaining the appropriate diagnostic test, and reporting laboratory-confirmed cases to public health authorities.
Officials on New York's Long Island held a press conference this week after a Nassau County resident contracted the virus. The concern, they say, is with areas on Long Island that have some of the largest Central American populations and "tens of thousands of local residents" who travel home to visit families in that region throughout the year.
"Something more should be done"
After criticism about the slow response to the Ebola virus, the World Health Organization (WHO) is sounding alarm bells on Zika. Dr. Margaret Chan, WHO's Director-General, said Thursday that Zika is "spreading explosively," and has quickly gone from a mild threat to one of alarming proportions.
Although the virus is not communicable through the air or casual contact, mosquitoes can spread it widely from person to person to person: "During the first week of infection, Zika virus can be found in the blood and passed from an infected person to another through mosquito bites. An infected mosquito can then spread the virus to other people," the CDC explains on its website.
The Pan American Health Organization (PAHO) is also working in a group they call the Global Outbreak and Response Network (GOARN) to assist ministries of health in strengthening their abilities to detect the arrival and circulation of Zika virus through laboratory testing and reporting. But PAHO experts explained that reliable case counts of Zika virus infection were difficult to obtain for several reasons:
Only 1 in 4 infected people develops symptoms.
Zika virus is only detectable for a few days in infected people's blood.
Tests for antibodies cannot distinguish well between Zika and infections with similar viruses such as dengue and chikungunya.
Clinicians face major challenges in distinguishing Zika cases from other diseases.
On Monday, the World Health Organization will gather its Emergency Committee for about three to six hours in a "virtual" meeting, spokesman Christian Lindmeier told CBS, and then the committee will draft a recommendation to Chan, who will make a determination next week whether to declare Zika a"public health emergency of international concern," or PHEIC. WHO would then help coordinate an international emergency response.
Shining a light on the issue will be a first step to containing it, U.N. health experts said in their briefing, but it will be too late for the children who have been born into the new pandemic.
"Something more should be done," said João, now almost fully recovered in his New York City apartment.
Thanks for reading CBS NEWS.
Create your free account or log in
for more features.